We all know that the summer heat at Universal Studios can be a bit much. Luckily, the park has lots of ways you can cool off, and they have plenty of shaded areas. If you're looking to beat the heat and take a seat, catch a show of WaterWorld in the park's Upper Lot! This has been one of their most popular shows since the day it opened, and it's continued to be a fan favorite. The set is gorgeous, the stunts are spectacular, and there are plenty of jaw-dropping moments!
If you're not familiar with what WaterWorld is and/or have never seen the show, here's the official description from Universal:
Experience WaterWorld – Universal Studios #1 rated show. Join an adventure that surges to life with jumping jet skiers, perilous plunges, firefights, massive explosions, and an in-your-face plane crash you need to see to believe.
This impressive and spectacular show is based on the 1995 movie, WaterWorld, which stars Kevin Costner. The movie takes place in a future where the polar ice-caps have melted, and Earth is almost entirely submerged. A mutated mariner fights starvation and outlaw "smokers" and reluctantly helps a woman and a young girl try to find dry land. The attraction's story occurs after the movie's events, beginning with Helen's return from "Dryland" to get her friends from the "Atoll." The show includes the characters Helen, the Deacon, and the Mariner, as well as several "Atollers" and "Smokers." The show is twenty minutes long and includes stunts on water, land, and overhead, supported by many pyrotechnic, flame, water, and other special effects, including the explosive crash landing of the seaplane.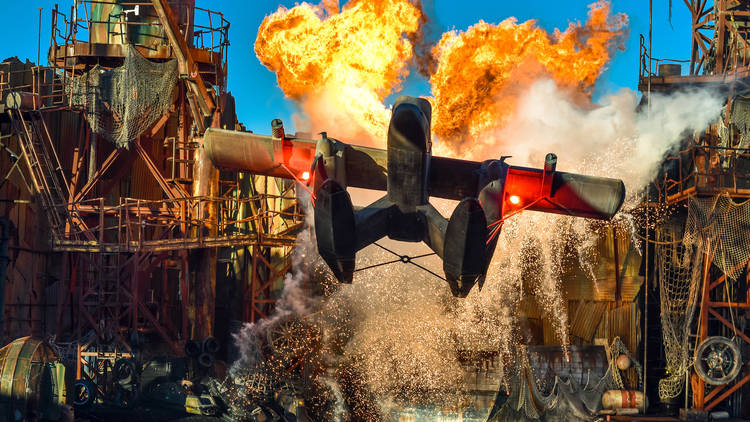 The show premiered at Universal Studios Hollywood the same year the movie came out, so it's been around for quite some time and has remained a hit for a reason! The special effects and the stunts are unlike anything you've ever seen before and will have you gripping the edge of your seat with excitement. There are approximately 168,500 pyrotechnic effects fired per year at WaterWorld, including giant fireballs rising 50 feet in the air; world champion jet skiers also perform stunts for audience entertainment!
Insider tip: Sit in the front rows, and you WILL get wet, providing some relief in the hot summer months!
If you're planning a trip to Universal Studios Hollywood soon, this is one show you don't want to miss!
Are You Ready to Book Your Next Vacation Today?
Be sure to call your Academy Travel agent today for more information and help with booking your next vacation! Because here at The Kingdom Insider, we have plenty of resources for you, just a click away! We have an incredible team of dedicated Universal experts and Travel Planners at Academy Travel. They are ready to help you plan out every detail of your vacation, so you don't have to worry! Call Your Travel Agent to Book, find a travel agent here, or visit AcademyTravel.com