Today the Disney Parks Blog live streamed some of the new Disney Cruise Line Beauty and the Beast show, from the Disney Dream.
I wasn't sure what to expect, but it was very well done.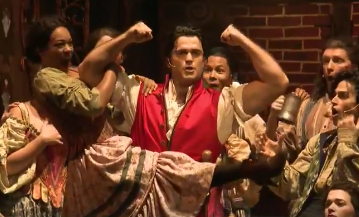 Seamless Set Transitions to Amazing Puppetry
The cast and crew have done an amazing job with this show. The sets shift quickly and smoothly. One moment you are in Beast's Dungeon and the next you are in the tavern with Gaston, Le Fou, and the towns people. Transitions just flow and are seamless.  There's almost like a rhythmic dance about how the sets change and characters move in and out across the stage.  In the first transition we see Belle, Lumiere, and Cogsworth sink into the floor as the curtain rises behind them to the tavern, and takes only a couple of seconds.  It's beautiful just watch the set changes.
As they sink into the floor
After when the tavern set is out.  You can even see the trap doors on the stage closing.
I love the puppets. I really enjoy how the characters look like the human counterpart while working the puppets.  According to the live stream, these actors only started using the puppets in June. They do a fabulous job.
Beyond the acting, the puppets themselves are fantastic.  They are articulated and there are special effects like Chip making bubbles and Madame de Garderobe shooting out scarves.
Beast has the set change around him to reflect him using the "magic mirror"
Be Our Guest
If you watch the video they treat us to the show stopping, Be Our Guest song and performance. To be honest, I wasn't expecting it to be as good as it was.  It's hard to translate what can be done with animation and CGI to the stage, but they really make it fun. It almost reminded me of a Kitchen Kabaret type show. I loved Kitchen Kabaret.  For those who are unfamiliar with the show, it was the show at the Land pavilion in Epcot from 1982-1994. It featured different food groups singing and dancing. The Be Our Guest section is similarly divided into different courses and it just has a similar feel that I appreciated. Of course the Beauty and the Beast stage show version was much more energetic.
Overall it was a very fun look at the new cruise ship show.  I wouldn't mind seeing it all at some point.
If you missed the video you can watch it below.
What do you think?  Comment and let us know!