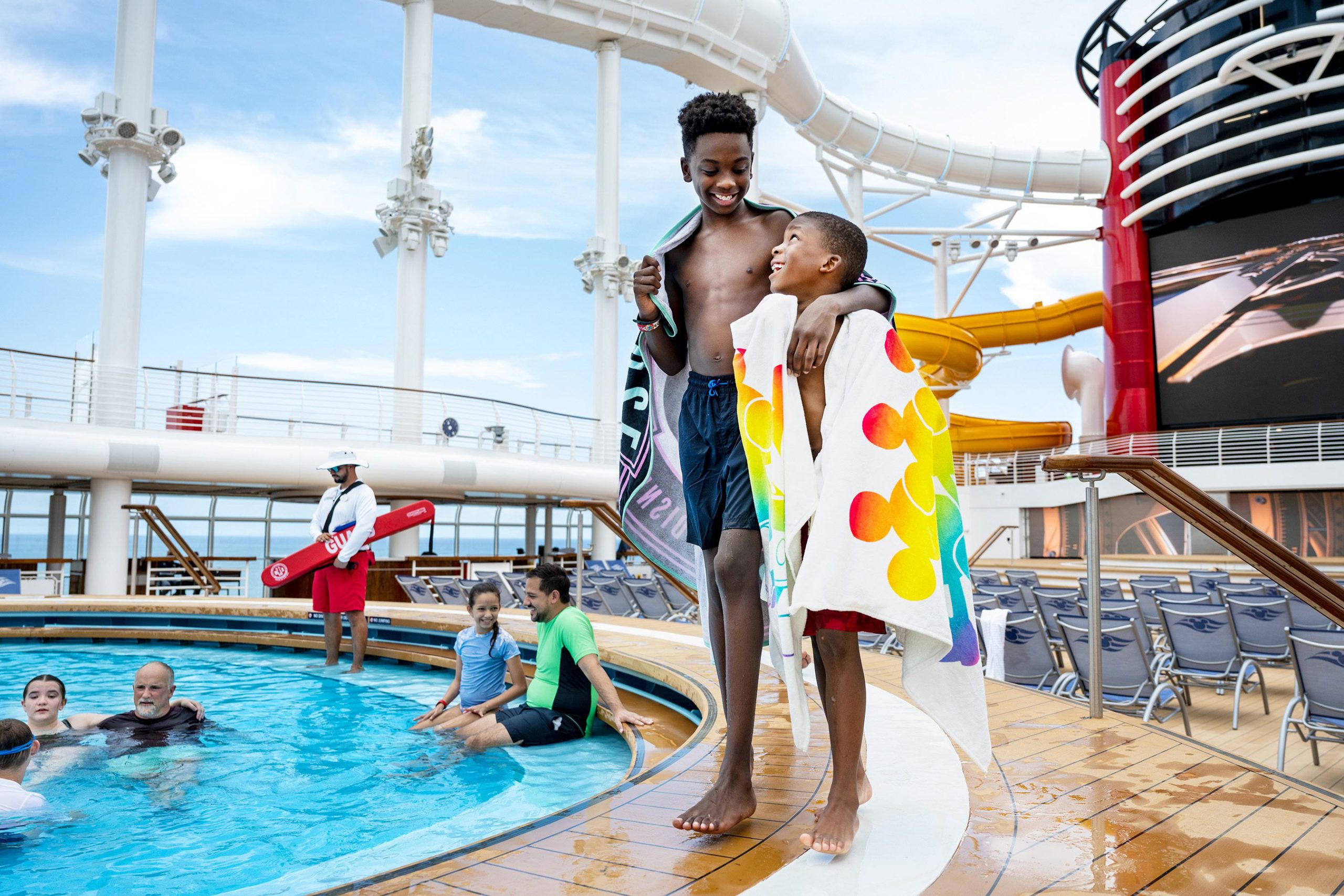 Have you thought about taking your family on a cruise, but wondered if the kids would get bored? Would you and your spouse have any alone time? Is a Disney Cruise right for your family? We did a little Q&A with Disney Cruise Line guest, and Mom, Leah to answer all your questions! Let's see what she had to say!
As a mom, why do you pick DCL over other cruise lines for your family?
First, we love Disney, second, these ships are very family-oriented. I feel safe on them with my children. I am able to step a couple of feet away and not worry about a thing. The kid's clubs are amazing. On the Wish, my kids were able to explore the Marvel Universe, be Iron Man, and stop the aliens from coming to earth. The next level my daughter was going to turn into Blank Panther. Fairy Tale Hall is where my daughter was able to spend some time with Captain Minnie, color in Rapunzel's art studio, and play games in Anna and Elsa's Summerhus. My 10-year-old son was able to make a roller coaster on the computer and then ride it with his sister. They drew, colored, and played bingo for prizes in the Imagineering Lab. What was so cool was the fact that they had a slide that went from the 3rd level into the kid's club! I wanted to onto the slide! Once they were checked into the kid's club, they had sinks to the side and someone watching the kids wash and clean their hands.
While the children were in the Kid's Club, this gave my husband and I an opportunity to go to the movies to see the new Guardians of the Galaxy the morning it came out. We were about to do something ourselves and not have to worry if the kids were ok
Everyone on the ship was so nice from our concierge person who knew our names and would greet the kids every time he saw them. The kids were excited to see Mr. P every morning for their high five! The wait staff at dinner had my children's drinks and snacks (cucumbers) on the table before we even sat down.
The day we were on Castaway Cay our on-board wait staff saw us and came to say hello.
Everything about the ship was amazing. I felt safe knowing my children were walking in front or behind us without anyone walking into them to knock them over.
I feel DCL is geared toward all ages not just children, adults, families, and single people. It's honestly for everyone. Between the waterslide and movies on the pool deck, don't get me started on the nighttime shows. I felt like we were in New York City watching a show on Broadway.
The food was amazing, Marceline Market Buffet had something for everyone. Even my husband who is a picky eater! Seeing the show during dinner in Arendelle and then being a part of the Avengers by helping out with the quantum technology was so cool. I didn't have to worry about my kids asking if we could leave because they were bored. They wanted to go back the next day.
Is it worth the cost to take my kids on DCL? Why might I pick DCL over Walt Disney World or Disneyland?
Absolutely, we go to WDW every year and we love the parks. We love having the freedom between the resort and the parks. DCl is a different adventure. The kids can explore new things and go to a new country. They get to learn something new besides waiting to get on the new ride in one of the parks.
They can explore Castaway Cay by swimming and feeding the string Rays. Go on the water slides in the middle of the ocean and snorkel to see the Mickey statue in the water. There are so many things to do on and off the cruise ship.
Are there good food options for kids? What about in the formal dining rooms; will my kids be able to find something they like on the menu?
Absolutely, my children are not big veggie eaters! Honestly, whose are? If there was a veggie option, they did not like the wait staff would ask my children what veggies they liked. The same thing would happen the next time. The staff was not bothered by my child not knowing what they wanted or didn't like, they would ask if they wanted something different and how to make it better for them.
The buffet was amazing for the kids, they were able to eat anything. My daughter saw crab legs and shrimp she wanted to try. I was thinking OK, but you're not going to like it. I was totally wrong. We would stop in for a late-day snack of shrimp and crab legs; she could not get enough of it.
When we went to dinner at 1923, my son asked to order steak off the adult menu. Our waiter did not blink twice at his request. He asked my son how he would like it cooked and brought him his steak.
Our family loves tacos and burritos. It's a staple in our household, after a day in the pool or at the beach at Castaway Cay; we would stop at Mickey and Friends festival for unlimited tacos!
My kids have food allergies; how accommodating is DCL?
My kids do not have any type of food allergies. We were asked when we booked the cruise and we were asked during our first dinner service again by our wait staff to double-check.
Did your kids use the kids' clubs? How do they work? Is it safe to leave them there? What did your kids like about it?
My kids loved the kids club. It was so easy, the day before we boarded the ship, I went onto the DCL cruise ship and registered them for the clubs. They asked about any allergies to different materials or if they use any medical devices. When we boarded the cruise ship the kids were given a magic band, this magic band allowed them to be checked in and out of the kid's club. When we first checked them out of the kid's club after a couple of hours of adult's time, the person at the front desk called a room and stated my son was in one room and then she called another room and stated my daughter was in that room. I asked the person at the desk how she knew which rooms the kids were in? She stated there were Sensor in and out of every room. It will take a minute for the computer to update what room the kids were in. I thought that was amazing. I liked how they knew where the kids were at all times. When we first registered them for the clubs you have to give them a code word to allow your child to leave with the person who is picking them up. You can even put it as anyone in the family can pick them up or just you and the person you are with. The second day my husband went to pick the kids up from the kid's club, I didn't know what took so long so I went down to the kid's club. I asked him what the problem was, and he looked at me and said they wouldn't give me the kids since I didn't know what the code was. I forgot to tell him the code word. I laughed and told him the code word. He looked at me and was like really; you used that word. We all laughed about it, the person at the desk said it happens a lot. I felt better knowing if they wouldn't give the kids to my husband, I knew they wouldn't give anyone the kids without the code word.
Besides the kids' clubs, what else is there for my children to do on board?
There were movies playing on the pool deck, there was trivia throughout the day and when we were at port, they blew up an Incredibles obstacle course on the indoor basketball court of people to go on. In the same room as the basketball court there were ping pong, corn hole, and foosball this was for anyone to play with. We were happy to be able to do this all with the kids not just watching them play.
What age do you think is best for their first cruise? (if any age, tell us why!)
I won't lie, I was so nervous to go on a cruise with a 5-year-old. I don't know why but I was so scared something would happen. My friends and family would tell me I was nuts. Nothing was going to happen. You still get those thoughts in your brain about things. When we were on the bus heading back to Disney World Resort, I started to laugh. My niece and nephew asked what I was laughing about. I told them I had no clue what I was so worried about bringing the kids on the cruise. I would bring my 5-year-old on slinky dog and other roller coasters but I wouldn't bring her on a cruise. I was nuts. I wish I brought her at a younger age. There was plenty to do for all ages. They even have a kids club for infants with cribs, they change the sheet after every child has touched it to make sure everything is clean. I would say no matter what age your child is is a great age for a cruise. Between meeting all the princesses in one place at the Royal Gathering, from watching Captain Jack Sparrow during Pirate Night. I was even corrected by Captain Jack Sparrow for not calling him Captain. I only called him Jack Sparrow when I pointed him out to my son. I was so embarrassed when he said my name isn't Jack Sparrow. It's Captain Jack Sparrow. I should have known. He smiled and gave me a hug after that.
What size family do you have? Which type of stateroom do you find suits you best?
We are 2 adults and 2 children. We had a stateroom with a verandah. It was enough room for us. We could have brought another person with us if we had one.
Do you & your husband ever have any time to yourselves? What do you like to do when the kids are off busy on their own?
The kids kept asking to go to the kid's clubs. I wanted to keep them with us to have a family vacation. They loved it so much. We were able to have a hot cup of coffee without anyone asking for anything, and we were able to go to the movies let alone watch a movie without any interruptions. We sat with family and were able to get to know some extended family for a couple of hours all knowing my children were ok and having a blast. I did not feel guilty sending them to the clubs when they asked to go!
From the kiddos… "Did you have fun on your Disney cruise? What were your favorite parts? What would they say to a little girl or boy getting ready to go on their first Disney cruise?"
Evan, 10 years old: "Yes, I had a lot of fun on the Disney cruise. My favorite parts were swimming with the sting rays on Castaway Cay, becoming a pirate at Bibbidi Bobbidi Boutique, the kid's club, and being able to eat tacos any time of the day! It is really fun, you will never be bored. There are a lot of things to do on the cruise."
Abby, 5 years old: "Yes, I had so much fun! My favorite things were eating crab legs and Shrimp, and becoming Jasmine at the Bibbidi Bobbidi Boutique, people kept calling me Princess Jasmine! Sleep on the top bunk bed, and hanging out with my little cousins."
"How can you say any of this about other cruise lines? It will only be DCL for us." – Leah, Evan & Abby's Mom