The Force will be with Star Wars fans this March if they sail on Disney Cruise Line's Star Wars Day at Sea. Fan favorite Warwick Davis will be featured as a guest presenter for his very first Star Wars Day at Sea event.
Davis is best known to Star Wars fans as Wicket W. Warrwick, the mischievous Ewok who was fascinated with Princess Leia's helmet in Return of the Jedi. He's also made appearances in nearly every Star Wars film since then in various roles, as well as playing the titular character in Lucasfilm's 1986 film Willow.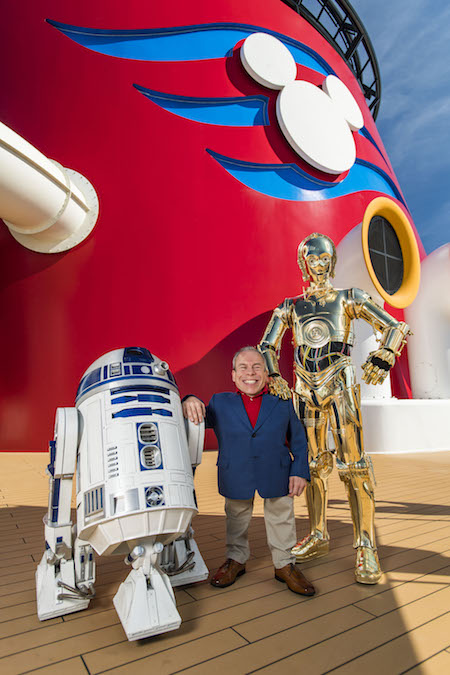 Davis is one of many Star Wars personalities that will be on deck this summer. Here is a full listing of currently scheduled guests…
January 6-13: Scott Trowbridge, Walt Disney Imagineering creative portfolio executive for Star Wars franchise
January 13-20: TBD
January 20-27: Matt Martin, Lucasfilm Story Group creative executive
January 27-Feb. 3: TBD
February 3-10: TBD
February 10-17: Delilah Dawson, author of the "Phasma," "The Perfect Weapon" and other Star Wars stories
February 17-24: Pablo Hildago, Lucasfilm Story Group creative executive
February 24-March 3: Jarret J. Crosoczka, writer and illustrator of "Jedi Academy: A New Class" children's book series
March 3-10: TBD
March 10-17: Troy Alders, Lucas Licensing art director
March 17-24: Warwick Davis, actor, multiple Star Wars films
March 24-31: Katie Cook, artist featured in Star Wars trading card sets, children's books and web comics
March 31-April 7: Leland Chee, Lucasfilm Story Group managing Holocron continuity database
April 7-14: Russell Paul, Industrial Light & Magic, asset and digital supervisor
April 14-21: TBD
April 21-28: Ashley Eckstein, Her Universe founder, voice of Ahsoka Tano on Star Wars: The Clone Wars and Star Wars Rebels
For more information on the Star Wars Day at Sea, see the information page here.
[Source: Disney Parks Blog]
Want to go on vacation?
We recommend Academy Travel, a Disney Diamond Earmarked agency. Walt Disney World, Disneyland, Disney Cruise Line, Adventures by Disney, Universal Orlando Resort, Sea World and more -- they can do it all, and at no extra cost to you! Fill out the form below or call 609-978-0740 today!