This year is the Epcot 35th Anniversary.  On October 1, Epcot will have been open for 35 years!  I can't believe it's been around for that long already.  I remember going the first year it opened and it has been a favorite of mine ever since.
A few months back the WDW Magic forums posted a photo of merchandise for the upcoming 35th Anniversary of Epcot, which included a tumbler, a retro glass, and a very cool mug that I think my husband needs in his life.
The Disney Pins Blog just posted pictures of 35th Anniversary pins coming on or around October 1, 2017.  Again, my husband wants all of these.
First up is the 35th Anniversary Mystery Pin collection
It features the icons of the 9 classic Future World attractions.
Top row from left to right:  Wonders of Life, Spaceship Earth, Horizons
Second row from left to right: Communicore, The Living Seas, Universe of Energy
Bottom row from left to right: World of Motion, Journey Into Imagination, The Land
Figment 35th Anniversary Edition Pin.   
This 'open edition' pin features Figment with the Epcot icon.
I love these next ones.  They remind me of the old camera straps you could get at Epcot.  I'm pretty sure my parent's have (had) one.  It features the iconic retro Epcot rainbow with "Epcot 35" on the underside neck area.
Epcot 35th Anniversary Lanyard
Epcot 35th Anniversary Lanyard Pouch
This pouch is fantastic!  It features all the pavilion logos and an Epcot logo metal medallion.  I love how they made a graphic diagram to indicate where the various pavilions fit in to the Epcot logo.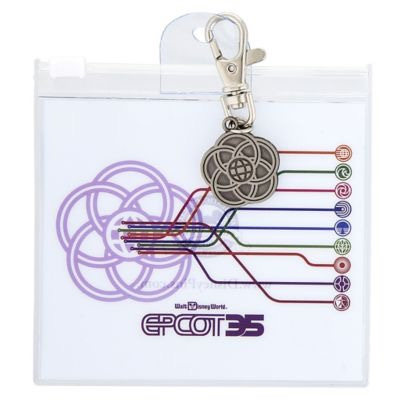 So far there has been no pricing information or release dates given, but if we find any information we will share it.
What 35th Anniversary piece(s) are you looking forward to?  Do you remember the old attractions that are no longer with us?  Comment below and let us know what you think.