One aspect of traveling to Disney Parks with children is the special costumes. Sometimes the dresses a little "princess" might want to wear can be expensive, heavy, bulky and hot.  If your daughter is like ours, she wants to change out of it after a couple of hours and that can be a hassle.
Last year I came up with a solution that solved most of the costume issues we faced — aprons!  
Disney-Themed Aprons
Aprons are great because they give the look of a costume but they are light weight and convenient. Fully customizable, they give a child, or adult, many options for characters and fun. When your daughter is hot, you just take the lightweight apron off and put it into your backpack. Later, if she decides she wants to wear it again, you can just tie it right on with no trips to the bathroom to completely change.
This happened to us when we were at Epcot. She was tired of wearing her Tiana apron, but when she saw girls in line to see Tiana, she asked or it to be put back on so she could meet with her.  We put it back on her while she waited in line. (Good thing too, they cut the line off after her!)
They are super versatile and can go over shorts and a tank top when it's hot, or jeans and a jacket if it's chilly!
Another plus about these aprons is how cost effective they are. Of course, if your daughter is a huge fan of a particular princess and an official dress means the world to her, buy the official dress, but if you don't mind a little sewing or creativity, you can have a whole wardrobe of aprons for the cost of one costume.
Or, you can go onto places like etsy.com and find aprons for sale. To be honest, some of those etsy finds are amazing and creative, but they can cost you more than the price of an official dress.
So how do you go about making a "Disneybounding" apron?
There are many patterns out there to buy.  Find one that is a style you love at a skill level you can do.  I used the McCall's Crafts Pattern M7208, an apron by Trisha Lane designs.  I chose it because I loved the full gathered skirt and thought it would tie more like a dress and it had a detachable petticoat.  Keep in mind a full gathered skirt and the detachable petticoat makes this pattern more difficult for a beginner.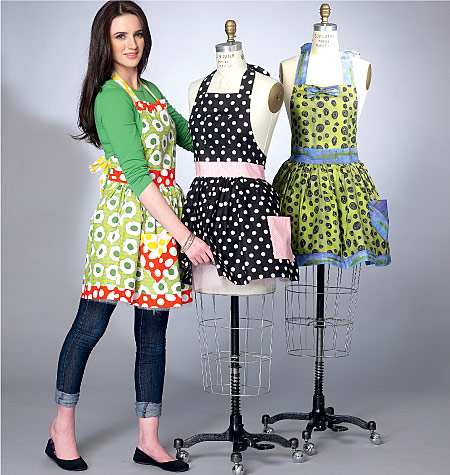 After I got the pattern I wanted to use I sketched out various designs modeled after princess dresses.  Then I took regular printing paper and tape and I made pieces to go over the basic apron pattern.  That is how I customized each apron to a specific princess.   It sounds complicated, but it really isn't that hard.  Tip..if you are making your own pieces add extra as seam allowances for sewing pieces together.  Otherwise they won't fit properly.
In the video below, you can see how the back of the apron ties. This is my daughter as Anna as she joined the "Princess Promenade" at Akershus.
In the end I made aprons of Ariel, Briar Rose, Merida, Tiana, and Anna. Tiana and Anna were the most difficult.  I had to hand sew ribbon for Anna's dress.  Fabric paint would probably give you a similar look with far less effort (lesson learned!)
All together the supplies cost me around $30.00 USD, so about $6.00 per apron.  Most aprons only took a couple of hours to complete.
My daughter received so many compliments on them and she loved the versatility.  After the trip she could still use them to play in and share with her friends.
This year I am going to make more for our June trip to Walt Disney World. I know I will be doing aprons for Belle, Cinderella, Elsa and I will be doing a "bride's dress" to match the Haunted Mansion bride headband her dad got for her a couple of weeks ago. When I start and complete those I will share them for you to see and possibly process videos that you can follow along with my progress.
I hope you consider aprons as an alternative to the traditional Disney Princess dress and try making them yourself!
What character aprons would you or your princess like?
Comment below or in our forums!