It's time to let it all go and take an amazing and magical Disney Cruise Line vacation! If you're having a hard time choosing which ship to vacation on, we don't blame you because there are just so many exciting and wonderful things on board each ship. For example, you can experience a day of Frozen fun on select 7-night sailings on the Disney Magic and Disney Wonder ships. You can wake up one special morning to discover the atrium aboard the Disney Wonder or the Disney Magic transformed into a winter wonderland with friends from the Frozen Kingdom of Arendelle. You won't believe you're eyes, and it sure is a sight to behold!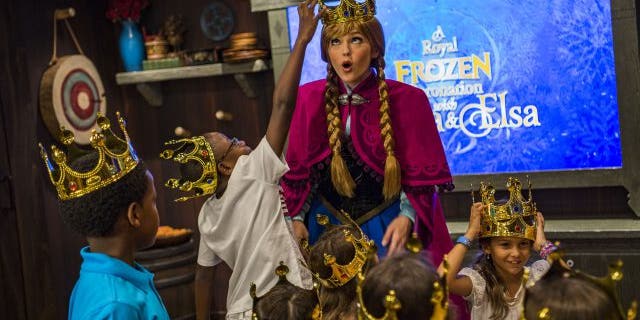 You will experience a full day of Frozen activities that include:
Meet-and-greet favorite Frozen friends as Queen Elsa, Princess Anna, and Olaf the Snowman.
the Frozen Adventures space at the kid's facility gives a permanent home to Wandering Oaken's Trading Post at sea, where children can participate in a coronation ceremony attended by the queen and princess– or meet Olaf in person.
Join "Anna's Chocolate Chase" on a scavenger hunt with a special surprise at the finish line.
Create snow and ice as you wield the magical powers of Queen Elsa in this fun and frosty activity.
Learn Oaken's Maypole Swirl and Twirl, a traditional Scandinavian folk dance, spinning ribbons into a spectacle of colors.
The magic doesn't even stop there! While you and your friends and family can have some Frozen fun all day long, the magic extends well into the evening at the Dinner and Deck Party. You will be invited to dine on a Nordic-inspired menu fit for a Royal feast, followed by a fun-filled show, "Freezing the Night Away With Anna, Elsa and Friends," of Frozen singing, dancing, and games. This star-studded show features Anna, Elsa, and Kristoff—along with virtual visits from Sven, Olaf, and the trolls! Delight in upbeat dancing, Frozen song favorites, and Elsa's powerful ice magic; play reindeer games with Sven; sing along to Olaf's signature song, "In Summer."
After dinner, witness with your own eyes a decorative deep freeze will spread to the ship's upper decks with giant snowflakes, icicles, and snow-covered rocks. It's absolutely magical! You'll have a wintry blast because this deck party extravaganza will give you chills of thrills!
If you're a Frozen fan, the Disney Magic and Disney Wonder 7-day cruises might be just the options for you!
Are You Ready to Book Your Next Vacation Today?
Be sure to call your Academy Travel agent today for more information and help with booking your next vacation! Because here at The Kingdom Insider, we have plenty of resources for you, just a click away! We have an incredible team of dedicated Disney experts and Travel Planners at Academy Travel. They are ready to help you plan out every detail of your vacation, so you don't have to worry! Call Your Travel Agent to Book, find a travel agent here, or visit AcademyTravel.com