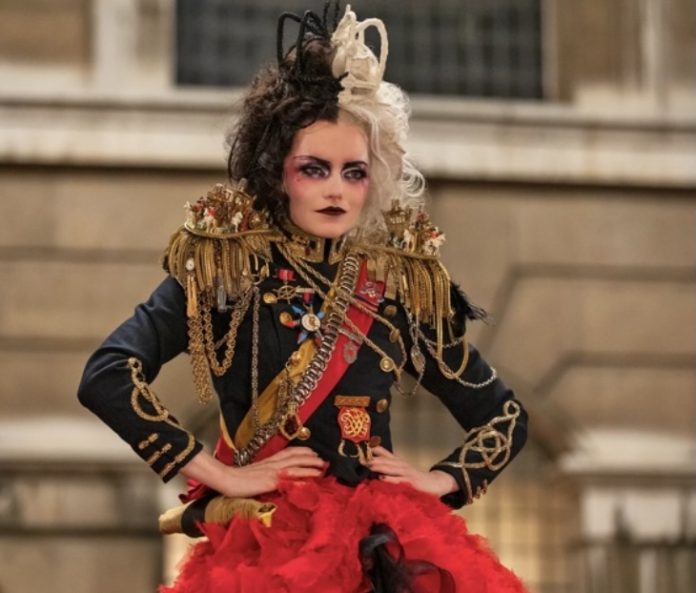 We've all seen the trailers for the new live action film, Cruella, and it's blatantly clear we're going to be seeing some jaw-dropping outfits and fashion from one of our favorite villains! Entertainment Weekly recently went behind the scenes with director Craig Gillespie, costume designer Jenny Beavan, and production designer Fiona Crombie to break down the wicked glamour of the Disney villainess origin story.
Gillespie told EW, "We're in a fashion world. That made it much more complicated, because everybody's going to have their fashion lens on as well. [We] run the risk of it taking you out of the film if you're not buying what they're selling."
This meant Oscar-winning costume designer Jenny Beavan couldn't merely make expressive costumes — they also had to double as gorgeous, covetable fashion.
Cruella is a rebel who challenges the fashion establishment in the form of the Baroness von Hellman (played by Emma Thompson), whose aesthetic was loosely inspired by Dior. Beaven explained, "By [the '70s] she's slightly old-fashioned." Gillespie promises that the rival designers' conflict, ever escalating in high stakes and high style, is "the most delicious part of the film."
I think one of the most fascinating parts of this film will be seeing how Cruella evolves from a troubled young woman into a villain with a killer fashion sense and seeing how the fashion progresses with her character. Here is a quick preview of what that journey will look like thanks to the behind-the-scenes pictures from EW!
London Punk
At the beginning of the trailer we see Cruella dressed in a very edgy, punk type of glamour. With her deep red hair and black clothing, she is already definitely standing in the spotlight with this look. "The 1970s is a period I actually remember the first time round, so that was sort of helpful," says Beavan, who Gillespie says was tasked with making the film's fashion "of the time, but in some way also current." This silhouette, of a fitted jacket atop a full skirt (plus Doc Martens), has "never gone away," Beavan observes appreciatively.
A Bold Fashion Statement
Also from the trailer, we see Cruella making a bold, red fashion statement at some sort of high-society event. According to EW, in the film Cruella recuts a vintage Baroness piece to make this dress. Aligning with both a punk DIY approach and modern sustainability efforts, "I thought [using found clothing] would be part of her ethic," says Beavan. Inspired by Charles James' "Tree" dress, the careful twisting on the bodice "took some time, let me tell you!" This will be an exciting scene as it's already made quite the impression and we haven't even seen the movie yet!
Villain in Training
Beaven mapped out the evolution of the deranged fashionista through her design choices. According to the costume designer, "It's quite clear in the story how [Cruella] develops, so you've got a good arc to her life in clothes." As young Estella, her wardrobe is softer and more deconstructed, but "as she becomes crueler and Cruella-er, she becomes sharper and more tailored."
A Crueler Cruella
Now this look is a statement! EW states, "Nothing ruins a bold entrance like a drab outfit, so this look needed to be as thrillingly disruptive as Cruella's arrival (on a motorcycle, naturally) when she wears it. Worked into Stone's makeup is a recurring motif that appears throughout her wardrobe: "The graffiti element is important," Beavan says.""
And Then Come the Spots…
"Cruella de Vil, If she doesn't scare you, No evil thing will!" EW shares this exclusive behind the scenes look of Cruella dressed in Dalmatian spots, the look that inspired this character in the original animated film. Beavan says this look paid "a slight homage to [the] Glenn Close Cruella, but it was our version." This is worn at a climactic fashion show — one of Cruella's "fashion bomb" moments. The film explores the origin of Cruella's obsession with the unique Dalmation spotted fur, but we can be reassured, this textile "was completely fake, printed by our printing department," Beavan says. "No animals were harmed in the making of this major motion picture!"
We can hardly wait to see this new film when it premiers next month on May 28!