Mickey's Toontown is one of those spots in Disney that I personally feel is a bit underrated. Toontown is in the back of the park, past the the "It's a Small World" attraction. I have a soft spot for Toontown as I have tons of fond memories of this spot from when I was a kid. It's really just a wacky, fun place full of experiences and really fun rides (and is a great spot to get an icee on a hot day!).
I want to take all you Insiders on a deep dive into why Toontown is go-to spot next time you're at Disneyland Resort!
Roger Rabbit's Car Toon Spin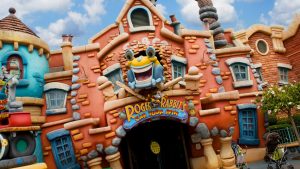 Roger Rabbit Car Toon Spin is a crazy and wild ride that has one of the most awesome queues! You will steer a runaway taxicab through the wacky streets of Toontown as you follow the adventures of Roger Rabbit. It's not for the faint of heart as you will be twisting and turning on every street and corner in search of Jessica Rabbit. Beware—the villainous Weasels are pouring slippery Toon-melting Dip in the paths of passing vehicles—including yours!
Gadget's Go Coaster
This is the best (and only) coaster in Toontown built by the inventor mouse from Chip 'n Dale Rescue Rangers and will have your heart racing at every twist and turn! You will race around the winding track Gadget Hackwrench crafted using oversized "found objects." On this coaster you can enjoy panoramic views of Mickey's Toontown on a whirlwind trip around Toon Lake!
Mickey's House
Mickey's house is one of my top favorite places to walk through in Towntown. As soon as you walk through the doorway you are transported into Mickey's World inside his home and you get to see how he lives. At the end of the send-guided walk-through tour, you can step inside Mickey's Movie Barn. While you wait, watch classic movie clips in Mickey's Screening Room. It's really just an awesome experience for both kids and adults!
Minnie's House
Minnie's house is insanely adorable. It's not as long of a walk-through as Mickey's house is, but it is just so Minnie Mouse, and best part is she lives right next-door to Mickey Mouse! If you open the refrigerator you will find every cheese known to "mouse-kind." You can also make a cake in the oven rise and fall with the turn of a knob. Don't forget to try Minnie's sweetheart-shaped computer.
Chip 'n Dale Treehouse
The Chip 'n Dale Treehouse is defiantly a one-of-a-kind home! At their house you can scamper into the home of the nuttiest duo around and see the world from a very chipmunk point of view. Step through a carved entryway and climb the winding spiral staircase into the heart of the tree Chip 'n Dale call home. At the top, you'll be rewarded with a treetop view of Mickey's Toontown. Trust me, it's really awesome!
Goofy's Playhouse
Goofy's Playhouse is SO MUCH FUN! As soon as you step foot through the door you'll realize no one else could live there except Goofy himself! Head through his wacky garden planted with popcorn cornstalks, spinning flowers, carved pumpkins and bell peppers—that really are bells. Peer up at the slapdash shack and spy a certain green hat hanging on one of the gables. Take a peek inside his crazy cupboards and then play a piano specially designed to make Goofy noises instead of notes. You will definitely have the time of your life at Goofy's place!
Quick Service Dining Spots
If you've worked up an appetite going through Mickey's house and all his friends homes, take a quick break and get a snack at any of the quick-service dining spots in Toontown. Pluto's Dog House is great spot to get a foot-long hot dog (they even have one with Bacon Mac 'n' Cheese!).
Daisy's Diner is also a great spot to grab a cheese or pepperoni pizza!
There are just so many things to attractions, shops and experiences to enjoy at Mickey's Toontown inside Disneyland Park, and we will have yet another new attraction to enjoy soon! Mickey's Runaway Railway (currently open at Walt Disney World) is coming to Disneyland Park in 2023! According to the Disney Parks Blog, "This first major Mickey-themed ride-through attraction at Disneyland park will put you inside the wacky and unpredictable world of a Mickey Mouse cartoon short where anything can happen! Once you step into the cartoon world of Mickey and Minnie, you'll board a train with Goofy as the engineer. Then, one magical moment after the next leads you to a zany, out-of-control adventure filled with surprising twists and turns."
What's your favorite part about Mickey's Toontown at Disneyland?
Are you ready to plan your next Disneyland trip? Here at the Kingdom Insider we have plenty of resources for you just a click away! We have an incredible team of dedicated Disney experts and Travel Planners at Academy Travel who are ready to help you plan out every detail of your vacation so you don't have to worry!