EPCOT has 11 pavilions that showcase different countries around the world, each one unique and offering up cultural food, drinks, and shopping. It can be overwhelming knowing where the best spots are to eat and drink, what you need to see, and what you can skip. Over the next few weeks, I will feature one pavilion a week and show all of you Insiders what there is to see and do and eat in each country. It will be so much fun, and I can't wait to take all of you Insiders on this exploration! The first week we explored the Mexico pavilion, and last week we explored the Norway pavilion. Next stop…China!
After you are done in Norway, you will wander over to China, where you will witness the breathtaking and colorful Chinese architecture of this beautiful country. Let's take a look at where you can catch the entertainment, delicious food and where you can find characters!
Dining
Chinese food is my absolute favorite, and of course, the China pavilion delivers on food! There are several options to choose from, one being the Nine Dragons Restaurant. Here you can delight in Cantonese, Mongolian, Szechuan, Hunan, and Kiangche-style specialties under the soft glow of Chinese lamps. The details in this restaurant are beautiful, with stunning glass etching of 2 dragons chasing a glowing pearl, and we recommend requesting a table by one of the windows for a sweeping view of the World Showcase Lagoon promenade. They serve lunch and dinner with menu items such as honey-sesame chicken, peppery shrimp, and fried rice.
Another excellent dining option is Lotus Blossom Cafe (quick-service). Trust me, the smell of the food as you walk by this place will have you immediately hungry! Chow down on Chinese favorites like pot stickers, egg rolls, orange chicken, chicken fried rice, Mongolian beef, and more for lunch and dinner. They also offer ginger ice cream for dessert! Plum wine and beer are also available.
Attractions
You are invited to journey through ancient and modern China at Reflections of China during a spectacular 12-minute Circle-Vision 360° film. Your guide, Tang Dynasty poet Li Bai, will take you on an immersive tour through the sights and sounds of China. You'll float down the Huangpu River to Shanghai and see historic Nanjing Road; take witness to the gentle, fluid movements of tai chi and the agile acrobatics of the Peking Opera Company; scale the hauntingly beautiful Huangshan mountain range into the mythical Sea of Clouds, the inspiration of poets and painters for centuries; follow the Yangtze River to the water-bound city of Suzhou, dubbed "the Venice of the East" by Marco Polo; and visit a busy night market in Xinjiang Province and trek across the Gobi Desert on the ancient Silk Road and enter the vast Forbidden City. Reflections of China plays continuously throughout the day.
The EPCOT International Flower & Garden Festival runs from March 2 to July 4, 2022. You can stroll through breathtaking gardens and admire topiary sculptures of beloved Disney characters; in China, the character displays include pandas and dragons. There's also a China Zodiac Garden where you can discover your favorite zodiac with clever creations, and the Bamboo Garden that has bamboo in a variety of colors, patterns, and sizes.
Shopping
If you're looking for authentic Chinese clothing, jewelry, handbags, housewares, beautiful parasols, etc., House of Good Fortune is the spot to go to! It's one of the largest shopping locations in the World Showcase. Good Fortune Gifts is a smaller store but it's a cute little market that sells traditional-style gifts as well. There's also a Kidcot Fun Stop where kids can pick up a fun memento with facts and activities featuring the culture and traditions of each country. You can collect activity cards in each country throughout the World Showcase.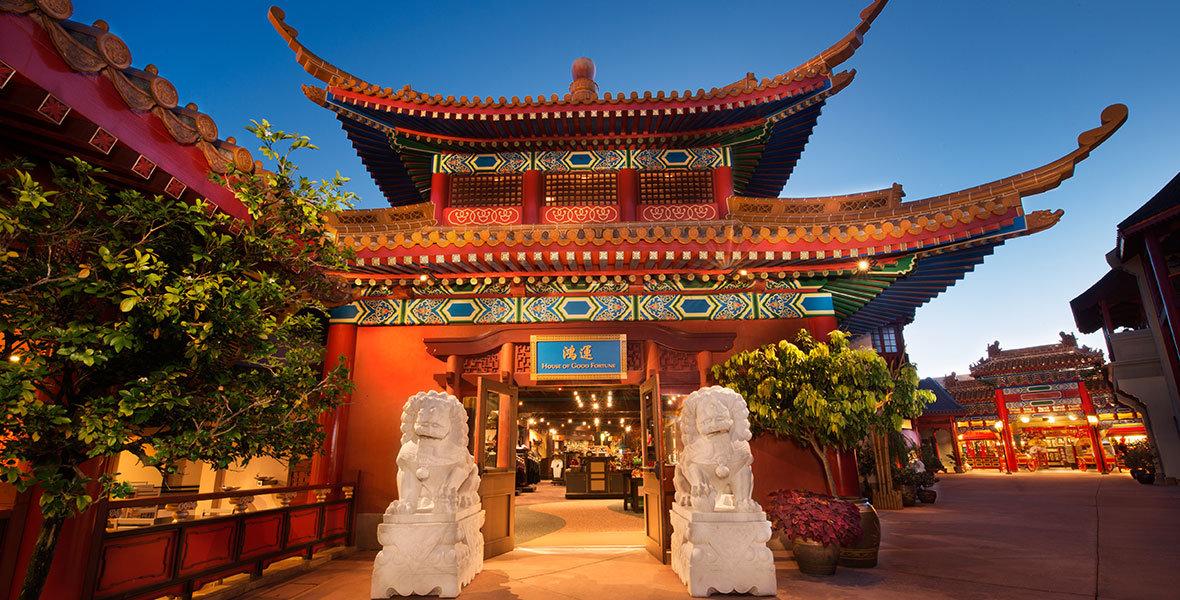 Entertainment
The Jeweled Dragon Acrobats are an acrobatic troupe from China who perform incredible strength, agility, and balance feats. It's a 20-minute performance that's not to be missed at this pavilion! This show will have you marvel at a vibrant display of artistry and skill. Using props, springboards, and seesaws, they will astound you with tumbling, twisting, flips, and leaps.
If you're looking for your favorite Disney character from China, you're in luck! Mulan and Mushu are available for meet and greets throughout the day, and they may share a legendary tale or two with you!
Be sure to stay tuned for next week because I will be taking you on an exploration of the next pavilion in the World Showcase at EPCOT-Germany!
Are You Ready to Book Your Next Vacation Today?
Be sure to call your Academy Travel agent today for more information and help with booking your next vacation! Because here at The Kingdom Insider, we have plenty of resources for you, just a click away! We have an incredible team of dedicated Disney experts and Travel Planners at Academy Travel. They are ready to help you plan out every detail of your vacation, so you don't have to worry! Call Your Travel Agent to Book, find a travel agent here, or visit AcademyTravel.com