EPCOT has 11 pavilions that showcase different countries around the world, each one unique and offering up cultural food, drinks, and shopping. It can be overwhelming knowing where the best spots are to eat and drink, what you need to see, and what you can skip. Over the next few weeks, I will feature one pavilion a week and show you Insiders what there is to see and do and eat in each country. It will be so much fun, and I can't wait to take all of you Insiders on this exploration! So far, we have explored Mexico, Norway, China, and Germany…next stop is Italy!
After you wander through Germany, you will head to Italy, where you will be surrounded by traditional Italian architecture. This pavilion also features an 83-foot bell tower, an authentic replica of the original campanile in St. Mark's Square. One of my favorite spots is the Plaza del Teatro, the central plaza area of the pavilion. Here is where you'll find the "Fontana de Nettuno," a fountain inspired by Bernini's Neptune fountain; it's a gorgeous fountain and a fantastic spot to take pictures. It's definitely a place where you can have a mini "Eat, Pray Love" moment! Let's take a look at where you can catch the entertainment, delicious Italian food, and where you can find all the fabulous shopping!
Dining
Tutto Italia Ristorante is a table-service restaurant where you can immerse yourself in the Old World ambiance. You can choose to dine on the outside patio or in the airy dining room, where you can enjoy murals of ancient Rome and sparkling chandeliers. Guests of all ages will enjoy the menu, which features a tantalizing selection of appetizers and entrees such as pan-roasted fish, grilled steak and seasoned potatoes, classic spaghetti and meatballs, fettuccine, chicken parmesan, and more! You must save room for dessert and enjoy a decadent dolci as gelato, chocolate cake, or crispy cannoli to complete your delectable dining experience!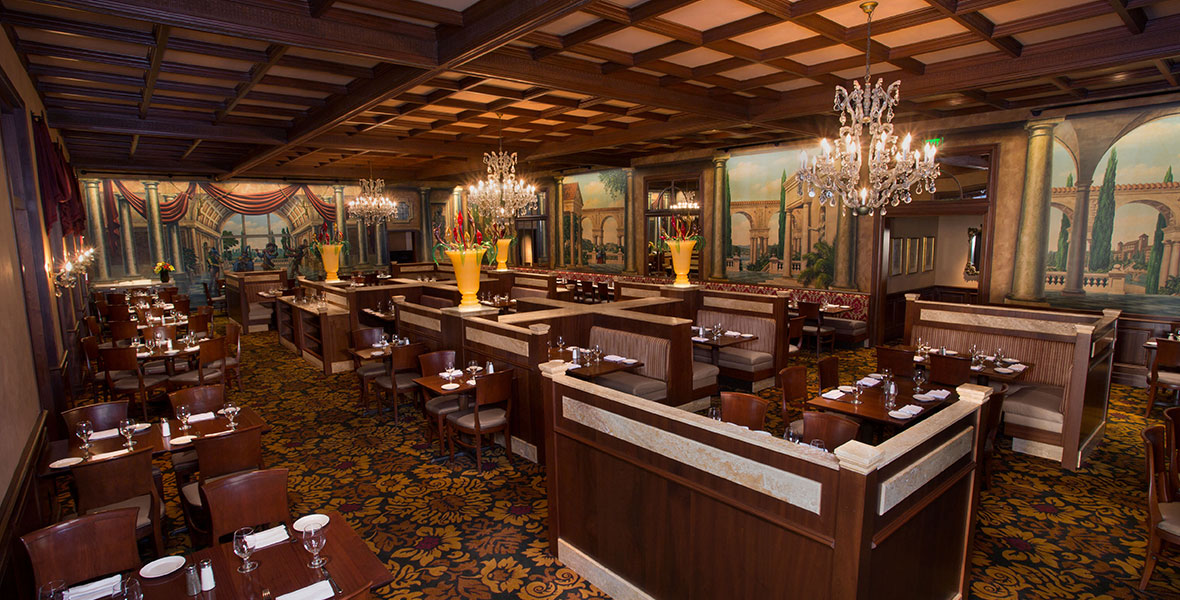 If you're a wine-lover, then you won't want to miss Tutto Gusto Wine Cellar. Here you can experience the flavors of Italy at this cozy wine bar. This spot offers over 200 bottles of Italian wines, beer and a lounge menu that offers small plates of meats, cheeses, panini, pasta, and desserts. The stone walls and floors, rustic wood beams, and brick arches really make this space feel like an Italian wine cellar.
If you're in the mood for some authentic pizza (like when does pizza not sound good?!), make a straight beeline to Via Napoli Ristorante e Pizzeria. Guests of all ages will enjoy a culinary tour of Southern Italy and have choices galore with items such as pizza, pasta, prosciutto e melone, and more! The real highlight is obviously the traditional Neapolitan pizzas that are delivered right to your table, and there are several different kinds to choose from!
Adjacent to Via Napoli is a walk-up pizza window called Pizza al Taglio. You can order a slice of pizza, cannoli, or a drink (they have alcoholic and non-alcoholic options). They are temporarily closed, but keep your eyes open when you're there because several guests have reported that the pizza window has been randomly opening over the past few months!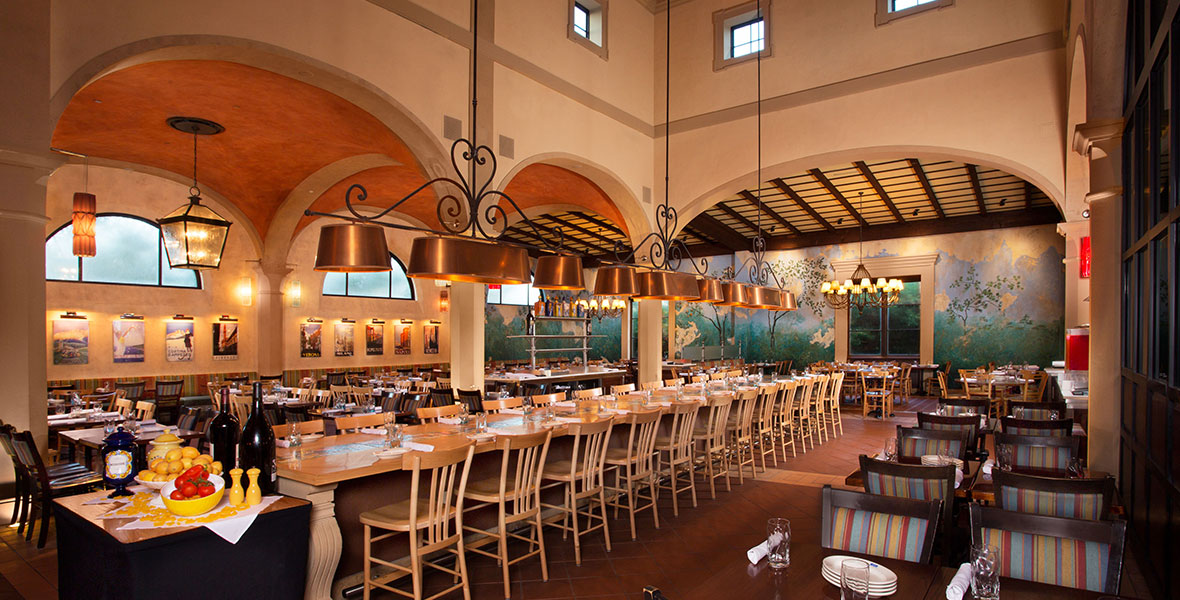 Visiting the Italy pavilion wouldn't be complete without trying some Italian gelato! Gelateria Toscana Treat is a cart that sells old-world gelato or sorbet—hand-scooped into a cup or cone—or featured in a decadent dessert creation. They also offer irresistible pastries that you can pair with a beverage, including soft drinks, Italian coffee selections, beer, wine, and more.
Shopping
Shopping in Italy sounds like a dream, and shopping at the Italy pavilion is basically the next best thing! If you're looking for items such as exquisite Italian wares here, including Murano glass, porcelain, crystal, chic handbags, clothing, and accessories, head over to Il Bel Cristallo. The first time I ever went to this shop, I just about swooned in delight! The outside of the building itself is incredibly gorgeous.
One thing I have always personally wanted is an authentic Venetian mask. Over at La Gemma Elegante, you can find handmade ones that you can purchase! They also sell dazzling jewelry, perfumes, and luxury handbags.
La Bottega Italiana is another spot where you find Venetian masks! They also sell cookware (what would I give for some authentic Italian cookware!), decorative items, and Italian foodstuffs.
Entertainment
The Italy pavilion has no shortage of food and shopping, but it doesn't have much entertainment, and there is no character meet and greets here. However, throughout the day, you can catch a short 20-minute show on the streets of Italy! Sergio is a master juggler and mime, and he engages his audience with lighthearted, old Italian piazza-style juggling. It's quite the show and will give you a few laughs!
Be sure to stay tuned for next week because I will be taking you on an exploration of the next pavilion in the World Showcase at EPCOT-home-sweet-home, the United States!
Are You Ready to Book Your Next Vacation Today?
Be sure to call your Academy Travel agent today for more information and help with booking your next vacation! Because here at The Kingdom Insider, we have plenty of resources for you, just a click away! We have an incredible team of dedicated Disney experts and Travel Planners at Academy Travel. They are ready to help you plan out every detail of your vacation, so you don't have to worry! Call Your Travel Agent to Book, find a travel agent here, or visit AcademyTravel.com