EPCOT has 11 pavilions that showcase different countries around the world, each one unique and offering up cultural food, drinks, and shopping. It can be overwhelming knowing where the best spots are to eat and drink, what you need to see, and what you can skip. Over the next few weeks, I will feature one pavilion a week and show all of you Insiders what there is to see and do and eat in each country. It will be so much fun, and I can't wait to take all of you Insiders on this exploration! Last week we explored the Mexico pavilion; our second stop…the Norway pavilion!
The jump from Mexico over to Norway is a bit of a culture shock. You go from a grand fiesta and vibrant colors into Scandinavia, which features a picturesque town square, designed to represent the Norwegian towns and cities of Bergen, Oslo, Alesund and Setesdahl. The little village area holds so much charm, and all the little shops will keep you busy as you adventure through!
Dining
Akershus Royal Banquet Hall is a magical spot where you can dine with Disney Princesses inside a medieval castle with soaring archways and cathedral ceilings. Totally cool, right?! They serve American breakfast favorites in the morning and family-style Norwegian-inspired fare for lunch and dinner. At lunch and dinner, every Guest's royal feast begins with a "Taste of Norway"—featuring the finest Scandinavian seafood, imported cheeses, cured and sliced meats, and a vast selection of salads and fruits. There is also a rotating menu of hot entrées, including grilled fillet of salmon, oven-roasted chicken breast, and a Norwegian meatball dish called Kjøttkake. It's a place where you can get adventurous with Norwegian food or stick to some more basic favorites. Be sure to save room for The Royal Chef's Dessert Plate too—a platter of 3 delectable desserts served family-style for the perfect ending to your feast. Let your Academy Travel Agent know if you're interested in making a reservation during your next trip to EPCOT!
Kringla Bakeri Og Kafe is a neat spot to grab traditional Norwegian specialties like kringla sweet pretzels, sweet lefse flatbread, or the famous school bread. This quick-service spot also serves up some fantastic Norwegian Viking coffee that you'll want to pair with one of their savory pastries! You can also try some Norwegian beer (Aass Pilsner, Einstök White Ale or Einstök Toasted Porter) here as well.
Attractions
The Norway Pavilion is one of only two pavilions in the World Showcase that has an actual ride! Norway is home to the Frozen Ever After attraction, and this is one of my personal favorite rides at this park. The line can get VERY long, but the queue for this one is very cute and charming. On this ride, you will voyage to Arendelle aboard an ancient Nordic vessel as you take a musical tour of the wintery world of Frozen. The slow-moving boat ride has backward and forward plunges down short waterfalls, and it will keep everyone of all ages completely entranced throughout the entire magical journey. It's definitely a ride worth melting for!
Shopping
Shopping is one of my favorite things to do in all the different pavilions because you can find things here that you can't get at most other Disney Parks, and it's like you're really bringing home a souvenir from a different country. At The Fjording, you can find Viking helmets, pose with a giant troll and shop for Norwegian imports from fragrances to foodstuffs to fleece.
The Puffin's Roost (the Puffin's Roost sign and doors have been removed) is attached to Kringla Bakeri og Kafe. It sells a variety of Norway-themed products including clothing, perfume, candy, toys, Viking hats and accessories, and various other souvenirs. There's also a Kidcot Fun Stop located inside, where kids can pick up a fun memento with facts and activities featuring the culture and traditions of each country. You can collect activity cards in each country throughout the World Showcase.
Reindeers are better than people, right? You can mosy on over to The Wandering Reindeer and find Frozen and Frozen II merchandise!
Entertainment
The entertainment side of things is certainly not lacking over in Norway! At the Stave Church Gallery, you can discover the legendary goods and myths of real Vikings. It's pretty fascinating and a fun little walkthrough where you can take a break from the heat or the rain and view historical items—some displayed outside of Norway for the first time—to explore how the Vikings' beliefs impacted their daily life. Norway is also home to the woodlands with wildflowers; you may even come across a Troll Topiary nearby Anna and Elsa topiaries during the EPCOT International Flower & Garden Festival!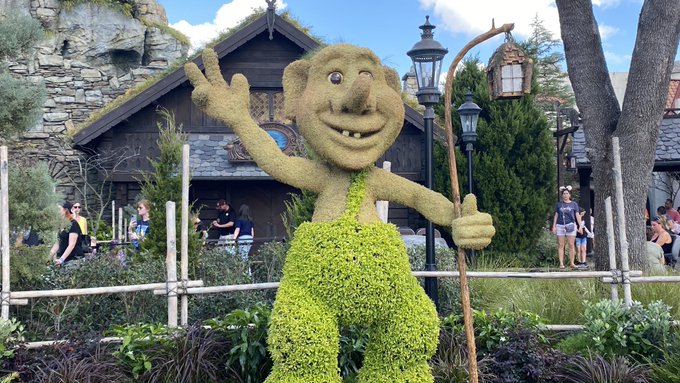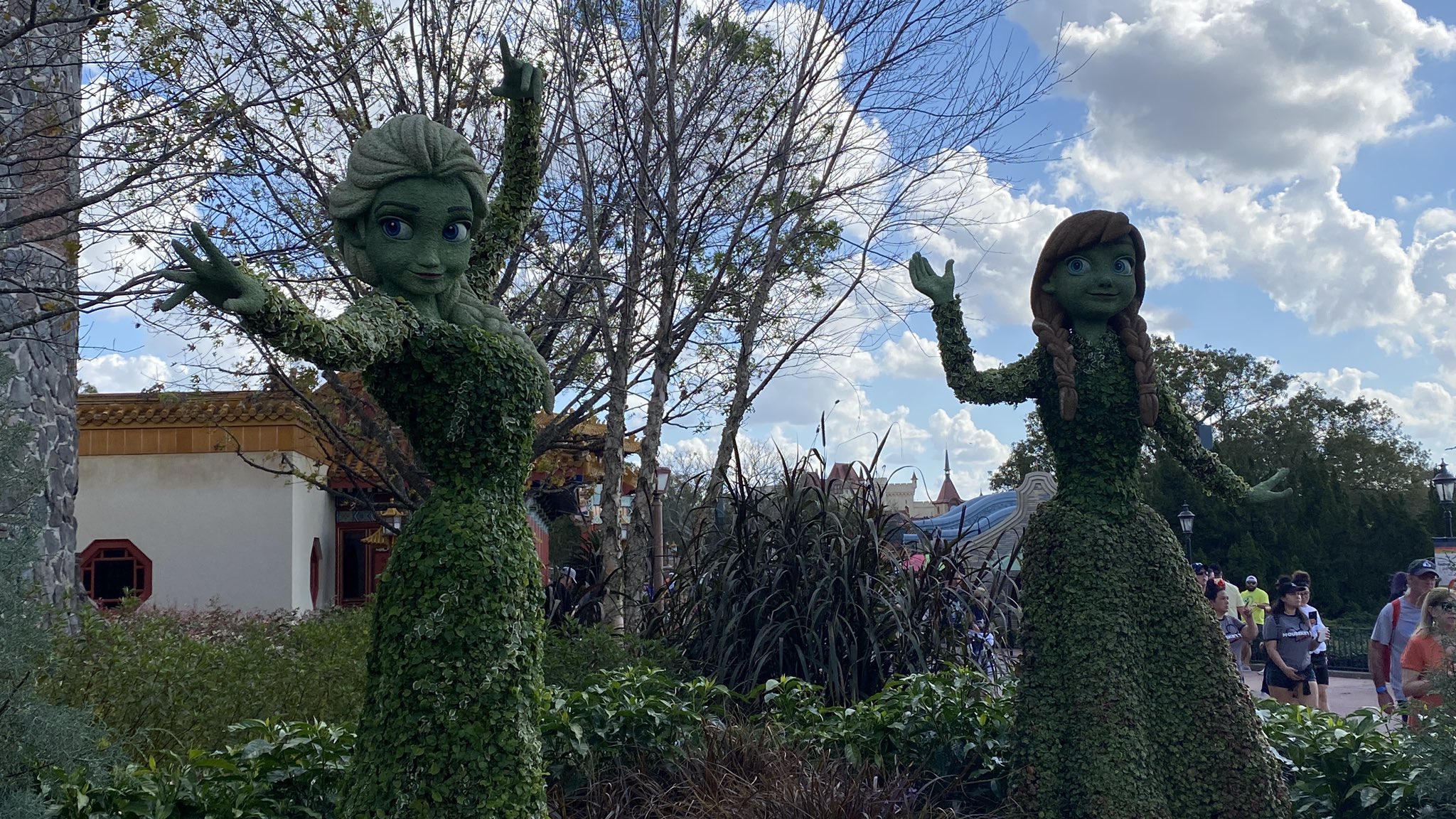 Anna and Elsa greet guests daily in the Royal Sommerhus, and they are always up for chilling out and taking photos with guests! If you're lucky, you may even catch Norway Vikings roaming around the pavilion looking for their ship! Be sure to spend a minute interacting with them as they are lots of fun and are a big part of what makes the Norway Pavilion so memorable!
Be sure to stay tuned for next week because I will be taking you on an exploration of the next pavilion in the World Showcase at EPCOT-China!
Are You Ready to Book Your Next Vacation Today?
Be sure to call your Academy Travel agent today for more information and help with booking your next vacation! Because here at The Kingdom Insider, we have plenty of resources for you, just a click away! We have an incredible team of dedicated Disney experts and Travel Planners at Academy Travel. They are ready to help you plan out every detail of your vacation, so you don't have to worry! Call Your Travel Agent to Book, find a travel agent here, or visit AcademyTravel.com