Being a Disney family, it was never a question to me where my boys would be getting their first haircuts. Each of my boys was over a year old when they had their first haircuts and if I did it at home, it would've been a little sooner. Knowing we had Disney trips planned, I made sure to put the haircuts off so that we could give each of them the My First Haircut Package.
The Harmony Barber Shop is located between the Main Street Fire Station and the Emporium. Aesthetically, when we walked in, we felt like you were entering an early 1900s barbershop in the Midwest. There's a good reason for that- it was Walt's favorite barber shop in Missouri that served as the inspiration for the one in the Magic Kingdom. I love how the shop is tucked away, almost in a secret place off of Main Street. When you check out, a beautiful antique cash register is used and topping off its nostalgic decor is the red and white stripe Barber Shop pole, spinning outside the front door.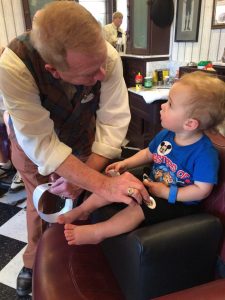 The shop is a traditional, full service barber shop. Services include; Adult Haircuts, Child Haircuts with Pixie Dust (12 and under), Beard and "Mousetache" Trims, however- their specialty is the My First Haircut Package. Included in this package are a certificate of your child's first haircut, a lock of hair, Mickey ears, and as many stickers as your child can handle (and mine needed a lot!).
The shop itself is small and is equipped with just three barber chairs. There is a small waiting area, as well as plenty of room outside to wait and look through the windows. The moment we walked in, we were instantly greeted by the Harmony Barbers with warm smiles on their faces. Right away, I knew we had made the right decision about getting our son's first haircut here. Like most first haircuts, each of my sons was in tears. I got a little nervous too, but the barbers knew exactly what to do and took good care of them (and assured mommy that all would be okay). I'm not even sure Mary Poppins herself, could handle a screaming child on their first haircut, as well as the Harmony Barbers. From start to finish, the barbers are a class act and it's their service that makes the experience magical.
I'm sure you're asking yourself, "This is Disney, how much is this going to cost and is it worth it? My answer, YES! The My First Haircut Package is priced at $25. I believe it's extremely reasonable for a first haircut, and all that comes with it. As I noted above, you walk away with a special certificate, a lock of their hair and a pair of Mickey Ears with the words "my first haircut" embroidered in gold on the back. Although first haircuts can be a little tough, your kids will still enjoy it. The second they hop up in their barber chair, the barbers start their show! They're draped with a Mickey Mouse cape, pixie dust is sprinkled, and lots of stickers and toys are on hand to entertain them. The barbers even provide parents with time to capture the moments and even offer some photo ops at the end.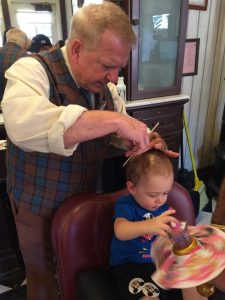 Harmony Barber Shop hours are 9 a.m. to 5 p.m. daily. Appointments are by reservation only. Call 407-WDW-PLAY for openings at least one day in advance (no same day booking availability). Although, I strongly reccomend booking the appoitnment as soon as you are aware of your vacation. Reservations must be guaranteed with a credit card. Cancellations must be made 24-hours in advance or a $10 cancellation fee will be charged to the credit card. Payment will be made at the barber shop upon arrival and they accept cash, credit card and Walt Disney World Resort MagicBands (band must have charging privileges). Gratuities are to be made only in cash.
If you're looking to create a unique and classic Walt Disney World Memory, book your child the My First Haircut package at the Harmony Street Barber Shop. If you're lucky enough, you'll catch a performance from The Dapper Dans! I will always treasure the pictures and keepsakes from each of my son's experience.