I know we're still right in the middle of summer, but school is about to start again, and we're about to dive right into the holiday season! If you can believe it, Mickey's Not-So-Scary Halloween Party is about to begin starting next week on August 12! So many exciting shows and enchanting entertainment will be in store for those of you who plan to attend, and we have gathered all the information for you here in one spot!
Disney's Not-So-Spooky Spectacular Fireworks Show
Halloween fireworks are always my favorite, and this year's show is bound to be as grand and spooky as ever! Jack Skellington will be hosting the Halloween firework show this year and will delight all with this not-so-scary tale that proves anything can happen at Halloween!
During a frightfully fun fireworks display, Mickey, Minnie, Donald, and Goofy are spirited away to a mysterious haunted house where they encounter dancing skeletons, waltzing ghosts, and a sinister gathering of Disney villains! Don't miss this dazzling spectacular featuring state-of-the-art projection effects, lasers, lights, and fireworks.
Disney's Not-So-Spooky Spectacular fills the skies above Cinderella Castle starting at 10:15 PM.
Hocus Pocus Villain Spelltacular
The Witches are back! If you're ready for "Hocus Pocus 2", streaming on Disney+ this fall, you'll be excited to hear that the Sanderson sisters are throwing a fabulous Halloween party! With only a few hours to run amuck, Winifred, Mary, and Sarah will use their magic to host a decidedly wicked fun fest.
Enlisting the help of the Disney villains, the three sisters mix sinister shadows, terrifying nightmares and use the nefarious powers of their frightening colleagues to conjure the ultimate Hocus Pocus Party Potion—and cast a spell on everyone in Magic Kingdom park!
Look for appearances from Dr. Facilier, Oogie Boogie, and Maleficent. Combine them and other great Disney villains with amazing dancers, wild visual projections, and otherworldly special effects to make Hocus Pocus Villain Spelltacular a not-to-be-missed Halloween treat!
Showtimes
August and September 2022
8:35 PM, 10:45 PM, midnight
October 2022
7:40 PM, 8:35 PM, 10:45 PM, midnight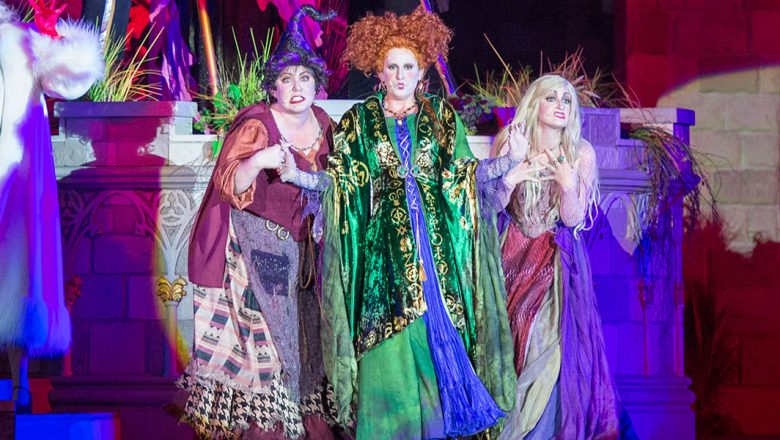 Mickey's "Boo-to-You" Halloween Parade
We all love a good parade, and Disney does not hold back, especially at Halloween! This is the one time of year you will see some villains you will not see around the parks outside of this event. Twice nightly, this beloved cavalcade brings forth an assortment of fiendishly fun floats as each land of the Magic Kingdom comes together to celebrate.
Highlights include:
A flurry of favorite Disney friends, including Mickey Mouse and Minnie Mouse, are donning Halloween costumes as they prepare to trick-or-treat down Main Street, U.S.A.
Hitchhiking Ghosts and the spectral Bride, who glides among the waltzing spirits—representing the Haunted Mansion from Liberty Square
Pirates sail in from Adventureland, Clarabelle Cow hosts a square dance during a Frontierland hoedown, and a wicked assortment of Disney Villains reign over a Fantasyland-inspired grand finale
Mickey's "Boo-to-You" Halloween Parade begins in Frontierland at 9:15 PM and 11:15 PM and ends on Main Street, U.S.A.
The Cadaver Dans Barbershop Quartet
Get ready to encounter the ghostly group known as the Cadaver Dans. They really like "axing" guest's questions… and answering with puns as part of their "dead pan" humor! This Dapper Dans-style quartet will have you howling in laughter to a bone-rattling bevy of tunes.
The Cadaver Dans Barbershop Quartet performs in Frontierland at 7:00 PM, 7:45 PM, 8:30 PM, 9:50 PM, and 10:30 PM
There are still tickets left, so be sure to reach out to your Academy Travel Agent if you're interested in attending this spooktacular event! Kara and Ashley will be attending Mickey's Not-So-Scary-Halloween Party on Friday, August 12, so be sure to stay tuned to our Instagram and Facebook stories to follow along with their night!
Are You Ready to Book Your Next Vacation Today?
Be sure to call your Academy Travel agent today for more information and help with booking your next vacation! Because here at The Kingdom Insider, we have plenty of resources for you, just a click away! We have an incredible team of dedicated Disney experts and Travel Planners at Academy Travel. They are ready to help you plan out every detail of your vacation, so you don't have to worry! Call Your Travel Agent to Book, find a travel agent here, or visit AcademyTravel.com