The Disney Parks Blog released a concept art image for the Disney H2O Glow Nights events happening at Disney's Typhoon Lagoon this summer.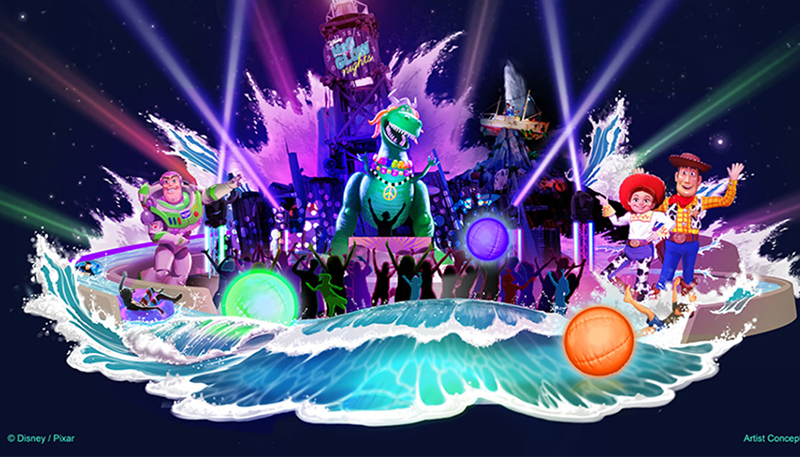 H2O Glow Nights is a nighttime party ticketed event. Featuring glowing beach balls, inner tubes and other special lighting effects. Running from 8 PM – 11 PM (you can get in as early at 7 PM) You must purchase a separate ticket for the event.
We reported this before HERE.  On special nights starting on June 21, Typhoon Lagoon will turn into a fun, family nighttime location. With a beach dance party, special Toy Story character appearances, special food and beverage options, Typhoon Lagoon attractions, and party games.
Adults can stop in at The Wharf. This is a special, adults only area, that happens only at H2O Glow Nights.
Tickets are on sale now for the event and still available. The cost is $55 for adults (plus tax) and $50 (plus tax) for children ages 3-9.
Tickets are still available for the following nights: June 21,23,28, 30. July 5,7,12,14, 19, 21, 26, 28. August 2,4,9 and 11th
To purchase tickets you can call Mickey Vacations at 609-978-0740 or you can contact Disney directly.
Source: Disney Parks Blog
Wanna go to Disney?
We recommend Academy Travel, a Disney Platinum Earmarked agency. Walt Disney World, Disneyland, Disney Cruise Line, Adventures by Disney, Universal Orlando Resort, Sea World and more -- they can do it all, and at no extra cost to you! Fill out the form below or call 609-978-0740 today!