It's our quarter-century anniversary, and we're pulling out all the stops, complete with new offerings and shimmering decorations across our entire fleet of ships. Come join our magical celebration this summer and get ready to kick up your heels with beloved Disney Characters like Captains Mickey Mouse and Minnie Mouse, all decked out in their sparkly best—sailing select dates from May through September 2023 only.
oin in the Silver Anniversary at Sea celebration on these sailings—only during summer 2023.
DISNEY WISH
May 1, 2023, through September 8, 2023Sailing to The Bahamas from Port Canaveral, Florida
DISNEY FANTASY
May 6, 2023, through September 2, 2023Sailing to the Caribbean from Port Canaveral, Florida
DISNEY DREAM
May 7, 2023, through September 17, 2023Sailing on Transatlantic and European cruises from Southampton, England; Civitavecchia (Rome), Italy; Barcelona, Spain and Miami, Florida
DISNEY WONDER
May 15, 2023, through September 11, 2023Sailing to Alaska from Vancouver, British Columbia
DISNEY MAGIC
May 24, 2023, through September 4, 2023Sailing to The Bahamas and the Caribbean from Miami, Florida
Disney Cruise Line is excited to introduce Lighthouse Point, our new island retreat nestled on the southernmost tip of the island Eleuthera—where the deep-blue Atlantic Ocean meets the turquoise waters of The Bahamas. Opening summer of 2024, Lighthouse Point is a unique celebration of Bahamian culture brought to life with the magic of Disney.
Lighthouse Point pays tribute to the beauty of nature, which gives shape to every architectural detail. Nature's influence can be seen in the curvy, organic shapes and vibrant colors of the architecture inspired by plants and shells from around the island Community and collaboration are also shaping forces. Across the island and around The Bahamas, we've partnered with artists, historians, and cultural ambassadors to bring Lighthouse Point to life. Recreational and water areas have been infused with the colors, music, and festive spirit of the Bahamian street parade, Junkanoo. Murals, sculptures, and other designs created by Bahamian artists, including some from Eleuthera, are integrated into gathering spaces and cabanas.
Be among the first to drop anchor at Lighthouse Point, a new Disney Cruise Line island retreat celebrating the breathtaking beauty and vibrant culture of The Bahamas. Or set sail on a glorious adventure exploring the majesty of Europe, the wilderness of Alaska, or the tropical islands of the Caribbean. Whichever cruise you choose, larger-than-life thrills and heartwarming magic are sure to follow—with world-class entertainment, gourmet dining, and all the award-winning attention to detail you've come to expect from Disney. Check out all the 2024 itineraries right HERE!
The Disney Treasure
Wishes really do come true! Take a special sneak peek into the dazzling Grand Hall (pictured above) aboard the new Disney Treasure—inspired by the mystery and grandeur of a gilded palace. This magical gathering space draws from the enchanting influences of Asia and Africa and is graced by the statues of Aladdin and Jasmine.
Hands-Free Meets the Sea with DisneyBand+
Beginning Summer 2023, Guests sailing on the Disney Wish are invited to be among the first to experience DisneyBand+. Sailing on another Disney cruise ship? Check back for more information! During this special preview, some features are still gaining their sea legs and may not be available. DisneyBand+ is a waterproof wristband designed to enhance your Disney cruise experience. From boarding the ship on embarkation day and accessing your stateroom to charging specialty food and merchandise to the payment card on your stateroom folio and beyond, DisneyBand+ adds convenience, fun, and more magic to your cruise!
Disney Uncharted Adventure: Explore the Fantastical Worlds of Disney and Pixar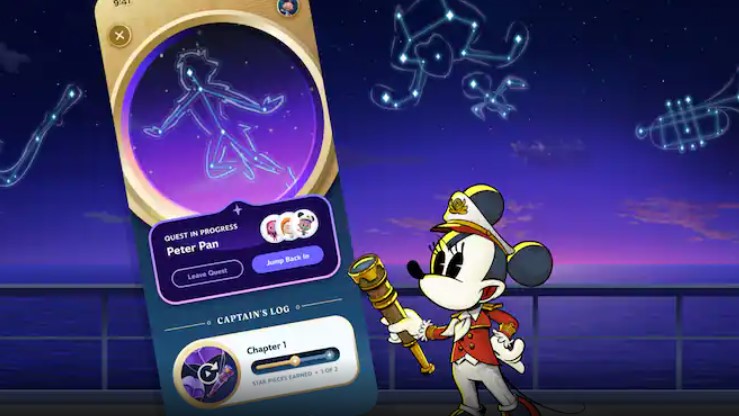 Are you ready to book your Disney vacation? Leave all the details to our friends at Academy Travel Agency & let one of their Disney experts take it from here! Just click here to select your Disney destination of choice, fill out the quick & easy questionnaire, and your personalized, free agent will be in touch soon! Take a look around our website in the meantime, and read all about resorts, cruises, dining, entertainment & more! Be sure to follow us @thekingdominsider on Instagram & The Kingdom Insider on Facebook for updates & Insider info on what's not to be missed! Get excited, the countdown to your vacation is ON!
SOURCE: Disney Cruise Line Website