There are now new menu items popping up at Flo's V8 Cafe at the Disney California Adventure Park.
Check out their new Pit Stop Classics options.
There is a new burger called the Ka-Cheeseburger. It's a 1/3 angus beef patty on a sesame seed bun with cheddar, caramelized onions and Thousand Island dressing.
If sandwiches are more your style there are two new ones to choose from
First is Ramone's Low and Slow Club made with turkey breast, bacon, lettuce, tomato on toasted white bread with avocado-bacon mayo.
Or you can choose the Fin-tastic Tuna Sandwich made with albacore tuna salad, lettuce and tomato on toasted wheat bread.
Let's say you would prefer some "Comfort Food." Flo's got you covered with "Drive In Dishes".
There are three new "Drive in Dishes" to choose from.
First up is Flo's Famous Fried Chicken served with roasted garlic mashed potatoes, gravy and a seasonal vegetable.
Next they offer a Cobb de Ville Salad with mixed lettuce, bacon, turkey, blue cheese, hard boiled eggs, corn, and tomatoes topped with house ranch dressing.
Finally try Fillmore's Pot Pie with creamy sweet corn, potato, chilies, and cheddar cheese wrapped in a flaky pie crust and served with fresh fruit.
Checkered Flag Chicken Noodle Soup
There are also Blue Plate Specials, but they aren't listed on the menu. Be sure to ask what they are!
Jr. Pitt Crew Menu for kids
There are some great options for kids! All dishes come with fresh fruit, baby carrots, and a choice of small lowfat milk or a small bottle of water.
First up we have the Micro Burger.
Another option is the Chicken Fenders.
Finally they offer Mack's Mac & Cheese.
Milkshakes, Beverages and Desserts
Make sure you try a milkshake with one of the new menu items. Flo's Classic Shakes come in vanilla, chocolate or strawberry flavors and come topped with cookies and cream crumbles they call "road gravel."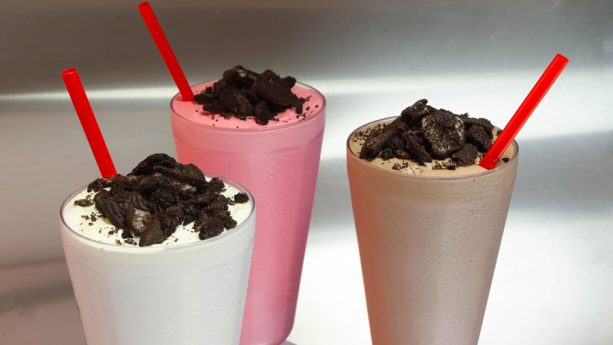 Besides milkshakes Flo's V8 Cafe offers fountain beverages, milk, orange juice, hot tea, hot cocoa, and hot coffee. For guests over 21 specialty draft beers like Victory Prima Pilsner and Bear Republic Racer 5 IPA are available. Wine loves can choose to sip on Kendall-Jackson VR Chardonnay, Coppola Rosso & Bianco and Red Sangria.
If desserts are more your speed the new menu offers rotational desserts. This is starting now with the Strawberry Pie.
Stop in today to taste the new dishes at Flo's V8 Cafe at Disney California Adventure.
What do you think? Which one would you like to try? Comment and let us know!
Source: Disney Parks Blog