As we inch closer and closer to the release of Star Wars Episode VIII: The Last Jedi, more official information is slowly being released by Lucasfilm. A new video was posted to the official Star Wars YouTube account that gives us a good look at two new First Order vehicles.
It's been rumored for months that the Resistance would face off against a new model of AT-AT walker, dubbed "Gorilla Walkers" by the crew. Now Lucasfilm finally confirms these heavily armored First Order vehicles as the AT-M6 walkers. Note the strong "forearms" that give the appearance of a gorilla walking on its knuckles, and the massive laser cannon on its back. It looks like the Resistance may be in for a massive beatdown. Ouch!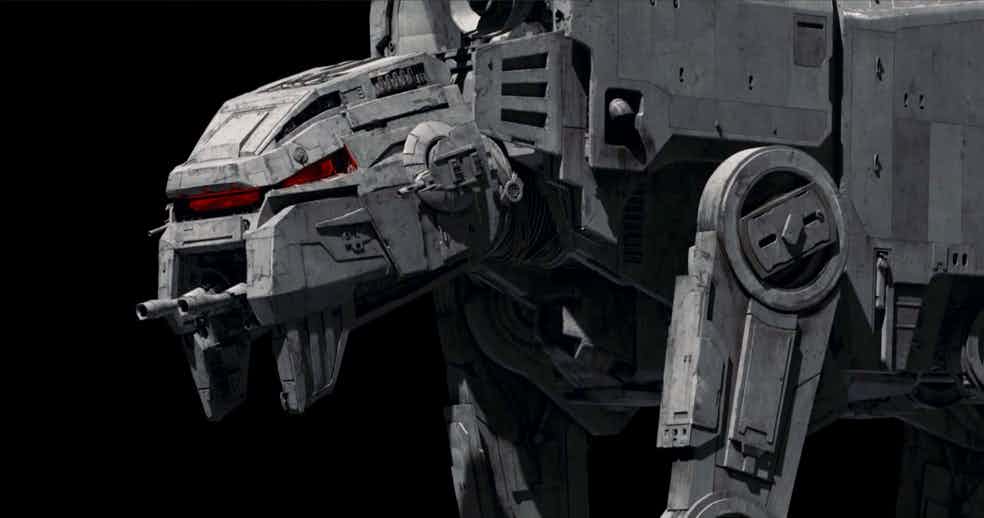 Also revealed was the Dreadnought, believed to be the flagship of the First Order and Snoke's personal craft. It's many, many times as large as Imperial Star Destroyers and is rumored to be the location of the film's final battle. [Edit: Snoke has an even BIGGER ship.]
You can watch the "big reveal" for yourself on The Star Wars Show below.
Walkers on a mostly white planet? A young Jedi wannabe training with a Master living in seclusion? Let's hope that The Last Jedi doesn't follow The Empire Strikes Back as closely as The Force Awakens followed A New Hope.
Anyway, we'll be there on opening night. Because it's Star Wars.
Star Wars: The Last Jedi opens on December 15, 2017.
[Source: StarWars.com]
Want to go on vacation?
We recommend Academy Travel, a Disney Diamond Earmarked agency. Walt Disney World, Disneyland, Disney Cruise Line, Adventures by Disney, Universal Orlando Resort, Sea World and more -- they can do it all, and at no extra cost to you! Fill out the form below or call 609-978-0740 today!