Hey howdy hey, Insiders! Have you heard the exciting news? The new Toy Story Hotel will be opening at Tokyo Disneyland next spring on April 5, 2022! From the pictures this new moderately priced hotel looks like it will take Guests to infinity and beyond from rooms, services, a new cafe, and more!
Get ready to go "to infinity and beyond" at Toy Story Hotel at Tokyo Disney Resort! Guests can step into the wonderful world of toys starting on April 5, 2022! pic.twitter.com/pAHYTwmzUB

— Disney Parks (@DisneyParks) October 29, 2021
Let's take a closer look:
Rooms
The hotel will offer 575 standard rooms and 20 superior rooms. The best part about all the  rooms is that they feature a design inspired by Andy's room, featuring his iconic blue-sky-and-and-puffy-white-cloud wallpaper, and an oversized Mickey Mouse wristwatch hanging on one of the walls, among other toy-like fixtures and furnishings. Just take a look at the teaser photo below. The room literally transports you to Andy's room and you will get the chance to live in the world of Toy Story!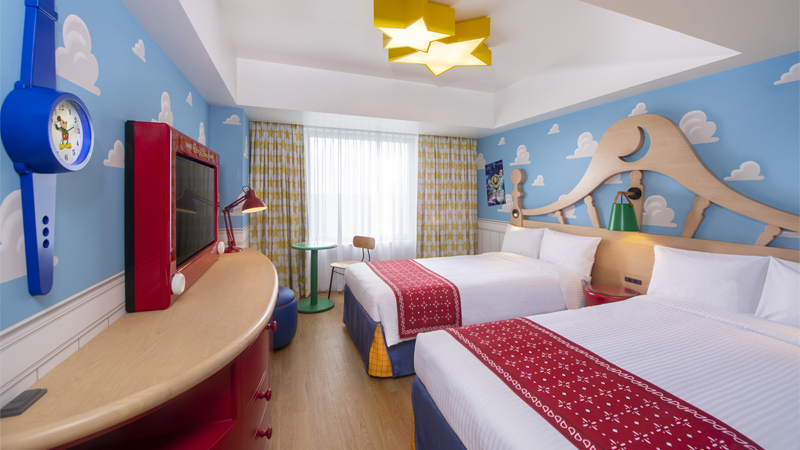 Lobby
The lobby of this brand new hotel will be a colorful, toy-filled space with a jigsaw puzzle-inspired floor and a ceiling designed to look like a board game. It will be a Toy Story paradise for kids of all ages!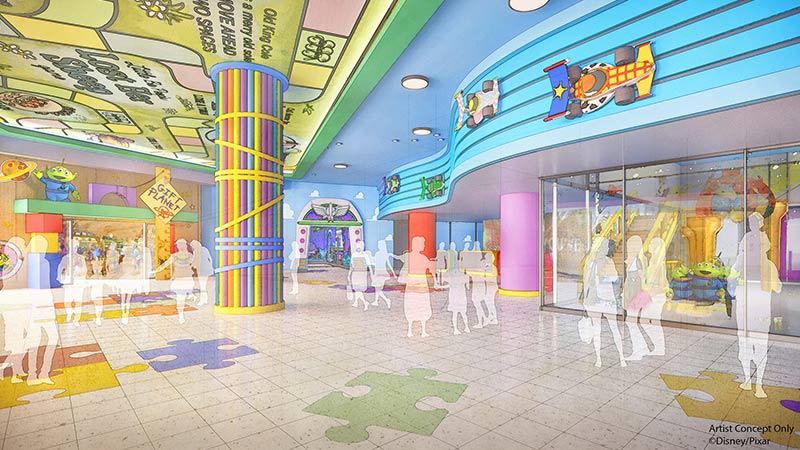 Lotso Garden Cafe
One of our favorite characters from Toy Story 3 will also be featured at the new hotel. The lovable pink-and-white plush teddy bear, Lotso, has inspired the new Lotso Garden Cafe that will offer buffet service at breakfast and dinner. Only Guests who are staying the night at the hotel will have access to this cafe.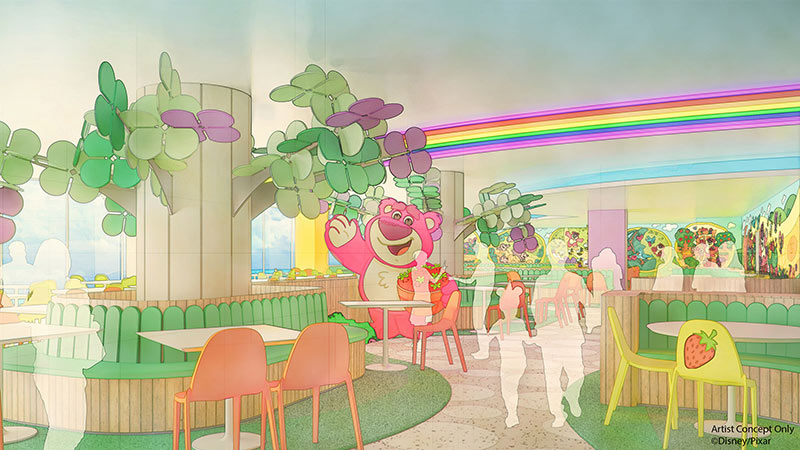 Even more exciting things to look forward to at this hotel include Toy Friends Square that will feature statues of Woody, Bo Peep and other Toy Story characters, as well as Slinky Dog Park, the plaza in front of the entrance features a board game themed to Slinky, with statues of Buzz Lightyear and Jessie.
The new Toy Story Hotel is definitely at the top of my list of places to stay when I get the chance to visit Tokyo Disneyland! Toy Story has continued to be a beloved Disney and Pixar film since the first movie came out in 1995 to the most current Toy Story 4 which came out in 2019. This new themed hotel will be the perfect addition over at Tokyo Disneyland!
Are you ready to plan your vacation to Tokyo Disneyland? Here at the Kingdom Insider we have plenty of resources for you just a click away! We have an incredible team of dedicated Disney experts and Travel Planners at Academy Travel who are ready to help you plan out every detail of your vacation so you don't have to worry!