So many things are being offered on the Disney Wish Cruise ship it's bound to be an adventure of a lifetime for all Guests who get to experience it. From dining adventures, experiences, Belle's library, encounters, and so much more it seems you will never run out of things to do! Believe it or not, more and more keeps getting announced about the Disney Wish. Now it seems that there will be another very unique dining experience onboard the ship and it's definitely one you will want to experience, especially if you are a Frozen fan!
Per D23, Disney Imagineers are taking previous experiences to the next level with Arendelle: A Frozen Dining Adventure, the first purpose-built space on a Disney Cruise ship designed for a theatrical dining experience. Guests be invited to attend Queen Anna and Kristoff's very special royal engagement party in a new tale that picks up just after the events of Frozen 2. Elsa and Olaf will be there for the festivities as well as going table-to-table visiting Guests. A troupe of "local" musicians will play Nordic renditions of favorite Frozen songs. And—"Yoo-hoo!"—get ready for a totally chill dinner, as Oaken and his Hearty Party Planning Service are catering the big event!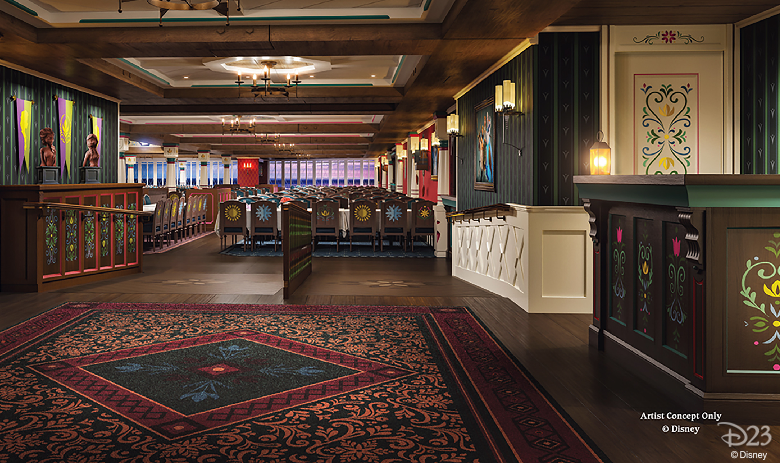 The dining space itself will be filled with tons of Easter eggs so you will want to be sure to keep your eyes peeled all around you. You'll want to look for family heirlooms and paintings, an Arendelle soldier's suit of armor, the grandfather clock featured in the original film, busts of Anna and Elsa, and the lantern featured in Olaf's Frozen Adventure. Plus, the gorgeous windows that look outside will undergo a magical transformation during the meal! Sounds totally magical, right?!
So what else do we have to look forward to aside from characters, the entertainment, and the ambience? Oh yea, the food of course! There will be a one-of-a-kind menu that combines traditional flavors and ingredients from the Nordic region with modern fare. It will include entrées such as a seared Chilean sea bass that comes with a cornucopia of fresh vegetables, and a juniper-spiced roasted free-range chicken that comes with a duck fat-fried potato and estragon wild mushrooms. Sounds like a fun and adventurous feast fit for royalty!