Today marks the one year anniversary of The Great Movie Ride's closure at Disney's Hollywood Studios.
The iconic attraction opened with the rest of MGM Studios (now Disney's Hollywood Studios) on May 1, 1989 and it ran until it closed on August 13, 2017.
In honor of the one year anniversary of it's closure we decided to make a list of fun "hidden" surprises from the original attraction.
Starting with the outside.
The building housing The Great Movie ride is a replica of the Grauman's, later renamed Mann's Chinese Theater in Hollywood.
Also, if you are out in front of the one in Disney' Hollywood Studios, you can find celebrity hand prints, just like in Hollywood. All except one. Audrey Hepburn.
Ms. Hepburn was on hand to place her hands in the cement. She became emotional and when asked why, she revealed that no one had ever asked her to do it. When Mann's got word they offered, but she declined.
The only place you can see Audrey Hepburn's hand prints are at Disney's Hollywood Studios.
Approving the Dopplegangers
The animatronics of actors for the attraction had to be approved by the actors themselves. If they were no longer living their family or estate had to give permission.
As a result of this there were some changes made to the attraction before it opened.
James Cagney's estate didn't like the outfit that was on his animatronic in the gangster scene. The family gave the Imagineers Cagney's actual tuxedo.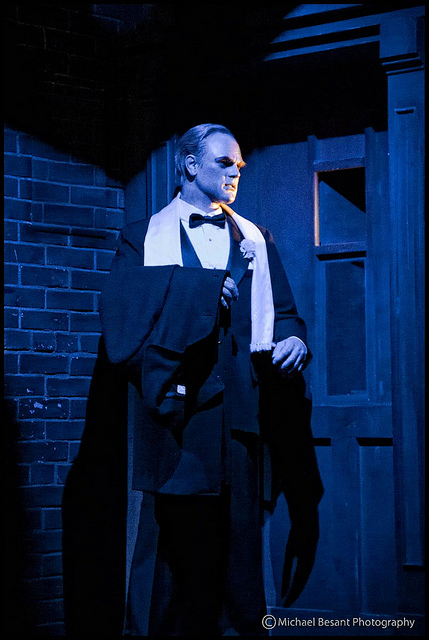 Originally Lee Marvin's character from the 1965 film Cat Ballou was originally supposed to be in the ride. When his family declined to sign the waiver, he was replaced by Clint Eastwood instead.
This also applied to voices. If voices could not be licensed other actors provided voices and in the case of Ingred Bergman, her voice is left out.
Some of the other voices changed for the ride were:
John Wayne's voice. Instead it was done by actor Doug McClure.
Liza Minnelli did the voice for her mother, Judy Garland's, Dorothy in the Wizard of Oz section of the ride.
Gangsters
The Gangster Scene features a license plate. This plate features numbers that indicate the date  of the Valentine's Day Massacre from 1929.
 John Wayne
Besides having his voice done by a stand-in, he also used to wear an authentic belt buckle from one of his films. Sadly it was stolen and had to be replaced by a replica.
Show"A" and Show "B"
If you ever rode The Great Movie Ride, you know about how your ride vehicle is "hijacked" and you are taken on a wild ride until the Well of Souls when your original driver miraculously returns.
But, where and who hijacks your vehicle would depend on which "Show" you got that day. There were two options.
Show A involved being taken to an old west area and being hijacked by a bandit/cowboy/girl type. This version included a bank lightning on fire (yes real fire.)
Show B, which was the most common show, had guests in a gangster film area where cars were taken over by, a gangster, of course.
Show A would only run if the ride was busy. If you came in and saw two sets of cars on the tracks, then both shows would be running that day. The front vehicle would move to the Show A area, while the vehicle in the back would move to the regular "Show B."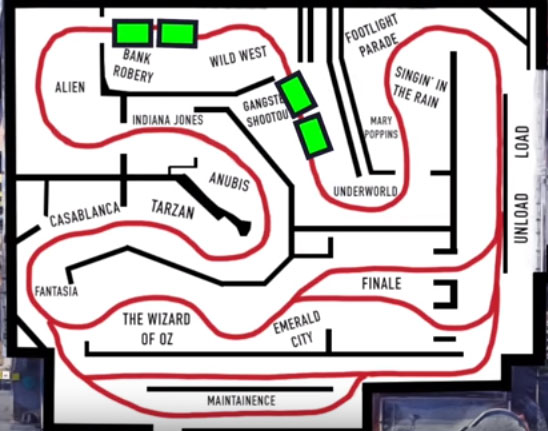 Even on busy days "Show A" would only be used once in awhile and was a lot more rare to see.
Aliens Nostromo
When you are passing through the Aliens section of the attraction there was a monitor down low and on the left, when you enter the area.
It had a special message on it that read:
"The Nostromo Welcomes All Aliens Today Visiting From The Glendale Galaxy. We hope you have a pleasant stay with us.
"Goo Viscosity: Very Gooey /  Remarks:  EEEEOOOOO  / Engineer: G. Koch
Time To Next Special Effect Failure:……….45.8 Years"
G. Koch was an Imagineer and Glendale, CA is where Imagineering headquarters is.
There is also a screen with a crew roster that lists names of Imagineers and what their "jobs" were.  Some are listed as "missing."
Here are a few of the "jobs" listed:
Intergalactic Goo Analyst
Outer Space Planner
Shirt Supervising Officer
Still Programming the Witch
Coordination Coordinator
Everywhere at Once
Star Search Astrophysicist
Technical Systems Untangler
Well of Souls
In the iconic Indiana Jones section of the ride there were a couple of hidden hieroglyphs mixed in with the traditional ones on the walls.
One of them featured R2-D2 and C-3PO.
The second one featured Donald Duck giving Pharaoh Mickey Mouse some cheese.
Casablanca
In the Casablanca scene the rumor was that the partial plane was from the original film, but it's not. However, the back part of the Lockheed Model 12 Electra Junior plane does exist on the Jungle Cruise attraction in the Magic Kingdom.
The Fantasia scene
Originally Disney planned on having a part with the tornado from The Wizard of Oz for this segment, but financial constraints forced them to use what they already had with Mickey from The Sorcerers Apprentice in Fantasia. The tornado was already built, and that explains the weird shape the screen was placed into.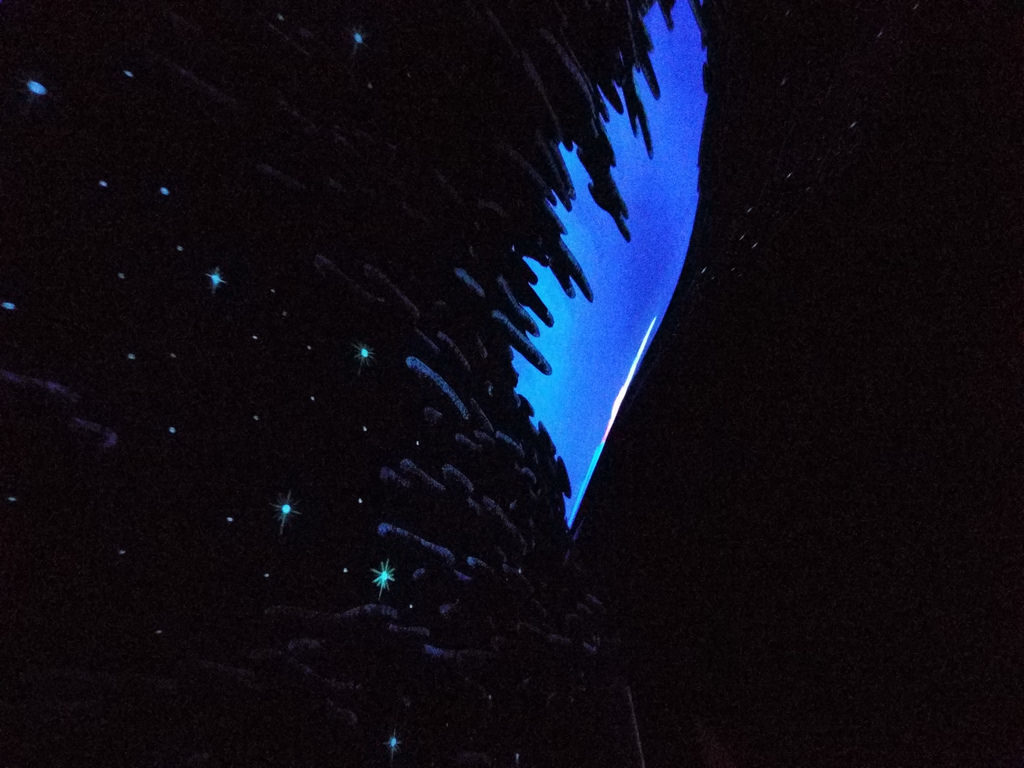 Now that I've written this article I find myself feeling sad again about the closure of The Great Movie Ride. It really was a family favorite.
What's up next for the Chinese Theater building?
Mickey and Minnie's Runaway Railway will be coming next year and promises to be an exciting and unique new attraction. So until then we can remember the past and look forward to the future!
What do you think? Do you miss it? What was your favorite part?
Comment and let us know!
Sources: BuzzFeed, Only WDW World, Shoes Shorts Gloves, Allears.net, The Mickey Wiki, All About The Mouse Central, Wikipedia, Yesterland, TPMVids on Youtube, Flickr, 4Chan,
Wanna go to Disney?
We recommend Academy Travel, a Disney Platinum Earmarked agency. Walt Disney World, Disneyland, Disney Cruise Line, Adventures by Disney, Universal Orlando Resort, Sea World and more -- they can do it all, and at no extra cost to you! Fill out the form below or call 609-978-0740 today!