Cafe Orleans in New Orleans Square at Disneyland is a place where guests can savor casual fare with a French Quarter flair. The inside, in my opinion, is really nothing special but the outdoor seating area is c'est magnifique. If you can't get a reservation at Blue Bayou right down the way, which, let's face it, has been an enormous challenge for everyone the past year, Cafe Orleans is the next best thing. Reservations are still a challenge to get at this sit-down dining spot, but I have successfully joined the walk-up waitlist and got seated in a short amount of time.
As I stated before, the outdoor seating area is nicer, and you have an incredible view of the Rivers of America and Tom Sawyer's Island. It's amazing to people watch and watch as the Mark Twain chugs on down the river. It feels as though you are dining at a cafe in a different country which makes for a really enjoyable dining experience.
The menu features cajun-creole-inspired dishes, and the food is absolutely wonderful here. Here are a few of my personal favorites from their menu:
Sweet Gem Lettuce Heart: Fall Citrus, Walnut Crumble, Herbed Buttermilk Dressing.  I really love this salad as it's so fresh and has flavorful ingredients. The goat cheese and candied pecans mixed with the raspberry vinaigrette are just so delicious!

Shrimp and Grits: Andouille Sausage, Corn-Pepper Relish, and Wilted Greens. Café Orleans is actually where I discovered my love for shrimp and grits. The shrimp is exceptionally flavorful, and the cajun sauce has a fantastic flavor. As typical with this dish, it does have a bit of a kick to it, but it's definitely not over the top. If you love shrimp, this is an excellent choice!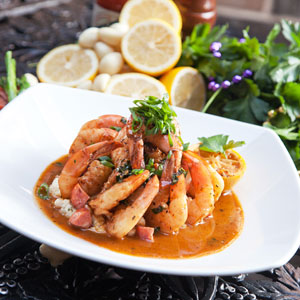 Battered & Fried Monte Cristo Sandwich: Sliced Turkey, Ham, and Swiss with Pommes Frites. The Monte Cristo is not something you can go wrong with, that is, if you don't mind a heavy and greasy sandwich topped with powdered sugar. This used to be big enough to share with someone, but I have noticed they have decreased the portion size, so I can now eat one by myself. It's still as delicious as ever, however, they switched out the raspberry dipping jam with a lighter, more citrusy jam (the raspberry jam was definitely a better choice, in my opinion). And don't even get me started on the Pommes Frites! These garlic parmesan fries are so incredibly addicting and probably some of the best fries in all of Disneyland!
Other menu items include a cup of Wild Mushroom Soup, Chicken Gumbo, Roasted Half Chicken, and more (you can view their full menu here). You really can't go wrong with wherever your taste buds take you on this menu.
For a limited time, they even have a seasonal dessert that is quite honestly the best dessert I've ever had at Disneyland. The Hot Cocoa Creme Brulee is an entirely magical dessert boasting amazing flavors with a side of Mickey sugar cookies. You can check out my full review of the 2021 seasonal items at Disneyland here.
Are you ready to plan your next Disneyland trip? Here at the Kingdom Insider, we have plenty of resources for you, just a click away! We have an incredible team of dedicated Disney experts and Travel Planners at Academy Travel who are ready to help you plan out every detail of your vacation, so you don't have to worry!