The holidays have been in full swing at the Disney Parks the past few weeks, and I am all here for it! With the holiday season comes the holiday food and treats, which is one of my favorite parts of being at the parks. There are so many options at Disneyland and Disney's California Adventure it can be a bit overwhelming choosing what to try, especially if you're only visiting the park once or twice during the holiday season. I've already had a chance to try a few items at Disneyland and wanted to share my reviews so that next time you're at the park, you have an idea of what to try and what you can skip.
Chocolate-Mint Macaron at Jolly Holiday Bakery (Disneyland): Unfortunately, my macaron fell apart the second I touched it (these cookies are very fragile), so here is a cute little picture below of the cute Santa hat macaron at Jolly Holiday Cafe on Main Street U.S.A. This is a delightful little dessert for any chocolate lover, but I have to say I have tried many macarons at Disneyland, and honestly, this one isn't my favorite. There is a perfect mix of chocolate and mint in this little cookie, but in my opinion, it was a bit boring flavor-wise. If you love chocolate and mint, you can't go wrong with this dessert, but I would recommend trying something else if you will only be in the park once during the holiday season.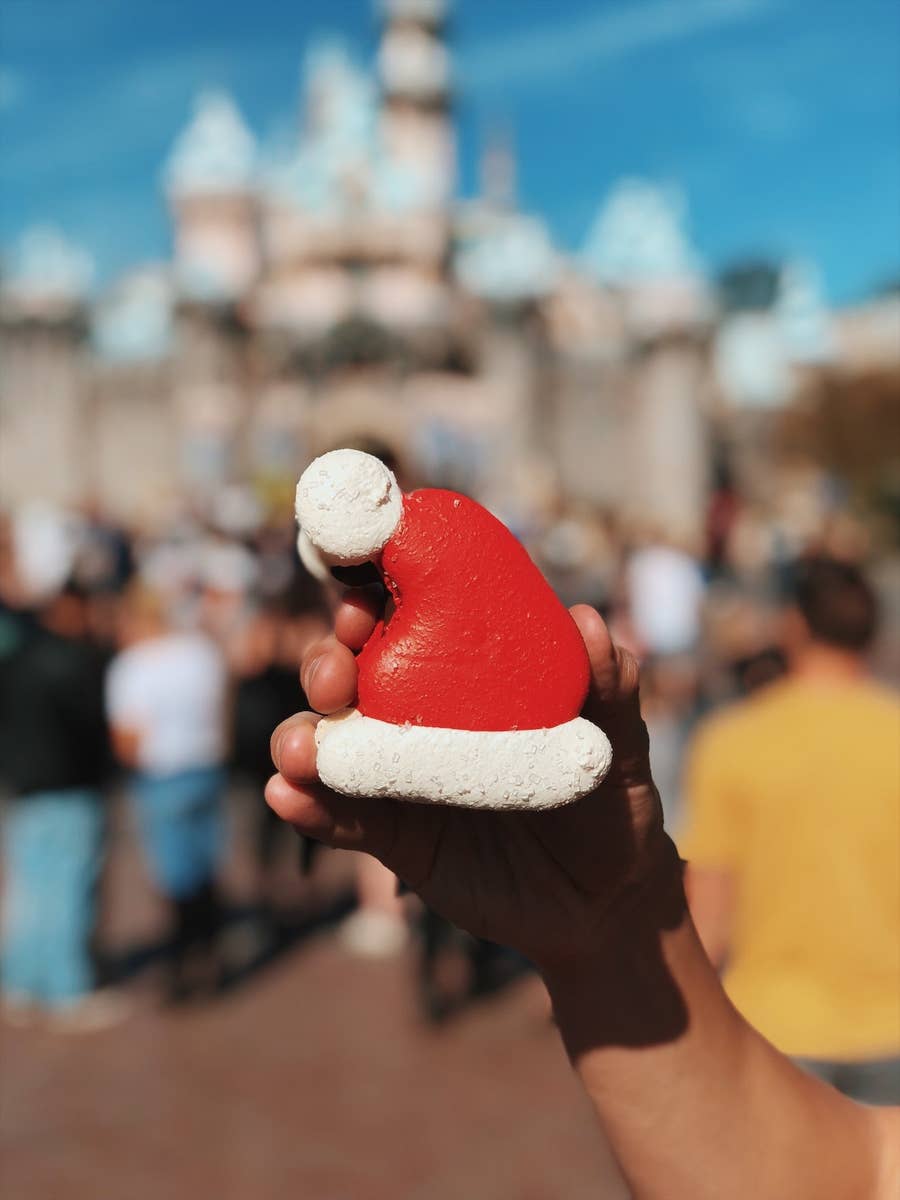 Green Alien Holiday Macaron (Disneyland): This little Green Alien macaron with a Santa hat and candy cane is at Alien Pizza Planet in Tomorrowland is to infinity and beyond cute! It's filled with Marshmallow Cream and Chocolate Ganash. This is also a great treat option for all chocolate lovers. In my opinion, they could have added more marshmallow cream because I was having a hard time tasting that over the chocolate flavor. The candy eyes and the candy cane on the top of the cookie gave it a good crunch as well. This is definitely one I recommend trying as I enjoyed this more than the chocolate and mint macaron at Jolly Holiday.
Hot Cocoa Crème Brûlée (Disneyland): Ok, so this was my all-time favorite holiday dessert I think I've EVER had at Disneyland. You can get it at Cafe Orleans (sit-down dining spot) in New Orleans Square. This is the one seasonal item they have on their menu, and hot dogs are seriously so magical; it's the perfect blend of hot chocolate and creme brûlée. The top was perfectly torched and fell apart perfectly when tapping my spoon on the top. The chocolate cream inside was a perfect consistency, and every bite was a magical delight. The whipped cream on top is perfection, and the marshmallows were toasted just right. In my opinion, they could add more marshmallows because you'll want a piece in every bite, but oh my goodness, I can not even express how good this dessert is. They even had two little sugar cookies with holiday sprinkles on the plate, which is a nice little sweet treat. This is shareable, but I ate every single bite of this on my own because it was so delicious!
Abuelita Hot Chocolate (Disneyland): Over at Rancho del Zocalo in Frontierland, you can find Mexican Hot Chocolate with cinnamon flavor. This was an excellent treat to try, especially now that it's getting pretty chilly during these winter months (yes, it does get cold in SoCal!). This is not the best hot chocolate I've ever had, but it was definitely a fun hot chocolate to try. It was borderline too watery, but you can taste the chocolate just fine. The cinnamon is not overpowering, but you can taste a hint of it in every sip. My favorite hot chocolate so far has been the Sipping Chocolate at Jolly Holiday, but it is only available during the Merriest Nites event (you can read my review on the event, including all the specialty food items in the holiday issue of our magazine). If you want something different from Starbucks hot chocolate, I recommend giving this one a try!
Insider tip-If you want to get really fancy, you can take your hot chocolate to the dessert counter inside Rancho del Zocalo and ask them to top your drink with whipped cream and more cinnamon!
Spicy Corn Dog with Chips (Stage Door Cafe): Right now, at Stage Door Cafe in Frontierland, they have a spicy corn dog with chips. Disneyland's corn dogs are such a delicious snack, and it's always interesting to try their seasonal ones when they get crafty. This hand-dipped corn dog features a spicy beef frank drizzled with cheese sauce and crushed spicy hot Cheetos. In my opinion, it's not the best corn dog I've had at Disneyland, and the cheese sauce didn't really add anything to it. The crushed hot Cheetos defiantly put a good kick to the corn dog. This is a good item to try, especially if you like spicy food, but after trying this just once, I would stick to the original Disneyland corn dogs.
Holi-Grey Stuff (Red Rose Taverne): "Try the grey stuff it's delicious, don't believe me, ask the dishes!" The grey stuff over at Red Rose Taverne in Fantasyland is extremely delicious. They seem to switch the idea of this dessert up seasonally, but this holiday version topped with a mini white chocolate star is so decadent. It's basically cookies and cream mousse and in the center is a red velvet cupcake, and I did get one bite of something citrusy in there. The holiday sprinkles add a nice little crunch, so a lot is going on in this little dessert. I would definitely recommend giving this one a try!
There's so much more food and treats being offered at Disneyland, and unless you're going several times, it's just impossible to try them all. Hopefully, some of my reviews have helped you decide what you'd like to try and what you think you can skip out on. There are many holiday food and treat offerings over at Disney's California Adventure as well. You can catch my review of some of the delicious items offered this holiday season at the Festival of Holidays in the next holiday issue of our new magazine (coming soon!).
Are you ready to plan your next Disney vacation? Here at the Kingdom Insider, we have plenty of resources for you, just a click away! We have an incredible team of dedicated Disney experts and Travel Planners at Academy Travel who are ready to help you plan out every detail of your vacation, so you don't have to worry!