If you're looking to immerse yourself into the world of "Harry Potter," of course, the place to go is The Wizarding World of Harry Potter at Universal Studios. Both the Hollywood and Orlando locations offer a unique experience. They will transport you straight into the magical worlds you experienced right along with Harry, Ron, and Hermoine in the books and movies. Part of the unique experience of the Wizarding World is trying the food and beverages. You can't leave without trying a Butterbeer, Pumpkin Juice, and a delicious meal.
I recently got to eat The Three Broomsticks during Halloween Horror Nights at Universal Studios Hollywood, and I have to say it was bloody delicious! The interior of this unique dining spot is so detailed and cozy. Inside you'll notice details such as cast-iron chandeliers, weathered wood beams, and balconies brimming with curious bric-a-brac. Their menu has a good array of items without getting overly crazy with the cultural items on the menu. You can choose from entrees such as Fish & Chips, Shepherd's Pie, Bangers, and Mash, and they even offer a Great Feast for larger parties!
I tried the Bangers and Mash, which includes Grilled English sausage, creamy mashed potatoes, roast tomatoes, sautéed onions, cabbage, minted peas, and gravy. I am not a huge fan of peas, so I was more excited about the English sausage, potatoes, and gravy. It went well and above and beyond my expectations! Everything was perfectly cooked, and it tasted like a homemade dinner I would have in London. The flavors were terrific, and there was so much texture I had no trouble gobbling up the whole plate. Of course, I washed it all down with a cold Butterbeer (I'm not as much of a fan of the frozen option), which tastes just as I would imagine it if I was really in Hogsmeade-cold, creamy, buttery, sweet, refreshing…all with a drop of magic!
Hog's Head is located at the back of The Three Broomsticks, where you can also grab a Butterbeer. You can order specialty drinks, wine, spirits, and mixed drinks at this pub. You can also get a hot, cold, or frozen butterbeer, and you have the option here to add a shot of hard alcohol of your choice to your drink to spice it up!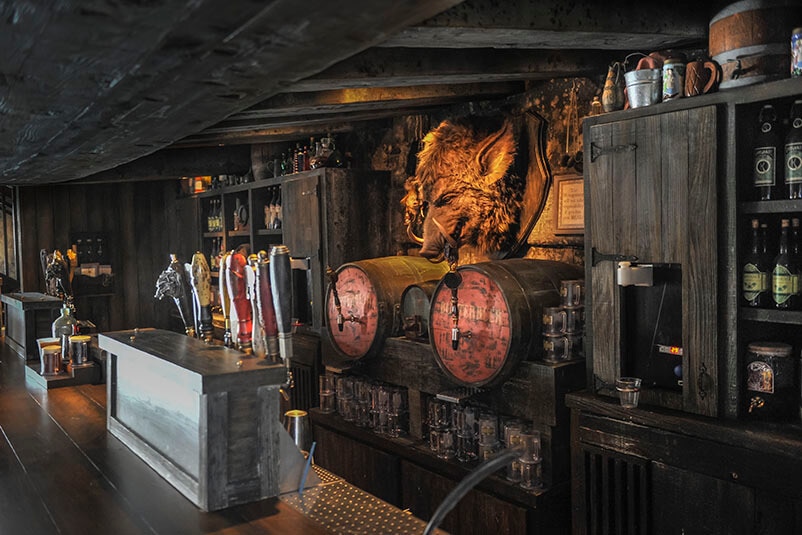 Between the ambiance, delicious British fare, menu options, and attention to detail, The Three Broomsticks is THE spot to stop for food and drinks next time you visit the Wizarding World of Harry Potter at Universal Studios Hollywood (and Orlando!).
Are You Ready to Book Your Next Vacation Today?
Be sure to call your Academy Travel Agent today for more information and help with booking your next vacation! Because here at The Kingdom Insider, we have plenty of resources for you, just a click away! We have an incredible team of dedicated Universal experts and Travel Planners at Academy Travel. They are ready to help you plan out every detail of your vacation, so you don't have to worry! Call Your Travel Agent to Book, find a travel agent here, or visit AcademyTravel.com