Disneyland hosted its very first ever Disneyland After Dark: Throwback Nite last night (Tues. April 18). I have been to three After Dark events now-Star Wars Nite, Princess Nite, and now Throwback Nite. This new event was definitely one for the books, and it was such a unique experience; it's definitely one After Dark Nite event I hope they bring back next year. If you're not familiar, this event has guests stepping back in time to the 50s and 60s to get a taste of Disneyland Park's classic past! All are invited to dress in their most dapper attire and commemorate the evening with live music and entertainment, specialty photo ops, and visits with some classic Disney Characters from the era.
This event was extremely fun as it was nostalgic, and the character interactions were SO much fun!! I personally wasn't a huge fan of the specialty food options, but there were plenty to choose from. You can see my full review below if you plan on attending tomorrow night's (Thursday, April 20) event (or if you want to attend if they host this event again next year)!
Dining
During the event, you can order specially-themed food and treat items. As with all other After Dark Nite events, I can't stress enough how important it is to plan ahead. Take a look at the menu ahead of time and try to mobile order what is available before 9 pm when the event starts. It's best to eat before the event starts because there is so much to see and do in such a short amount of time!
Orange-Vanilla Cream Soda (Galactic Grill)-Fanta Orange with Vanilla Sweet Cream. This was an 8/10 for me. It was delicious, it was just hard to mix in the vanilla cream because it was so thick.
"So, a Taco went for a Walk…" (Stage Door Cafe)-Nacho Cheese Chips, Chili, Nacho Cheese Sauce, Sour Cream, Green Onions and Jalapeños.
Blue Bayou is also offering a special event menu. Reservations are recommended, but they do take walk-ups! I managed to snag a late-night reservation and popped in to try something off their event menu. They have a jazz band playing, which they don't normally have during normal operating hours; it was a really nice addition to the already twinkling and magical atmosphere.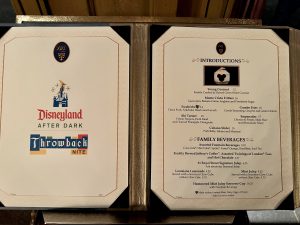 Monte Cristos are usually my go-to, and they are offering Monte Cristo Fritters with a twist for the event. These fritters are accompanied by guava jam and banana creme anglaise. The guava was surprisingly delicious, but I was not so much as a fan for the banana creme. Overall, I would give these a 6/10 because it was far too bready, and there was not nearly enough meat in these fritters. Other delicous-looking options were the Gumbo Fries, Cubano Sliders, and Empanadas.
Rootbeer Float Churro (available at Castle Hub, Tomorrowland, and Frontierland Churro Carts)-Rootbeer-flavored sugar and vanilla ice cream drizzle. I personally was not a fan of this churro. The rootbeer sugar was a little strange, and the ice cream drizzle made the sugar a bit soggy. I would recommend trying one of the other two specialty churros that are also available (Glitter and Gold churro and Milk and Cookies Churro).
Entertainment
The Fantasy in the Sky fireworks show starts at 9:30 pm. This firework spectacular is extremely special because it is the first firework show that illuminated the night sky in 1957! You can watch the full show on our Instagram!
Swing Dancing at Fantasy Faire-Grab a partner and swing dance your little heart out all night long!
Mariachi Espectacular-9:00 P.M. | 10:15 P.M. | 11:15 P.M. | 12:15 A.M. at Zocalo Park in Frontierland
Characters
The character experience during this event is AWESOME! I wasn't that thrilled with the character experience during Disneyland After Dark: Princess Nite because lines for characters were, on average, about an hour to two hours+ long. With the event being so short, it made it hard to see all the characters and do everything else. During this event, there are only a few characters that have PhotoPass lines, but the majority of the characters were instead roaming around and interacting with guests. They were playing games with guests, popping up behind guests to take selfies, dancing with kids and adults, etc. I found myself enjoying the experience so much more at this event, and I don't remember the last time I laughed that much from interacting with the characters. Everywhere I went, everyone was laughing and having such a good time. A big round of applause to Disney for making the character experiences so amazing at this event!
The other reason the character experiences are so awesome is that Disneyland has brought out some OLD classics for this event. Here is who you can expect to see and where to find them:
Main Street, U.S.A.: Mickey Mouse and Minnie Mouse
Fantasyland: Dumbo, Pinocchio & Friends, Cinderella & Friends, Aurora & Friends, Hyacinth Hippo and Mademoiselle Upanova from Fantasia, and Alice & Friends
Frontierland: Peter Pan & Friends
Critter Country: The Three Little Pigs and The Big Bad Wolf
Tomorrowland: Mother and Father from Walt Disney's Carousel of Progress
Tomorrowland: Space Couple and Mr. Morrow from Flight to the Moon
Photo Ops
MAIN STREET, U.S.A.: Walt Disney's Disneyland Park, Disneyland Marquee
Fantasyland: Skyway
Tomorrowland: Mighty Microscope, PeopleMover
Frontierland: Rainbow Caverns Mine Train
Magic Key Holders
If you are a Magic Key Holder, be sure to stop by Pooh Corner in Critter County between 9:00 am and 1:00 am to pick up your special Disneyland After Dark: Throwback Nite pennant!
You can catch all my content from last night on our Instagram and Facebook stories, as well as under our
Disneyland Highlight Reel
!