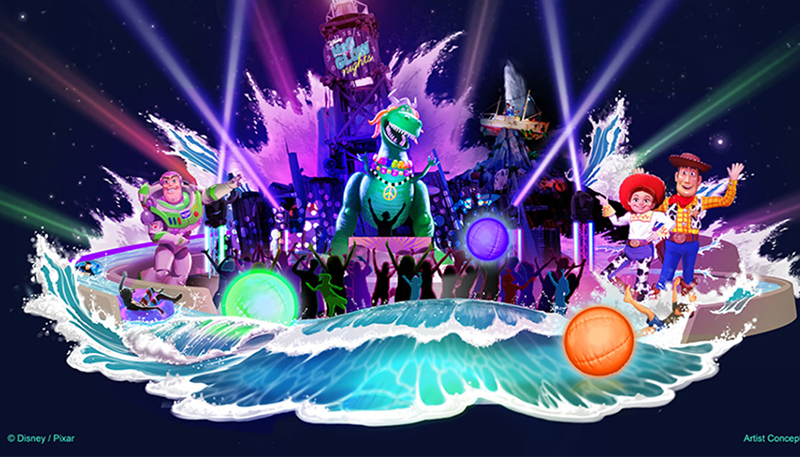 Disney's Typhoon Lagoon Water Park comes alive at night, thanks to a limited time ticketed event called "H2O Glow Nights."
We had a chance to experience the event over the weekend, and I'm left scratching my head — why didn't they think of this sooner?
For those of you who are unfamiliar with H2O Glow Nights, it's a new offering from Disney that turns Typhoon Lagoon into a giant pool party after hours. The ticketed event offers unique lighting, music, Pixar-themed experiences and food and beverage options.
And it is amazing.
Disney invited us down to see for ourselves, and you can check out our initial reaction in the video below.
The Pros
Being a ticketed event, H2O Glow Nights opens the park up after hours to a limited number of guests. You'll have minimal wait times on attractions, access to character meet and greets and the ability to try some unique "glowing" food and beverage options not available during the daytime.
(You'll also be out of the direct sunlight for most of the event, which is a huge bonus for those who burn easily!)
The Cons
I really can't think of any! It is a special ticketed event, but it's a very reasonable $55/adult for 3 hours of after dark play time. While $10 less than Typhoon Lagoon during the day, you have access to the park for far fewer hours. However, not having to contend with the heat and the crowds makes it more than worth it!
The Verdict
This is a must do event… even just once. However, you'll have to hurry as it ends on August 11.
As we understand it, H2O Glow Nights is a trial run to see if after hours ticketed events work for the water parks. Here's hoping it's the first of many!
Final Grade: A
You can buy tickets to Typhoon Lagoon's H2O Glow Nights here.
Wanna go to Disney?
We recommend Academy Travel, a Disney Diamond Earmarked agency. Walt Disney World, Disneyland, Disney Cruise Line, Adventures by Disney, Universal Orlando Resort, Sea World and more -- they can do it all, and at no extra cost to you! Fill out the form below or call 609-978-0740 today!