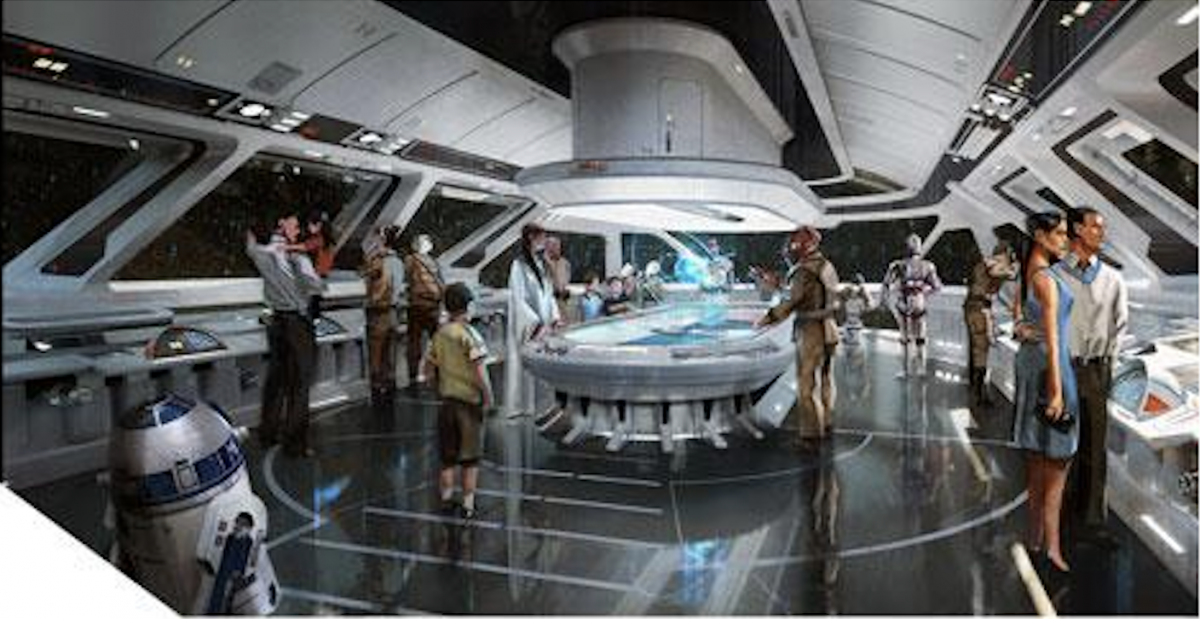 Walt Disney World's next Deluxe Resort might be coming to you from a galaxy far, far away.
According to WDW News Today, people are currently participating in an online survey to determine whether or not there's enough interest in a resort hotel and/or experience based on 'Star Wars.' This comes hot on the heels of Star Wars Celebration, which was held over the weekend.
The survey, conducted by Swagbucks, asked guests if they'd be interested in having a "Starship-themed" hotel experience that lasts from 1-2 days. It's unclear if that means Disney is planning an entirely new hotel (to be connected to Star Wars Land) or if this experience would reside inside an existing Deluxe resort, such as the Princess and Pirate themed rooms in Disney's Moderate resorts. (If the latter is the case, my money is on a Star Wars area of the Contemporary.)
Per WDWNT, the $1000 per night "Starship" experience would include…
2 nights in an immersive luxury resort that looks and feels like a starwars space craft (set check-in and check-out dates so everyone is immersed on the same "story" timeline)

Room(s) that accommodate(s) up to 4 people, with an interactive "view" (galaxy or pool/atrium)

Every meal from checking-in on day 1 to check-out on day 3 (5 meals total, including 2 buffet breakfasts, 1 lunch, and 2 signature dinners with evening entertainment)

1 day of Walt Disney World theme park admission to Disney's Hollywood Studios to visit Star Wars-themed land on day 2

Story-driven entertainment that unfolds over the course of your stay (including live character chance encounters, and the opportunity to watch or enage in the story through things like personalized secret missions, flight training, starship exploration, and lightsaber training)
Again, it's just a rumor. But there has to be enough serious thought about this to include concept art. It's curious that Disney went with a third party as opposed to asking regular parks guests first, but maybe they wanted the opinion of "casual" fans to see if it would bring new visitors to the parks.
Would you pay $900-1000 for a premium Star Wars experience at the parks? Comment below or in the forums.
Wanna go to Disney?
We recommend Academy Travel, a Disney Diamond Earmarked agency. Walt Disney World, Disneyland, Disney Cruise Line, Adventures by Disney, Universal Orlando Resort, Sea World and more -- they can do it all, and at no extra cost to you! Fill out the form below or call 609-978-0740 today!