If you have ever thought about doing a runDisney event, I recommend the Star Wars Rival Run Weekend!  This year it's April 4-7, and it takes place at the Walt Disney World Resort. If you would like to know how these events work check out my article HERE.
Why is this one so great? It's Star Wars!
Star Wars is is fun, immersive, and has something for everyone. Whether you prefer the original trilogy (like me), the prequel trilogy or the new films, there are characters and story elements that everyone knows and loves. It's a must do for Star Wars fans!
But is it Worth it?
Yes! runDisney does a fantastic job incorporating theming into these the special events. From the merchandise to the music, it's so much fun.
There are special character photo opportunities and meet and greets at ESPN Wide World of Sports and during the races. Last year, my favorite was Jabba the Hutt! Full sized!
Special, exclusive, merchandise is available. Hats, pins, shirts, athletic wear, purses and more! I really enjoyed the merch.
It's a lot of fun to see the special lighting, music, and even some of the backstage areas you get to race through! The 5K is around the World Showcase Lagoon, so the cast members from the various countries were out cheering people on.
Here's a video we did last year!
Something else I love are the costumes! Some runners go all out for the event and have amazing, and fun costumes! It's worth it just to see all the creativity!
Everyone is just so excited and supportive. It's such a positive experience.  The 5K event is un-timed, so you can walk or run, but there are so many people cheering each other on and enjoying it together. It's great! And it really is something special.
There are also special Kids run events that also take place during the event. Medals are given out for that one as well!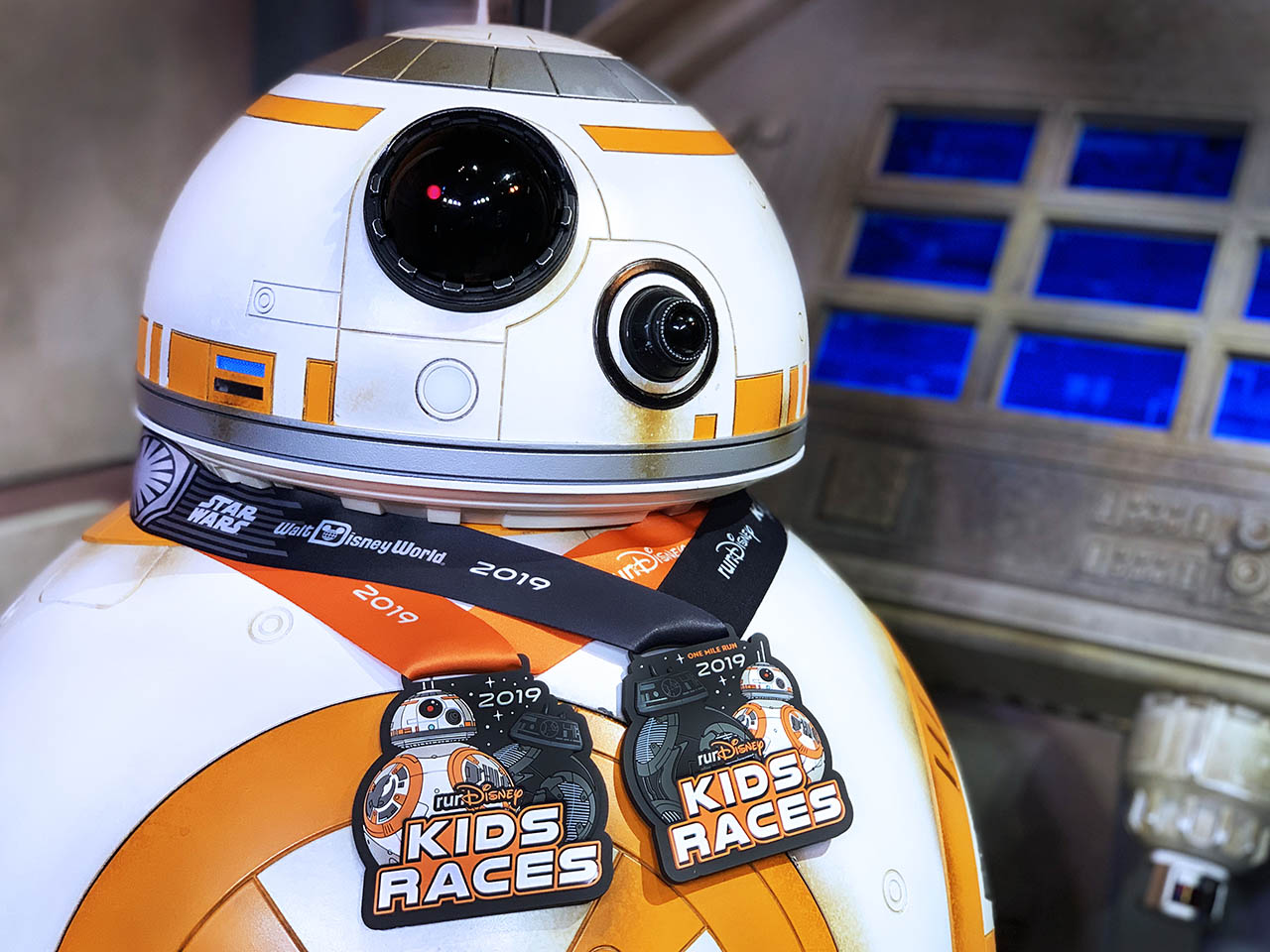 You don't have to be an athlete to join in. The 10k and Half-marathon are timed and might be a bit more involved for some, but the 5K is really for most people. You don't have to be thin or in shape. You just have to want to try something new and want to have fun doing it!
The 5K is the one event that I can't say enough good things about! In the end you get a medal too! If you want to try the other runs, then you can do them and it's an amazing experience.
What's available?
Star Wars Rival Run 5K  -April 5
Star Wars Rival Run 10 K- April 6
Star Wars Rival Run Half Marathon- April 7
Star Wars Rival Run Challenge  (complete the 10k and the Half Marathon for an extra medal)
Star Wars Kessel Run Challenge ( Complete the Half-Marathon and Virtual Half-Marathon races for an extra medal)
Registrations for the Star Wars Rival Run Weekend must be in by March 6.
You can't make it to the run but want to participate?
Then try the Star Wars Virtual Half Marathon. You can do this from your own home and at your own pace!  From now until March 30th. Learn more HERE.
It's so much fun we are going back this year and we are bringing the kids to participate in the 5K!  I can't wait!
Want to come and join us for the Star Wars Rival Weekend?
MickeyVacations.com, part of Academy Travel, specializes in runDisney events and have running bibs and hotel/ticket packages still available. You will need to hurry as they sell out quickly and registration will close on March 6, 2019!
If you would like a no-obligation quote or bib fill out the form below or call Academy Travel at 609-978-0740. They are a top Disney travel agency with the elite Diamond status so they will get you set up!
Don't forget the Epcot International Flower and Garden Festival will also be taking place during this time so be sure to take the opportunity to visit that as well!
Hope to see you there!
Source for Medal photos: StarWars.com
Star Wars Rival Run Weekend Info 
Want to go on vacation?
We recommend Academy Travel, a Disney Diamond Earmarked agency. Walt Disney World, Disneyland, Disney Cruise Line, Adventures by Disney, Universal Orlando Resort, Sea World and more -- they can do it all, and at no extra cost to you! Fill out the form below or call 609-978-0740 today!