Over the course of 33 years, you get the opportunity to stay at most of the resorts on Walt Disney World property. Any Disney traveler will tell you that a lot goes into picking which resort they hope to stay at. Is it kid friendly? How much is it going to cost? What is the pool like? It's been my experience that having a nice pool area, only enhances the magic of your Disney vacation.
I'm confident when I say that, Storm Along Bay at Disney's Yacht and Beach Club, is by far the best pool on Walt Disney World property. It's so big that it's nearly a water park, in itself. This past weekend, my family and I stayed at the Yacht Club and we devoted our entire Saturday morning and afternoon to Storm Along Bay.
As a mother to two little children (ages 4 & 5), I have my own prerequisites, when it comes to pools at Walt Disney World- they are; More than enough lifeguards (check), Life vests for kids (check- and they are complimentary), Kid area for splashing and playing (check), Towels readily available (check), Quick Service food within reach (check), ample chairs (check). I'm happy to give Storm Along Bay my "Mommy Stamp of Approval," because it meets all prerequisites.
Like most resorts that have an area designated to just children, Storm Along Bay not only has that, but it's big enough for adults to enjoy as well. In fact, it has several child friendly areas, that seamlessly mix into the areas for older kids through adults. My favorite child friendly area of Storm Along Bay is the giant sand bar pool.
The sand bar area features mini beaches along the pool and its own sand bar through the middle. On the central sand bar, you will find more than enough beach toys for the kids to play with. Buckets (the usual beach buckets, and Mickey shaped ones- of course), shovels and much more, are readily available for any and all children. The sand bar area is no more than 2.5 feet deep, making it perfect for parents to sit near their children in the pool and keep a watchful eye out.
Storm Along Bay also features its own lazy river, a ship wrecked water slide, multiple areas with lounge chairs (including an upper level), and multiple Jacuzzi locations. If you're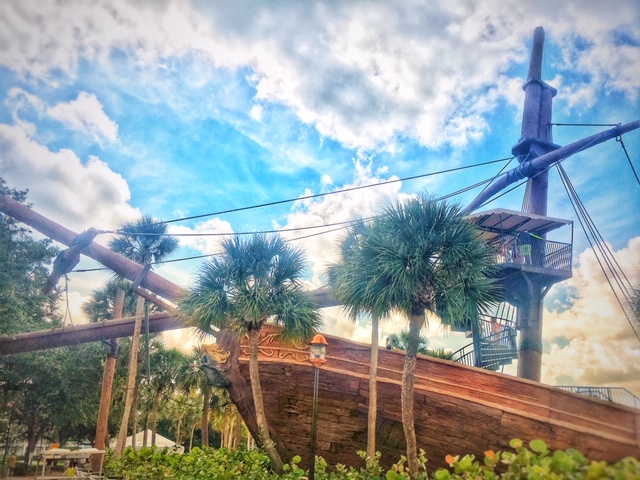 feeling hungry, you can step up to Hurricane Hanna's. The menu is your typical, child friendly, quick service menu. My husband and I shared the buffalo chicken wrap (yes, it was big enough for the two of us), and our kids each got their Disney World usual- chicken fingers and french fries. If you're craving more sandwiches and burgers, or your sweet tooth is calling, you can also walk to Beaches and Cream, which is on the Beach Club side of Storm Along Bay.
Bottom line, should Storm Along Bay be your reason to book your resort reservation at Disney's Yacht and Beach Club? Yes! As a mother, and I think most parents will understand this, it takes a lot to occupy children. In our family, it usually takes more to get ready and prepare for the pool, than we are actually at the pool. This isn't the case with Storm Along Bay. We were at the pool for over 4 hours. Yes, for 4 full hours, Storm Along Bay was able to keep the attention of our 4 and 5 year old boys. I don't know anything, not even the Magic Kingdom itself, that could keep our boys' attention for that amount of time!
On a side note, all Disney resort pools are exclusive to the resort guests. Storm Along Bay is no different, in fact, it might even be the strictest pool to enter. Upon arrival to the entrance of Storm Along Bay, my husband and I were asked by a cast member to scan our magic bands. At that point, once they could see that we were resort guests, us and our children were issued pool wrist bands. It's the norm around Storm Along Bay, and just a way to make sure it remains exclusive to Yacht and Beach Club Resort guests.
The combination of it's New England charm, location and Storm Along Bay- Disney's Yacht and Beach Club is by far, one of the top resorts at Walt Disney World.