If you've ever dreamt of boarding the Hogwarts Express and experiencing the magic of the train just like in the Harry Potter films, I'm happy to inform you your wish can come true! At Universal Orlando, you enter through Platform 9 3/4 to King's Cross Station and board the train to transport yourself between Universal Studios and Islands of Adventure.
To board the Hogwarts Express, everyone in your party MUST have a park hopper ticket. Your ticket is checked before you can even step foot onto the platform and you must be prepared to head to the other park. You will want to take the train round trip, meaning you will want to experience going from Universal Studios to Islands of Adventure and back. One way is a different experience from the other, and trust me when I say you will want to experience both!
Upon entering, you will see that you have to pass through Platform 9 3/4 just like Harry and the Weasleys do in the Harry Potter films. From afar, it looks like a solid brick wall, but you will see as you get closer it's a magic trick (take a peek at the experience below)! I won't spoil how it's done, and it's something you will just have experience for yourself! Once you pass through the platform, you'll make your way to King's Cross Station.
When you board the train, you will enter into a cabin. The door to your cabin will close once the train starts moving, and that's when the magic begins. The windows and cabin doors are fitted with state-of-the-art curved projection screens. You can look out the window and experience riding along the British countryside. Outside the cabin door, the silhouettes of Harry, Ron, and Hermione appear, and you can hear that they're looking for a free cabin.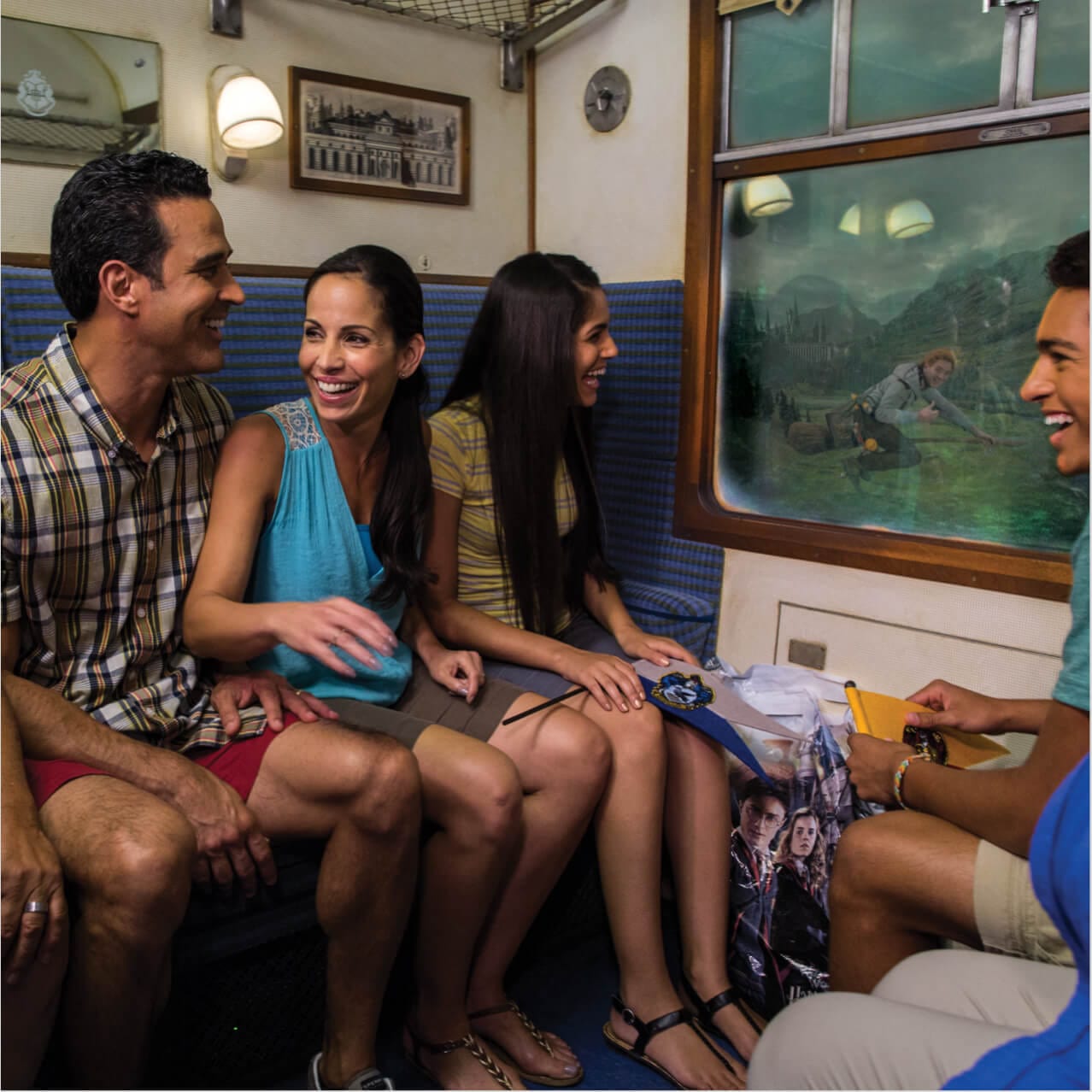 Soon, the weather outside darkens, and the window freezes over as Dementors appear. The shadow of a skeletal hand reaches across the cabin door, and you will grip your seat in anticipation as you realize it's trying to get in. From a distant cabin, you will hear Harry casting a spell, and you will take witness as pure, bright, white light flashes outside the cabin door, expelling the Dementors from the train. When everything begins to get cheerful again, you will prepare to disembark and head into Hogsmeade/the next park.
Coming from Hogsmeade back to King's Cross Station is a different experience. The video sequence in the compartments begins with Hagrid waving goodbye outside the window. Shadows of Harry Potter, Ron, and Hermione can also be seen walking down the train corridor, looking for an empty compartment once more. On your journey back, you will see centaurs, Buckbeak, Malfoy Manor, and the Knight Bus. Fred and George Weasley will even appear, flying broomsticks and playing with fireworks (this is a lot of fun!). The journey will end as the train enters King's Cross station, where Alastor Moody greets passengers.
Trust me, whether or not you are a Harry Potter fan, you will want to experience the Hogwarts Express. It's a magical journey that will take you between both parks if you have a park hopper ticket, and the entire experience from Platform 9 3/4 to riding the train will have you wanting to come back time and time again!
If you are planning a trip to Universal Orlando, be sure to reach out to your Academy Travel Agent, and they can help you plan all the details!
Are You Ready to Book Your Next Vacation Today?
Be sure to call your Academy Travel agent today for more information and help with booking your next Vacation! Because here at The Kingdom Insider, we have plenty of resources for you, just a click away! We have an incredible team of dedicated Universal experts and Travel Planners at Academy Travel. They are ready to help you plan out every detail of your vacation, so you don't have to worry! Call Your Travel Agent to Book, Find a travel agent here, or Visit AcademyTravel.com