With Toy Story 4 just around the corner, the filmmakers and stars of the highly anticipated sequel paid a recent visit to Toy Story Land in Walt Disney World. This includes, of course, Tom Hanks (Woody) who spent a good deal of time talking to the media about the upcoming film.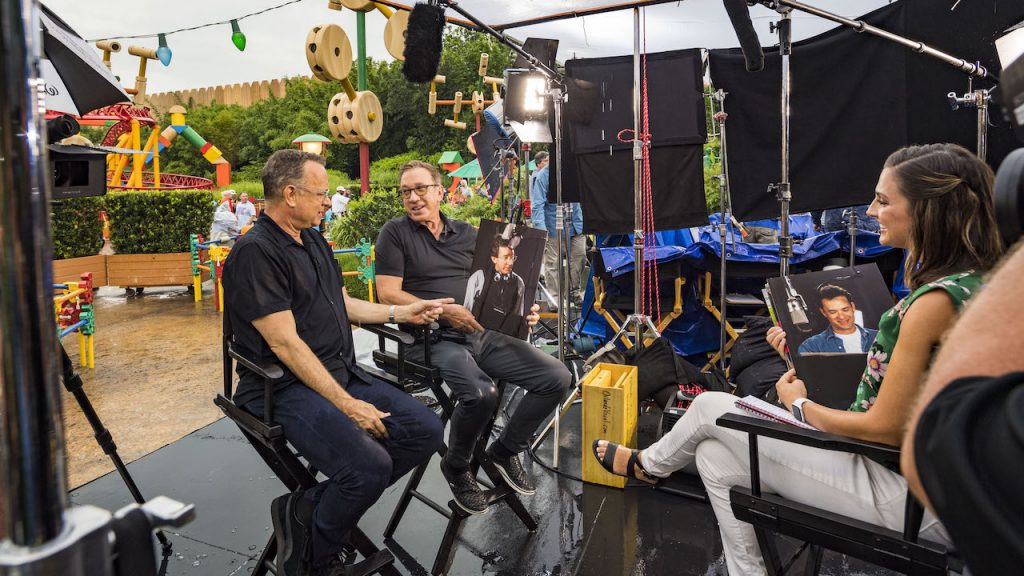 USA Today conducted a pretty in-depth interview with Hanks while he was on Disney property. Interestingly enough, Hanks thinks his younger self would be more of a Buzz guy than a Woody guy…
"Woody's job was literally going, 'Gather round, guys! It's my responsibility to make sure we're all on the same page here!' I'm that guy. I'm the guy who does that."

But if Hanks were 11 again, the same age that the Northern California native figures he first went to Disneyland, he would be a "Buzz guy" rather than a Woody fan. Mainly because of the space ranger thing, Hanks says, but also because Buzz "had structure to him: Wings came out, and he had buttons you pressed. Woody had a hat that I would have lost immediately. And he's not bendable or poseable – he's just kind of floppy."
He also mentioned that he didn't like roller coasters, so he probably didn't take a ride on Slinky Dog Dash.
Here's more from a video of the Toy Story 4 panel from Thrill Geek…
From the official Disney Parks Blog writeup…
In "Toy Story 4," Woody (voice of Tom Hanks) has always been confident about his place in the world, and that his priority is taking care of his kid, whether that's Andy or Bonnie. So when Bonnie's beloved new craft-project-turned-toy, Forky (voice of Tony Hale), declares himself as "trash" and not a toy, Woody takes it upon himself to show Forky why he should embrace being a toy. But when Bonnie takes the whole gang on her family's road trip excursion, Woody ends up on an unexpected detour that includes a reunion with his long-lost friend Bo Peep (voice of Annie Potts). After years of being on her own, Bo's adventurous spirit and life on the road belie her delicate porcelain exterior. As Woody and Bo realize they're worlds apart when it comes to life as a toy, they soon come to find that's the least of their worries.
Directed by Josh Cooley ("Riley's First Date?"), and produced by Mark Nielsen (associate producer "Inside Out") and Jonas Rivera ("Inside Out," "Up") Disney and Pixar's "Toy Story 4" ventures to U.S. theaters on June 21, 2019.
This content was originally published on on the Disney Parks Blog. The Kingdom Insider takes no responsibility for errors in syndicated content.
Want to go on vacation?
We recommend Academy Travel, a Disney Diamond Earmarked agency. Walt Disney World, Disneyland, Disney Cruise Line, Adventures by Disney, Universal Orlando Resort, Sea World and more -- they can do it all, and at no extra cost to you! Fill out the form below or call 609-978-0740 today!