I've been fortunate to stay at some of the best resorts at Walt Disney World. Even more so, I've been able to stay Club Level at all four of the Magic Kingdom Resorts. It doesn't happen on every trip, but over the course of 34 years and more visits than I can count, I've been fortunate to experience some amazing resort rooms, views, and amenities.
In February of 2019, for 4 luxurious nights, we were living our best life as residents of the King Kamehameha Club at Disney's Polynesian Resort. This had more meaning for me than most resorts because when I talk Disney nostalgia, The Polynesian plays a major role in that for me. I grew up going to this resort with my parents and siblings. It's my "home" resort and something as simple as the smell of the lobby brings me back to some of my happiest childhood memories. I'm happy to share some tips and opinions from my #DisneyMom point of view about staying Club Level at my favorite Walt Disney World Resort.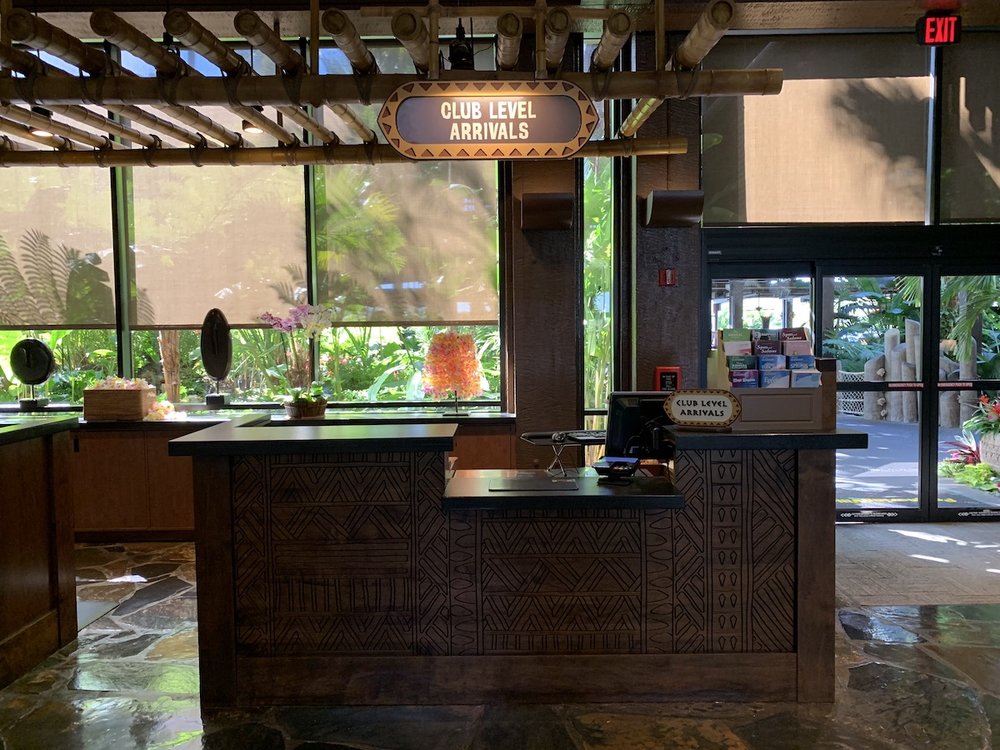 The check-in process, I can say with certainty, is seamless. As are most check-ins at Walt Disney World. What's unique about checking in, The King Kamehameha Club has its own check-in desk in the lobby of the Great Ceremonial House.
After a few brief minutes, we were then escorted to the private check-in lobby in the Hawaii Building, which is where the bi-level club is located. It was at this desk where we were given the usual Disney Parks info (maps, hours, parades/showtimes, etc), we were also given a schedule of the Club Level. This included a breakdown of times and food/drink offerings.
During this particular trip, my husband and I were also becoming Annual Passholders (So exciting!!). We were able to do this at our private check-in area. I've heard stories of how long the lines can be and how crowded it gets when you are buying passes at Disney Springs and other locations, so I was relieved to be able to start and complete our process in privacy, with zero crowds (not to mention, scenic views and a beautiful setting).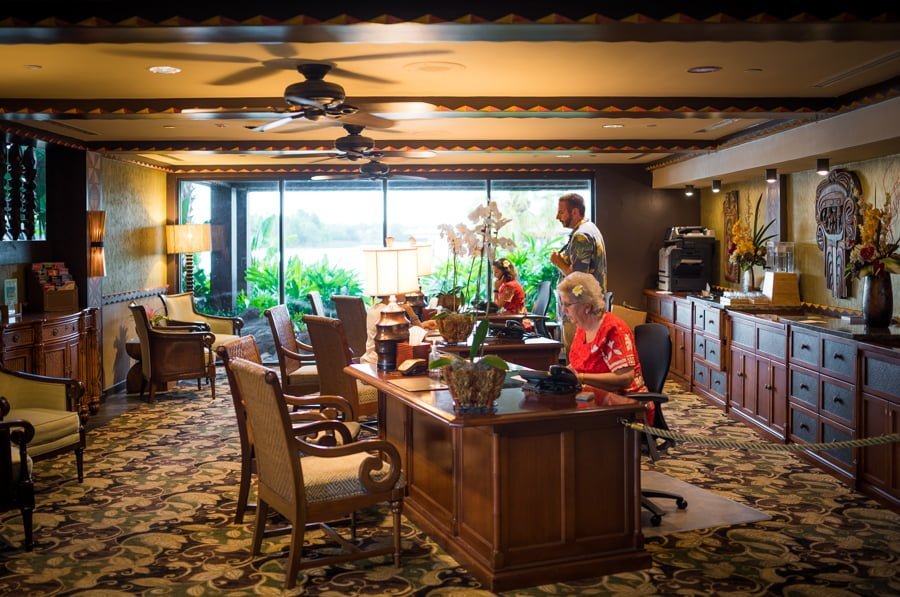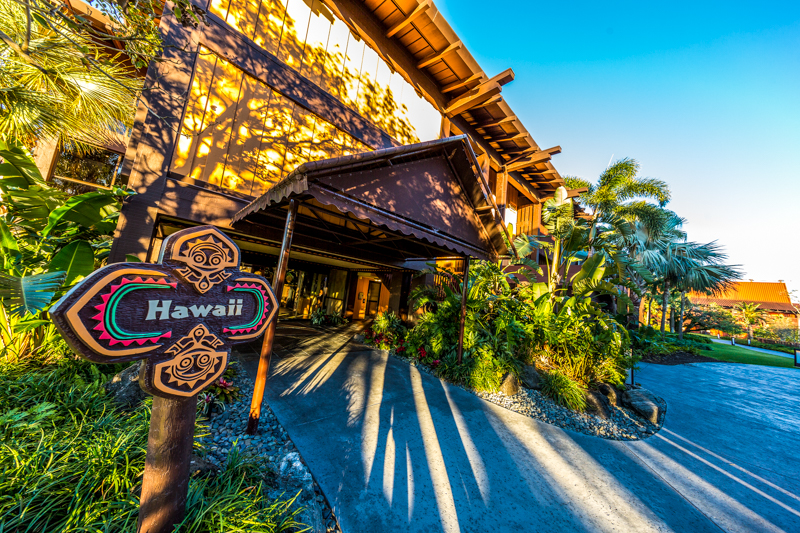 Amenities
The grounds of the Polynesian speak for themselves. Whether you're staying Club Level or any type of room, you're just happy to be there. I joke that in Disney World, you already feel like you're disconnected from the real world. The Polynesian puts you on a whole other level, you feel like you're on a tropical island- smack dab in the middle of Walt Disney World. Needless to say, it's beautiful. It also has, in my opinion, the best pool area for small children. Of course, when you are Club Level, you get full access to everything the resort has to offer and then a few additional perks. King Kamehameha Club guests also receive:
– Full access to the lounge, which includes 5 small beverage and food servings per day.
– The ability to purchase extra Fastpass+ Reservations for $50 per person/ per day.
– Access to a wonderful team of Cast Members who are available to you at a moment's notice. They will assist you in arranging your Fast Passses, make dining reservations, and accept any packages you have sent to your resort from shopping.
Something that they can't advertise as a benefit, but I decided to discuss, is the views. This particular trip, our room had a view overlooking the Bungalows, Seven Seas Lagoon and the Magic Kingdom. We could also spot the Contemporary and Grand Floridian Resort. If your room doesn't have a theme park view, you can take in all the sights from the Club Level Lounge. Here, you'll find floor to ceiling windows overlooking the entire world. It makes for prime viewing locations of the Water Parade and nightly Fireworks from the Magic Kingdom. The Polynesian also plays the music from the Fireworks throughout the resort. Not only can you watch them, but you can also listen to the music they're playing in the park.
Food and Beverage Offerings
I could create a whole other post, just about the food and beverage offerings at the King Kamehameha Club. The best part is, there is something for everyone, including your little ones! As sophisticated as the snack and small plate options can be for adults, they have equally exciting items for children.
Examples of options for Kids (and in my case, adults too!):
Uncrustables
GoldFish
Gummy Worms
Fresh fruit and vegetables
Hummus, fruit salsa, and other various dips
Pretzels
Crackers
Cereal
Milk and Juice Boxes
Examples of Adult Options:
Fresh Fruit
Crudite
Yogourt Station (complete with granola, honey, and fresh fruit for toppings)
Various homemade dips and salsas
Lettuce Wraps
Sushi
Buffalo Wings
Eggs
Bacon
Toasting Station complete with various bagels and bread, butter, cream cheese and other toppings from your bagel or toast
Mickey Waffles (it wouldn't be Disney without these)
Coffee station with regular and decaf, and the opportunity to make your own espresso, latte, or cappuccino
Champagne, Wine, Beer as well as assorted fruit juices and soda.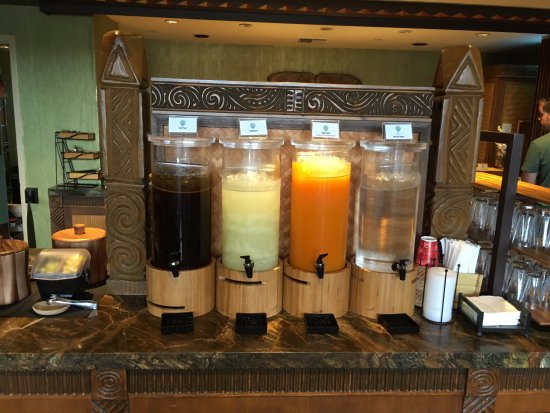 Disney Mom Tip: The cast members serving food and beverages are beyond accommodating. If you don't see something, you can always ask and they're there to assist you with anything. We are always asking for extra juice boxes, before heading into the park. If there is a snack your little one wants, and it's not out, if you ask- more often than not, they will go back into the kitchen and bring some out for you. My 6 year old can be picky and sometimes all he wants is Goldfish for breakfast. In Disney, this mom picks her battles and because Goldfish isn't out during breakfast, I always ask a Cast Member. They're more than happy to grab some for my little man.
You can also let any Cast Member know if you have any type of food allergy. They're able to advise you on options they have available that are allergy-friendly.
The Lounge
As I mentioned, you have full access to the bi-level lounge. When booking, you might think this is something you won't use that much and isn't necessary. I'm here to tell you that you will be in the lounge, almost more than your resort room.
Aside from the food and beverage offerings, it's a great place to meet up with your family, if you are staying in several rooms (and/or in a large party). In February, there were 12 of us. The lounge was the perfect place to meet in the morning for breakfast, regroup midday, and after dinner to watch the fireworks while eating some delicious desserts.
The main floor is the private check-in area, the middle floor is where the food and beverage is. As well as, most of the tables and the TV (which is always playing Disney Jr., perfect for the little ones!). The top-level comes with a full bathroom and a much more quiet space. If you have any business to get done while away, or just want to seek some quiet time, this is where you would come. It's a little hideaway! You can access all floors by elevator, or the staircase to the left.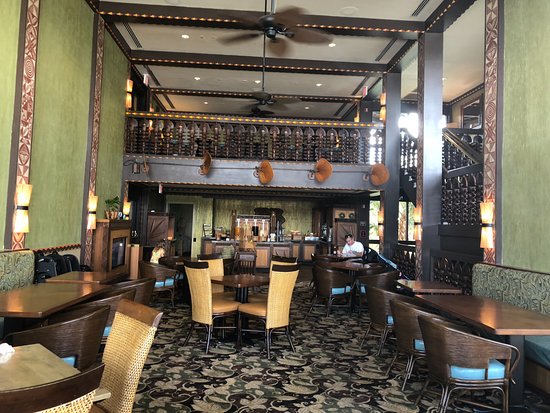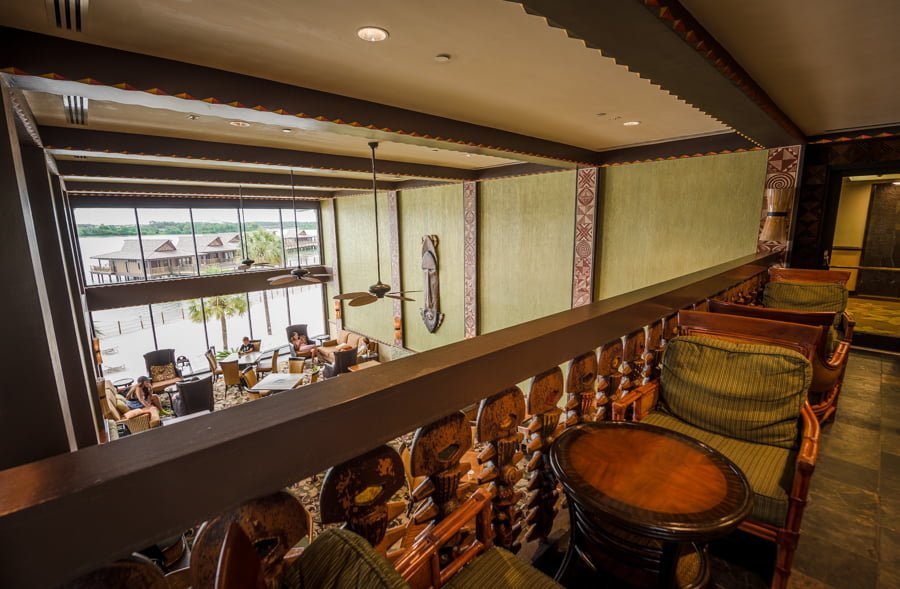 Accommodations 
The rooms are plush and spacious. We are a family of 4, so we had two Queen size beds. Each room is also equipped with the couch, that becomes a twin bed. So technically, it could sleep up to 5. Just to give you an idea of space, in a way that moms can explain it best: I could fit a double-wide stroller and an umbrella stroller (both, unfolded) in the space between the end of the bed and the TV/Dresser area. To me, that's huge! Who doesn't love the extra space?
The bathroom was equally big in size. My husband and I could easily get ready at the same time while having our two little ones running in and out.
Each room comes complete with a mini-fridge, coffee station, toiletries, hairdryer, iron and ironing board, and laundry service.
Is It Worth The Bottomless POG Juice?
YES! In a world where Disney prices seem to be skyrocketing every few months, I understand that it's difficult to even bring your family there. A lot of families, save up for years, just to bring their little ones for a few days. However, if making Club Level happen on your Disney vacation is a possibility, it's definitely something to look into further.
The biggest thing is food and beverage. We did not have the dining plan in February. I planned how my family would eat, around the food and beverage offerings at the King Kamehameha Club. Knowing they offered servings multiple times per day, including small plates for breakfast, lunch, and dinner, I planned to feed my family during those times. There was always more than enough food at each serving to fill our plate (or, plates), and head into the parks happy and with full bellies. Immediately, that eliminated the need to get quick service at the parks, or even have sit down meals. During our trip in February, we only did 2 sit down dinners. The rest of the time, we ate at the club level lounge. Think about what you will spend on a family of 4, for 5 days, just on quick service alone. If you plan out your meals and snacks in a way that you're truly utilizing everything Club Level has to offer, it's the same as a dining plan.
If you're able and lucky enough to do Club Level, at any Walt Disney Resort, I strongly encourage it. Club Level only enhances the magic of your Walt Disney World vacation. I'm happy to recommend the highly skilled agents at Academy Travel. Give them a call or visit their website, they will assist you in adding Club Level to your next vacation and creating more of those precious core memories!