I visited Universal Orlando. In fact this week, I visited twice. Once at Islands Of Adventure arriving at park opening and yesterday for early entry at Universal Studios. I wanted to get a sense of just how busy these parks were getting and how early on I would notice the shift from manageable to not.
---
Arriving early is essential in a productive park day, but I'm sure many of you figured that one out by now. Yesterday was a great example of what you may experience while vacationing here.
We started our day at 6:40am in the morning. As an annual passholder (Premier or preferred), you can get early entry to both parks at various times in the year. Yesterday we chose Universal Studios, as we didn't have a need to head to Hagrid's Motorbike Adventure.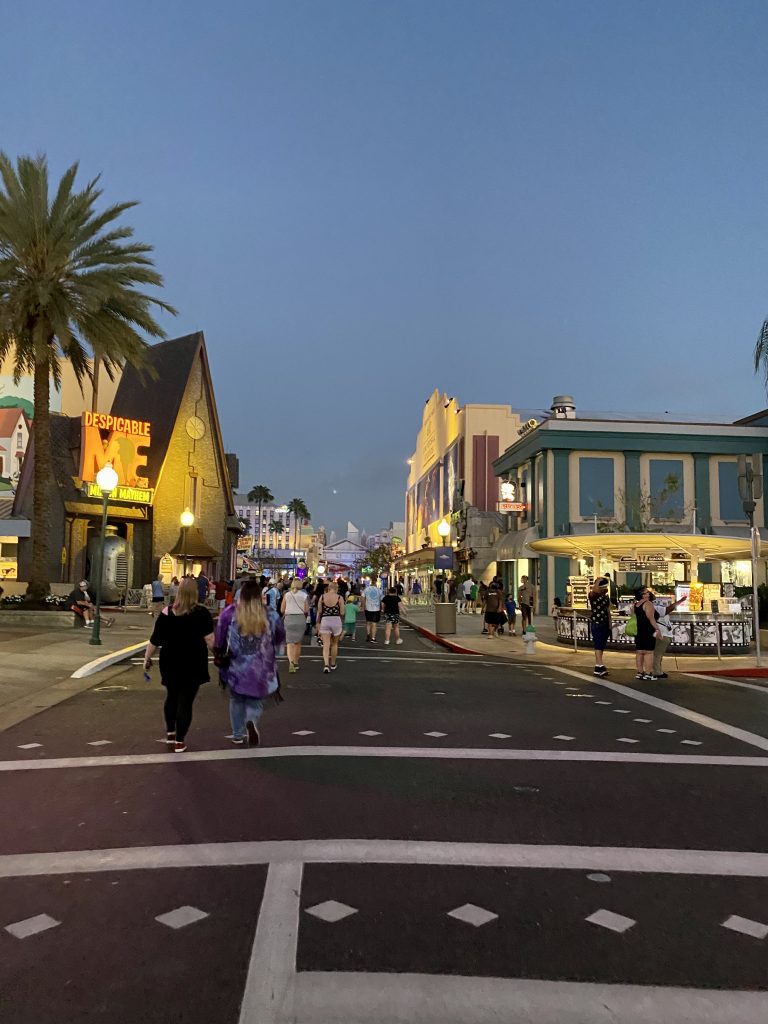 We made our way into Universal passed some lit up Mardi Gras floats and headed straight to Gringotts inside Diagon Alley, a 25 minute wait (we only waited 10).
Then we headed to Despicable me, again a very short wait. We did a full walk about the park, enjoying the floats and Photo Spots during the sunrise, quite a beautiful display this time of day.
We took a ton of pictures and decided we wanted to do E.T. and Men In Black when park was officially open (the only rides accessible at early entry are Despicable me and Gringotts). Once 9am hit, we headed to both MIB and ET. Both attractions were downed in the am, and this can happen sometimes, so we rolled with it. we decided on breakfast at the TODAY cafe! You can see my review of that HERE.
We then landed on the decision to cross over to Islands of adventure and see the crowd levels there…it was now roughly 9am. Universal Studios had 35-50 minute waits for all the open attractions by this time.
As you can see from the picture above, there was a guest with their mask down, however, a Team Member just behind us told them to please mask up, not even 3 seconds after this photo was taken!
Once we made it to Islands of Adventure via the Hogwarts express, the difference in crowd levels were pretty incredible. Of course the Hogsmeade area was busier, but the rest of the park was too. We wound up taking a ton of photos and just hanging out, the line were significant longer here and it was barely 10am yet.
Between character sightings and the new Crossover bridge between Lost Continent and Jurassic park, we had plenty to occupy us. If we had the goal of riding more rides, I may have been a tad disappointed, as the wait times increased rapidly after 10:15am. See below some of the times we encountered!
Normally, if I am looking to ride as much as possible in both parks, I'd head to Islands first, since they have the most ground to cover. I'd hit up the early entry (Hagrid's Virtual line, Forbidden Journey, Flight Of the Hippogriff and Spiderman) and then head to Universal to Gringotts…but today was about observing. And upon observation, without early entry, you want to have your top 3 rides already planned ahead and mapped out (For Instance, if you want Hagrid's, be sure to refresh the app during the time periods listed for virtual que and if you want another popular ride, be ready to wait for an extended time period. You also want to keep resources handy, like the Universal App.
One of my main things on my To-Do list was the Animal Actors "Live On Location" Show. I love animal shows and I hadn't been to this one in quite a few years, so I really had an itch to see it! I forgot how cute it was…I highly suggest this as an alternative to standing in line at one of the many attractions.
We also had a chance to try some more food for Mardi Gras "International Flavors Of Carnaval." It was a fun time trying some different foods!
After a few hours in the parks, once 1:00pm hit, the parks were at the peek of their capacity while we were there. As you may have heard, they filled to capacity by early afternoon seemingly every day this week. In fairness, we didn't stay until closing time, the guest count after 5pm may be less during Spring Break, so perhaps a mid-day swim at your resort may come in handy. Regardless of how you spend your day, the outcome is still the same. You have good time with your family and friends and make memories while here on vacation! I know I sure did!
Till next time, Insiders!