A few days ago we did a story on an event in Orange County called Canstruction, where a team of Disney VoluntEARS made up of, Disneyland cast members, imagineers and designers, create sculptures out of cans and food to be displayed at South Coast Plaza.  After the art show, the food is donated to the Orange County Food bank.   This is the 10th year for this incredible event.
(Team Disneyland)
I mentioned in the previous story that Disney's entry for this year was to be a Maleficent Dragon in honor of the return of Fantastmic.  Boy did they deliver!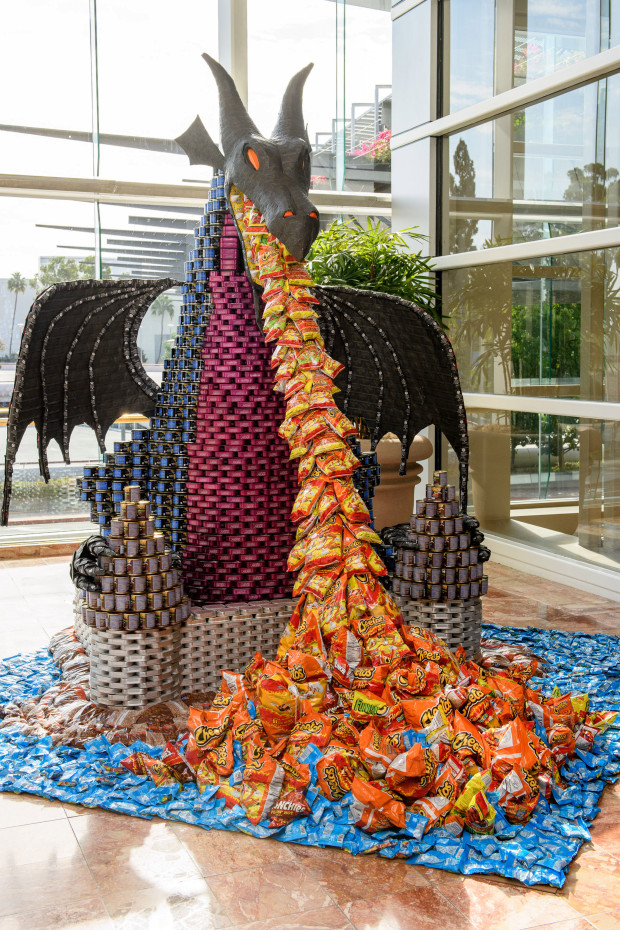 Entitled CANtasmic! Don't Let Hunger Drag On!, the piece was made with 5,200 cans and packages of food, Maleficent is one of the most involved pieces the Disney team has done.   (I especially love the Hot Cheetos as the fire)
The Orange County Register discussed how they engineered this amazing dragon.
"To keep the dragon's head on straight, Disneyland's project designers, Julie Bryant and Michelle East, first got a computerized 3D model of the dragon from Disneyland's entertainment group and input it into a CAD design work station in April. They then worked out all the canned food layers, and designed a cable system to keep the dragon standing up straight, and to hold its head and the flames in place."
It's amazing what some ingenuity, design, and elbow grease can do!
There were a couple of other Disney inspired displays as well.
Tsum Tsums from WATG & Oltmans
Stack Up on Tsum-Thing to Fight Hunger
Or this TIE inspired one entitled May the Fork Be With You from AECOM
You can see Maleficent and all the other amazing entries at the South Coast Plaza as well as John Wayne Airport and ARTIC from now until September 24.
You can check out the original story we did a few days ago to see the Disney entries over the past 10 years!  They get better every year!
What do you think?  Aren't they incredible? Comment below and let us know what you think!
Source: Orange County Register