According to WDWMagic there is going to be a new Guardians of the Galaxy dance party at the American Gardens Theater in Epcot beginning Memorial Day weekend, May 25, 2018.
Join Star-Lord and Gamora along with an "alien band" to jam to hits from Guardians of the Galaxy's Awesome Mix Tapes 1 and 2.
Star-Lord I can totally see!
I just thought Gamora might put up a fight and make it fun as she claims she doesn't dance.
Now Baby Groot….there's a dancer! I would love to see him in it!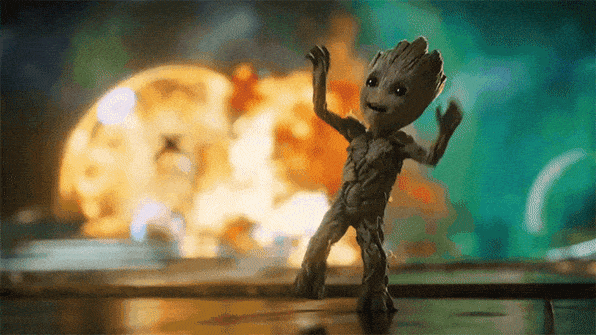 I'm sure this is filler trying to build up anticipation for the new Guardian's of the Galaxy attraction coming to the once Universe of Energy building.
It's a fun idea either way.
What do you think? Comment and let us know!
Source and credit 100% go to WDWMagic.  Go check them out!
Baby Groot gif: Fast Company
Gamora and Star-Lord Gif: C0smic-mixtape Tumblr
Featured Image: New Trailer Buzz Youtube
Wanna go to Disney?
We recommend Academy Travel, a Disney Platinum Earmarked agency. Walt Disney World, Disneyland, Disney Cruise Line, Adventures by Disney, Universal Orlando Resort, Sea World and more -- they can do it all, and at no extra cost to you! Fill out the form below or call 609-978-0740 today!