Last night during the premiere of Freaky Friday, Disney released an new teaser trailer for Ralph Breaks the Internet.
Take a look!
During the short trailer we get a look at Gal Gadot's new character Shank and the new racing game Slaughter Race. This looks cool, but really reminded me a lot of Ready Player One.
The end of trailer puts Vanellope back in with the other Disney princess and Merida is talking in her thick accent. The princesses indicate they can't understand her because she's from the "other studio."
But we get a look at what Merida, Aurora and Belle are wearing with their lounge wear. In a previous article we saw what several of the other princesses were wearing and now we get a look at these 3.
Aurora is wearing a "Nap Queen" shirt.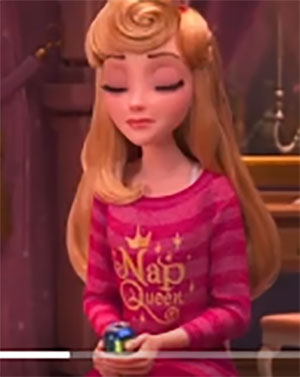 Belle appears to have a Beast shirt on.
Merida has a shirt that seems to have a bear on it and it says "Mum"
Here's the write up that Disney put up with the video on their YouTube:
"Ralph Breaks the Internet" leaves Litwak's video arcade behind, venturing into the uncharted, expansive and thrilling world of the internet—which may or may not survive Ralph's wrecking. Video game bad guy Ralph (voice of John C. Reilly) and fellow misfit Vanellope von Schweetz (voice of Sarah Silverman) must risk it all by traveling to the world wide web in search of a replacement part to save Vanellope's video game, Sugar Rush. In way over their heads, Ralph and Vanellope rely on the citizens of the internet—the Netizens—to help navigate their way, including Yesss (voice of Taraji P. Henson), who is the head algorithm and the heart and soul of the trend-making site "BuzzzTube," and Shank (voice of Gal Gadot), a tough-as-nails driver from a gritty online auto-racing game called Slaughter Race. Directed by Rich Moore ("Zootopia," "Wreck-It Ralph") and Phil Johnston (co-writer "Wreck-It Ralph," "Zootopia," writer, "Cedar Rapids"), and produced by Clark Spencer ("Zootopia," "Wreck-It Ralph," "Bolt," "Lilo & Stitch"), "Ralph Breaks the Internet" hits theaters on Nov. 21, 2018."
Ralph Breaks the Internet races into theaters on November 21, 2018!
What do you think? Comment and let us know!
Wanna go to Disney?
We recommend Academy Travel, a Disney Diamond Earmarked agency. Walt Disney World, Disneyland, Disney Cruise Line, Adventures by Disney, Universal Orlando Resort, Sea World and more -- they can do it all, and at no extra cost to you! Fill out the form below or call 609-978-0740 today!