I've been on many a monorail rides where I hear, "Coming up on the lagoon side is Disney's Wedding Pavillion. Couples can exchange vows in a picturesque background.." (you know how the rest goes). Ever since I was a little girl, I would stare out the monorail window at Disney's Wedding Pavillion and wish upon many stars that one day I would get married there. It's gotten to the point now where my kids will go, "Mommy, that's where you want to get married to daddy," as we pass by.
I married my Prince Charming in October 2011 and although I incorporated as much Disney and Fairytale aspects I could, we were married in Connecticut and not Disney World. If you've ever seen the movie, "My Big Fat Greek Wedding," that's my family- only we're Italian. I'm the oldest of 11 grandchildren and was the first to get married. When planning our wedding, Disney was an option, but that would mean a huge part of my extended family would most likely not be there because they would have to travel. Loved ones at our wedding was a priority over location, so we got married where we lived. Regardless of where the wedding was, it was still a dream and the day after we said "I do," my husband and I flew to Walt Disney World to spend our Honeymoon.
From time to time, I'll find myself at the Grand Floridian, and when I'm there I always make a point to visit the Wedding Pavillion. Although the pavillion is Disney's Fairytale Wedding's iconinc landmark building, many would be surprised to know that Disney also has an entire building next to the pavillion dedicated to planning your fairytale wedding. From intimate occasions to grand affairs, Disney's Fairy Tale Weddings allows couples to leave all the planning in expert hands to personally customize one of the most memorable experiences of a lifetime. Does the name "Franck" sound familiar? If you said yes, you're correct! The bridal studio is named after the beloved wedding planner character Martin Short played in the film Father of the Bride. (All of Franck's one-liners are currently running through my mind. My favorite, "Every party has a pooper that's why we invited you, George Banks…" what a classic movie!)
This past trip was different than other times I visited all things wedding at the Grand Floridian. This time, Franck's Bridal Studio was open and I was allowed access inside to tour the bridal studio and take pictures of their displays. As you could imagine, I was a Disney Princess wanna-be in all her glory.
I was fortunate to be let in, but to meet with an actual wedding planner, you'll need to make an appointment. From the moment you step into the bridal studio, the magic and romance of Disney's Fairytale Weddings captivates you. The Victorian summerhouse style studio was created as a one-stop shop for couples to meet with a Disney wedding planner to review all the details for the big event. The immersive studio showcases cakes, floral, table settings, inspiration boards and flat-screen TVs to assist in planning a dream-come-true affair.
Franck's has several meeting rooms where you'll meet with your wedding planner in a private setting. The meeting rooms are named after the fairies in Sleeping Beauty: Flora, Fauna, and Merryweather. Seating areas feature photo albums of wedding pictures to help inspire brides and grooms during their planning.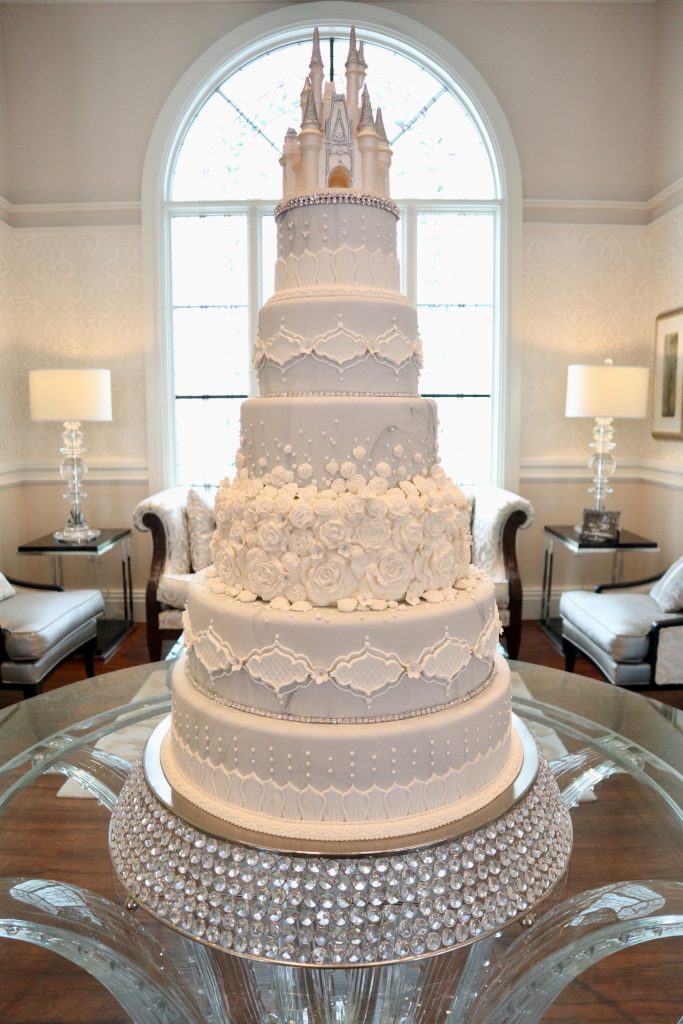 Walking around Franck's Bridal Studio was a dream come true for me. Although I could hear my children running around outside with their dad, for a brief moment I felt like a bride to be again. Disney is known for their theme parks and resorts, but they have this wedding thing down. It's as though they can take any fairytale from the big screen, little screen and even the pages of a book, and make it come alive right before your eyes.
As for me, and the little girl inside of me who dreamed of a Disney Fairytale Wedding, my husband and I agreed to renew our vows at Disney's Wedding Pavillion on our 10th anniversary. Naturally, like any diligent wife would, I'll be holding him to that promise. I would also fully support moving up our vow renewal to an 8th or 9th Anniversary.
To plan your Disney Fairytale Wedding, contact Briana at  Academy Travel for more information.
Want to go on vacation?
We recommend Academy Travel, a Disney Diamond Earmarked agency. Walt Disney World, Disneyland, Disney Cruise Line, Adventures by Disney, Universal Orlando Resort, Sea World and more -- they can do it all, and at no extra cost to you! Fill out the form below or call 609-978-0740 today!