The New Rainbow collection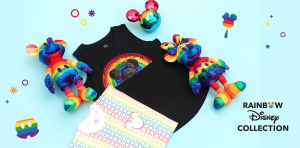 The Rainbow collection has grown and made a fabulous new debut today on Shop Disney! The collection celebrates Pride and of course love during this month, in continuation of Pride Month 2020 Disney has offered to donate $100,000 to GLSEN, a leading education organization working to create safe and inclusive K-12 schools for LGBTQ+ students. 
When June comes we know that Disney will always bring something new and fun to the rainbow collection and this year is no different! The collection offers a variety of sparkles and rainbow color items which all surround the common theme of LOVE! 
The first few items that caught our eyes were the Rainbow Ears, they are a bow free ear this year featuring lots of glitter and the word love on the side. The next item is the light up Mickey necklace. This necklace will show off your love for pride by keeping you glowing with all of the colors of the rainbow. 
Shop the Rainbow ears – Click Here 
Shop the Mickey Mouse Light up Necklace – Click Here 
Want to show off your Pride in style don't forget about the Mickey Rainbow Tumbler and Sunglasses. These accessories will add the shining touches you need to your Pride style! 
Shop Mickey Mouse Icon Tumbler – Click Here 
Shop Rainbow Collection Sunglasses – Click Here 
The collection offers lots of new clothing items to show your pride, some including t-shirts, tank tops and even a fleece pullover all featuring Mickey Mouse in a unique way. 
Shop the Mickey Mouse Pride Fantasyland Castle T-Shirt – Click Here 
Shop the Mickey Mouse Sequined Tank – Click Here 
Shop the Mickey Mouse Heart Hands Fleece Pullover for Women – Click Here 
Some of my favorite items in this collection would have to be the Mickey and Minnie Mouse plush. They are a satin fabric and full of color featuring the rainbow with of course the classic touches of Mickey and Minnie.  
Shop the Mickey Mouse plush – Click Here 
Shop the Minnie Mouse plush – Click Here   
The last few items any pin collector will want to add to their fabulous collection, the 5 pin set offers pins each displaying love and pride in a different way. The other pin is the Walt Disney World castle displaying its love for pride by being showcased with the rainbow. 
Shop the Rainbow Mickey Mouse Pin Set – Click Here
Shop the Fantasyland Rainbow Castle Pin – Click Here
Disney has also provided a new PRIDE Playlist for you to enjoy click here to go check it out!