Throughout the years a few things have been changed besides the narration.
There are a lot of minor costume or wig changes and some more noticeable ones.
Here are a few examples:
Originally, when you entered the Greek area it was a theater scene and it later changed to an "educational" one.
One of the most requested fixes is the chariot. In the original version there was an animated chariot racing across the screen in the Roman area. It has since been removed, but I always looked forward to it.
The scene with the Turkish scholars used to have four scholars instead of the 3 you see now.
Printing Press Scene
The pressman has been updated and the newsboy, who was originally facing the riders, has been replaced and turned away from the omnimover track.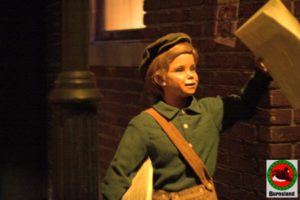 Communications Radio
The current version has a a man in the booth with a sound technician.  The earlier version had 2 actors doing a radio drama with a sound technician.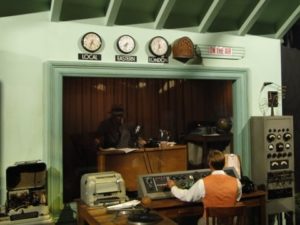 The Computer Era Scenes.
There once was a boy video chatting with a friend (they got that one right!) This was the 1994-2007 version.
Originally there was a Bell Systems Operations Segment. It was slightly changed a couple of times with the woman and logos being removed.
Main Frame
In the current version, both sides of the track are being used. Instead of the Systems Operations being used we now have a large 1960's inspired Main Frame installation.
We possibly get to see some of the old animatronics from previous parts of the ride reused.
There was a scene where a man was working on a small computer. It's the new garage scene now.
This also ties into an earlier scene change with the Gutenberg press. Originally there was another animatronic there setting the type. It's believe that he became the young man at the computer in the scene above.
Home office segment with a woman.