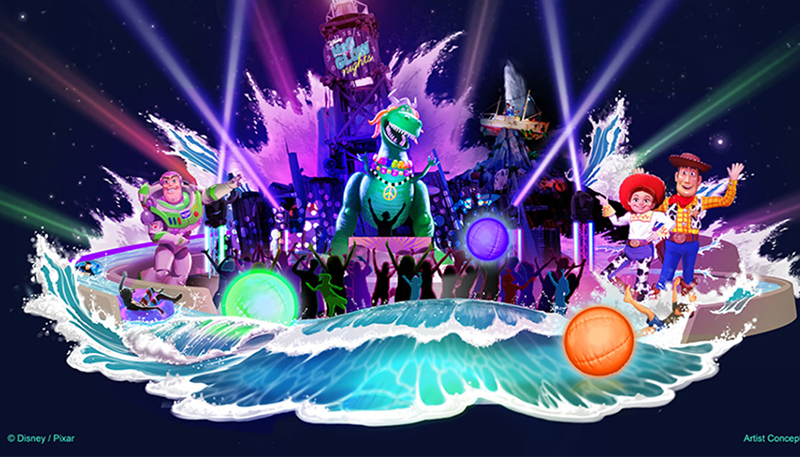 Summertime is coming and a lot of people, especially ones with school aged children, take a Walt Disney vacation in the hotter months. Why not join in on the fun at H2O Glow Nights?
(H2O Glow Nights 2018)
H2O Glow Nights is a special ticket event happening at Typhoon Lagoon Water Park, on select nights starting May 30th and going until August 24th. Taking place on Thursdays and Saturdays during this window (except June 20th.)
It's a magical after hours pool party with dancing, character meet and greets, special food and more!
The party takes place from 8PM until 11PM (ticket holders can enter at 6PM) and features:
DJ-hosted dance party on the beach of the Surf Pool
 Toy Story-themed experiences including Character Meet and Greets with Buzz Lightyear, Woody and Jessie
Limited-time food and beverage options
Special area—The Wharf—just for adults, featuring entertainment and a bar with beverages available for purchase
 Here are the dates:
May 30, 2019
June 1, 6, 8, 13, 15, 22, 27 and 29, 2019
July 4, 6, 11, 13, 18, 20, 25 and 27, 2019
August 1, 3, 8, 10, 15, 17, 22 and 24, 2019
Since it's a special ticketed event the crowds are much lower than they would be during the regular hours. Plus, it's a lot of fun and you get to see one of the Disney water parks at night!
This is also a great idea for people like me who want to go to the water parks but can't because they sunburn easily. You get the fun of the water park without the danger of the burn! I can't wait to go this year! I haven't gotten to Typhoon Lagoon since I was a kid, but now I can!
Here's a live stream from last year's event:
It's Also a Great Value!
If you purchase a normal Typhoon Lagoon ticket it will cost $69 (+tax) for adults and $59 (+tax) for ages 3-9. If you purchase the H2O Glow Nights special event ticket, you can get in from 6PM-11PM, with the special dance parties, character interactions, food and more for only $59 (+tax )for an adult or $54 (+tax) for ages 3-9. The price is definitely reasonable for this special event!
If you would like to get a no obligation vacation quote including H2O Glow Nights fill out the quote request form out below. If you would like to purchase tickets to H2O Glow Nights (or Other special ticketed events) you can do so by contacting Disney or by clicking HERE.
This is an incredibly fun and memorable event. I really hope you and your family get to check it out!
What do you think? Comment and let us know!
Want to go on vacation?
We recommend Academy Travel, a Disney Diamond Earmarked agency. Walt Disney World, Disneyland, Disney Cruise Line, Adventures by Disney, Universal Orlando Resort, Sea World and more -- they can do it all, and at no extra cost to you! Fill out the form below or call 609-978-0740 today!