Working out in Disney World isn't just possible, it's fun! High-tech fitness centers, complimentary group classes, and exciting private lessons await you at this vacation destination! There are no excuses to skip a workout at Disney World. Working out in Disney World, like everything else, is magical!
As a Dietitian, I am always interested in ways to stay healthy on vacation. What I love about Walt Disney World vacations is the constant physical activity. Don't get me wrong, lounging at the pool is a must-do. But living in New England, we are cooped up a third of the year inside, so getting out and being active in a place with so many areas to venture throughout is really one of the most enjoyable things about our trips.
You may be an avid runner, an athlete, a recreational exerciser, or just someone who needs a good sweat to start their day. When traveling to Disney World you have so many options for exercise and physical activity. Sure, there's all the walking between attractions, but I want to showcase activities outside of that.
Disney Fitness Centers
Many deluxe and moderate resorts have a spa and fitness center right on site, complete with showers, and even some with spa services. Staying at one of these locations allows you to start your day with a sweat session on treadmills, ellipticals, bikes, weight machines, and free weights with complimentary water, towels and earphones for the equipment. The fitness centers are for resort guests only and will require a valid Magic Band to enter. The minimum age at Disney's Health Clubs is 14 but guests ages 14 – 17 can visit while accompanied by a parent or legal guardian.
Zahanati Fitness Center at Animal Kingdom Lodge
Muscles & Bustles Health Club at The BoardWalk
La Vida Fitness Center at Coronado Springs Resort and The Fitness Center at Gran Destino Tower
Olympiad Fitness Center at the Contemporary Resort
Disney's Grand Floridian Spa & Health Club at the Grand Floridian Resort & Spa (also open to Polynesian guests)
E.S.T. Exercise Room at Old Key West Resort (A sauna is also available beneath the lighthouse by the main pool.)
Disney's Saratoga Springs Resort & Spa Fitness Center at Saratoga Springs Resort & Spa
Sturdy Branches Health Club at Fort Wilderness Lodge and Villas
Ship Shape Health Club at Disney's Yacht and Beach Club and Villas
Athletique Fitness Center at Disney's Riviera Resort *Disney's newest resort!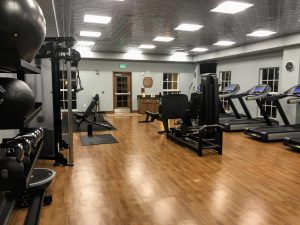 Jogging Paths at Disney Resorts
Working out in Disney World can be indoor or outdoor! Many resorts have a map guide with jogging paths. Depending on the mileage your aiming for, you could run these loops 1, 2, 3, 4+ times. They are well-lit at dawn and dusk as well.
Caribbean Beach Resort: 1.4 mile
Boardwalk Resort: 0.8 mile
Coronado Springs Resort: Just under 1 mile
Fort Wilderness Resort and Campground: 1.5 mile
Grand Floridian Resort & Spa: 1.4 mile
Polynesian Village Resort: 1.5 mile
Port Orleans Resort: .7 mile and 1 mile
Wilderness Lodge and Villas: 1.5 mile
All Star Resorts: 1 mile
Disney Resort Fun Runs
Separate from the well-known runDisney events, several resorts also offer their own mini-race events throughout the year on a weekly basis for guests. You do not need to be a guest at the resort to participate. These are far less expensive and shorter than runDisney events (although we're fans of the big races too)! They're also very family friendly- some even allowing strollers. Get rewarding for working out in Disney World! Earn medals and memorabilia, like a water bottle or pin, for participating in resort races. These are not largely publicized outside of the resort's Recreation Guides, so you will need to check directly with cast members at the resort to ensure a race is taking place during your visit and to learn how to register. Most races also end with light refreshments for runners. Most recently, race registration for the resort runs was priced around $15. The races start between 7-9am with registration a half hour earlier of start time. Confirmed races over the past year are below. Contact the Resort Recreation team for times and dates and may be subject to change depending on season, weather, and special events.
Boardwalk Resort – Seaside Point 1.5 miles on Fridays at 9:00am, registration starts at 8:30am.
Port Orleans – Beignet Dash 1.5 miles, check-in by 7:30am on the Riverwalk between Building 5 and Doubloon Lagoon Pool on Sundays.
Old Key West – Southern Most Point Fun Run 3K, Wednesdays, arrive by 7:15am at The Family Tree (near the playground at Sandcastle Pool)
Saratoga Springs – Derby Dash Family Fun Run 1.4 miles on Thursday mornings. Registration begins at 7:30am.
Beach Club – Regatta Run 3K around Crescent Lake starting at 9:00am on Thursdays (arrive by 8:45am).
Coronado Springs Resort – The Running of Coronado 1.7-mile, Registration opens at 6:45am and the run starts at 7:00am at the Gran Destino Plaza.
Riviera Resort – Topolino Trot Fun Run 1.2-mile run takes place on Sundays at 8:30am on the Movie Lawn.
*Time and day subject to change. Visit Concierge or call 407-WDW-PLAY for up-to-date registration information.
Disney Resort Fitness Classes
If working out in Disney World is a priority for you, check out the resort pools and fitness classes! You must be a resort guest to use these facilities and participate in the classes. Ask the front desk for the Recreation Guide and Schedule for more information. I find that the fitness centers are nicer than most gyms, equipped with new and modern equipment, towels, water, locker rooms, and TVs. They really add value to the resort experience! Plus, you feel great when you leave. Deluxe resorts also offer "quiet pools" away from the pools with the elaborate themed slides, which are great for getting in a few laps at any time during the day. Disney Resort pools are heated year-round, even in the winter, so if you can bare the cold temperature when you exit, they're still an option for exercise!
Bay Lake Tower & Contemporary Resort: Total Body Toning at the Lakeside Landing at 7:30-8:00am on Friday mornings. You'll get a total body workout to improve functional strength, flexibility and coordination. It is open to guests of all fitness levels!
Coronado Springs & Gran Destino Tower: Pilates is available to focus your mind on strength and flexibility at the Gran Destino Plaza Tuesday mornings at 7:00am. The bodyweight-based Outdoor Fitness Blast includes both strength and cardio exercises at Explorer's Playground at the Dig Site on Thursday and Saturday mornings at 7:00am.
Old Key West: Water Aerobics is available at Turtle Pond Pool on Fridays at 10:45am. Tennis lessons are also available.
Riviera Resort: Shake a Tail Feather family warm up workout at 8:30am on Wednesdays and Sundays on the Movie Lawn.
Yoga at Disney Resorts
Get zen during your trip with yoga! Here's your rare opportunity to unwind in peace and tranquility before the hustle of the resort begins for busy park go-ers. There are a few Disney Resort hotels that offer this complimentary class. The classes are led by trained instructors at the below resorts and provide complimentary towels and mats. Ask at the front-desk upon check-in about signing up since space is usually limited to 15-20 guests. Double check the resort times guide since details are subject to change. *Updated February 2020.
All Star Resorts: Yoga by the Reel Spot 8:15am on Fridays
Bay Lake Tower and Contemporary Resort: Yoga at Lakeside Landing near the Boat Nook Marina 7:30am Tuesdays and Thursdays
The BoardWalk: Yoga on the Village Green 8:15am every Monday and Wednesday
Coronado Springs Resort: Rise and Sine yoga located in Gran Destino Plaza at 7:00am on Mondays and Fridays or enjoy Sunset Yoga at 7:00pm Wednesday evenings.
Grand Floridian Resort and Spa: Rise and Shine yoga at 8:30am on Tuesdays and Thursdays located at Summerhouse.
Saratoga Springs Resort and Spa: Sunrise Yoga is offered near Congress Park Pool on Mondays and Wednesdays at 7:00am.
Wilderness Lodge: Sunrise Yoga is offered at 7:30am Mondays and Wednesdays on the Boulder Ridge Cove Pool Deck (or in Sturdy Branches Health Club in the case of rain).
Disney's Yacht and Beach Club: Unwind at the Beach Club Beach at 7:00am every Friday.
Riviera Resort: Available on Mondays and Fridays at 8:30am on the Movie Lawn.
Biking at Disney
Surrey bikes are available for rent and can be a family activity as they fit up to 4 people. However, they are limited in number and on nice Florida days, there may be a wait. Single-rider bikes can be found in larger numbers throughout the resorts and these should have less of a wait. Resorts with bike rentals include Fort Wilderness Campground and Resort, Wilderness Lodge, Old Key West, Port Orleans, Caribbean Beach and the Boardwalk.
Private Lessons at Disney
Did you know can pay for Tennis, Golf and Surfing Lessons on Walt Disney World property? There's no better way to exert some energy than improving your skills with a professional or learning a new sport! Contact your travel agent to set up reservations for private lessons!
Find out about:
No matter what you choose, every workout should be magical, just like your vacation! Who doesn't mind adding a little extra wiggle room for that second dole whip of the day? And after all is said and done, remember to relax and hit the spa!
Disclaimer: Consult your doctor or healthcare provider before starting a new exercise routine for safety and health reasons.