EPCOT has 11 pavilions that showcase different countries around the world, each one unique and offering up cultural food, drinks, and shopping. It can be overwhelming knowing where the best spots are to eat and drink, what you need to see, and what you can skip. Over the next few weeks, I will feature one pavilion a week and show you Insiders what there is to see and do and eat in each country. It will be so much fun, and I can't wait to take all of you Insiders on this exploration! So far, we have explored Mexico, Norway, and China. Next stop, Germany!
After you wander through China, you will head to Germany, where you will be surrounded by traditional architecture, from the replica of the medieval castle to the fairy tale Bavarian-style buildings. It's one of my personal favorite pavilions, especially because of the food! Let's take a look at where you can catch the entertainment, delicious food, and where you can find characters.
Dining
The Biergarten Restaurant is a hit amongst many Disney fans who appreciate a good bratwurst or Oktoberfest in general. You need to come hungry at this Bavarian village-style restaurant because it is buffet-style, and there are many delicious food options for both lunch and dinner! This is a great setting for everyone of all ages to enjoy, and it's a place to eat good food while enjoying great entertainment, such as a polka band and folk dancing. At Biergarten-style tables, enjoy such rotating selections as bratwurst, rotisserie chicken, pork schnitzel, and a variety of salads. Save room for Bavarian cheesecake and hand-pulled apple strudel, made fresh daily! Relax in the twilit atmosphere and raise a stein to over 200 years of Oktoberfest celebrations. Guests 21 years of age and up can enjoy a slew of German beers and wines.
If you want a Bratwurst but don't want to sit down to a huge feast, Sommerfest is another excellent option for quick-service food. I ate here a couple of years ago, and I was completely blown away by how delicious the food was! Snack on Deutsch delicacies from bratwurst with sauerkraut to jumbo pretzels, German beer and wine.
If you're in the mood to just try some traditional German sweets, stop by Karamelle-Kuche. Caramel covers everything here, and after watching it cooking in the kitchen, you will want just about one of everything!
During the EPCOT International Flower & Garden Festival, March 2 through July 4 of this year (2022), you can also enjoy the Bauernmarkt: Farmer's Market at the Germany pavilion! They  serve up some really delicious Bavarian bites sure to sate foodies of all ages. Every dish is köstlich! You can find menu items such as Potato Pancakes, Toasted Pretzel Bread topped with Black Forest Ham and Melted Gruyère Cheese, warm Cheese Strudel with Mixed Berries, and assorted German alcoholic beverages.
The Sussigkeiten is another place to satisfy your sweet tooth with an assortment of homemade fudge and nut clusters, pretzels, chocolate, cookies, and Haribo brand candies.
Shopping
At Der Teddybar (temporarily closed), you can browse uniquely German teddy bears, toys, and gifts. Rapunzel and Snow White represent their homeland with dolls as well!
Over at Volkskunst (temporarily unavailable) you'll find beer steins of all sizes, including an Epcot limited edition stein. This shop is also where you will find felt hats, cowbells, original Black Forest Cuckoo clocks, and hand-painted eggs. You can find books such as 'Grimm's Fairy Tales' (my favorite!), 'Berlin Then and Now', and 'A 400-Year History of the Stein.'
Das Kaufhaus also sells steins, glassware, and beautiful hand-painted eggs. Close by, Stein Haus offers an even more extensive selection of beer steins, themed shirts, and much more!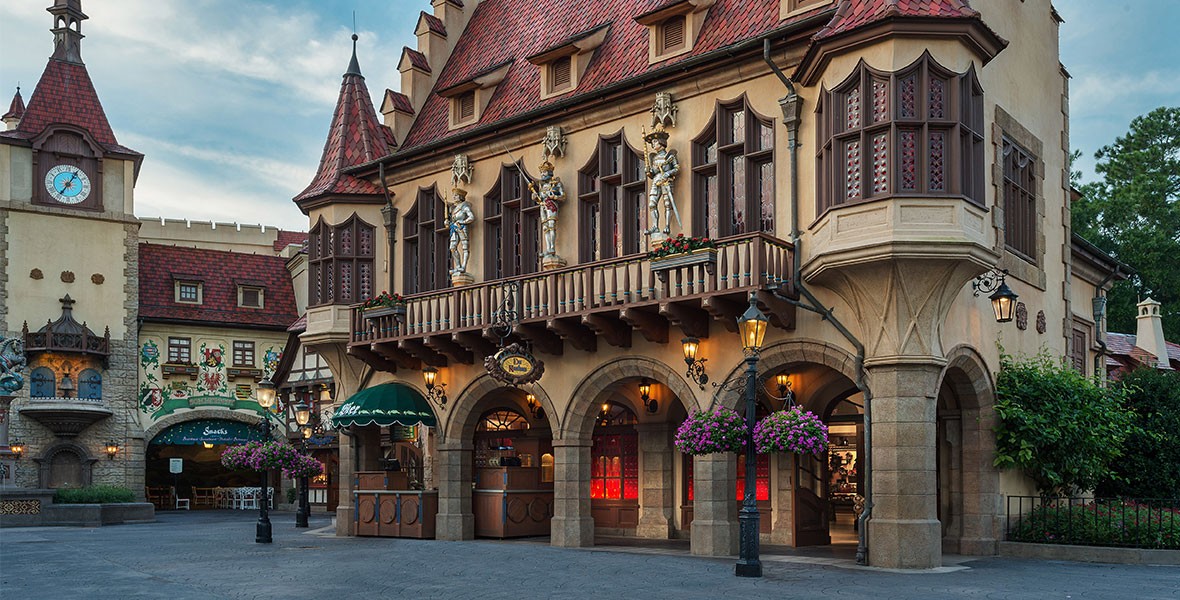 If you are a wine-o or enjoy a good beer, stop by Weinkeller to check out their German wine guides. You'll likely learn something new and be able to pick up some beer and wine you can't get at home!
At die Weihnachts Ecke, it's Christmas year round with some "Old World" German charm! You'll find decorations of all kinds, plus the Christmas pickle!
 Kunstarbeit In Kristall (temporarily closed) offers crystal jewelry by Swarovski, Princessa Plata, and Brillanti by Crystal World. You can also find fine crystal pieces by Arribas, Arnstadt, Nachtmann, Anna Hutte, and Swarovski. Nearby, Glaskunst (temporarily closed) is an outdoor shop that sells Arribas glassware, and you can also get a special something engraved here!
Entertainment
At the Germany pavilion outdoor stage, you can enjoy Born to Polka, a German band that plays a broad assortment of instruments. They usually have everyone dancing and clapping along with their high-energy performances throughout the day!
Last but not least, you can find the fairest of them all in the Germany pavilion! The lovely young princess, Snow White, returns to her wishing well throughout the day to make your dreams come true. Take a photo and perhaps hear a story about friendship, kindness—and how to avoid apples offered by witches.
Be sure to stay tuned for next week because I will be taking you on an exploration of the next pavilion in the World Showcase at EPCOT-Italy!
Are You Ready to Book Your Next Vacation Today?
Be sure to call your Academy Travel agent today for more information and help with booking your next vacation! Because here at The Kingdom Insider, we have plenty of resources for you, just a click away! We have an incredible team of dedicated Disney experts and Travel Planners at Academy Travel. They are ready to help you plan out every detail of your vacation, so you don't have to worry! Call Your Travel Agent to Book, find a travel agent here, or visit AcademyTravel.com