This year's D23 Expo saw many, many Disney rumors confirmed. But there are some persistent rumors that Disney did not confirm. Perhaps these rumors aren't far enough along in development, or perhaps Disney changed its mind. Whatever the case may be, here are some of the rumors that did not get confirmed this year.
New World Showcase Pavilions
While there was confirmation of the Ratatouille ride making its way from Disneyland Paris to Epcot's World Showcase, there was no information on additional countries being added. The most persistent rumor is Brazil, and images have surfaced to show that Disney is at least thinking about it.
Journey Into Imagination Refurb
The long-rumored changes for Journey Into Imagination were not announced this year. It could be that Disney is still deciding what they want to do with the fan-spurned attraction, or that Ratatouille and Guardians of the Galaxy are eating up way too much of the budget. The leading rumor is that it will be converted to an Inside Out attraction, with Figment only having a cameo. Clearly, Figment's job may be on the line as people reported that Disney was surveying Guests about his relevancy. If that's the case, don't expect the return of Dreamfinder, either.
Spaceship Earth Refurb
With Siemens dropping out as the attraction's sponsor and Future World getting a massive overhaul, Disney may take the opportunity to give Epcot's icon a refresh. Whenever this finally does happen, we can only hope that Disney decides against adding IP to the attraction. An ideal sponsor would be Apple, as Disney is currently partnering with them on apps and Steve Wozniak is even in the ride! Let's just hope that they fix the descent.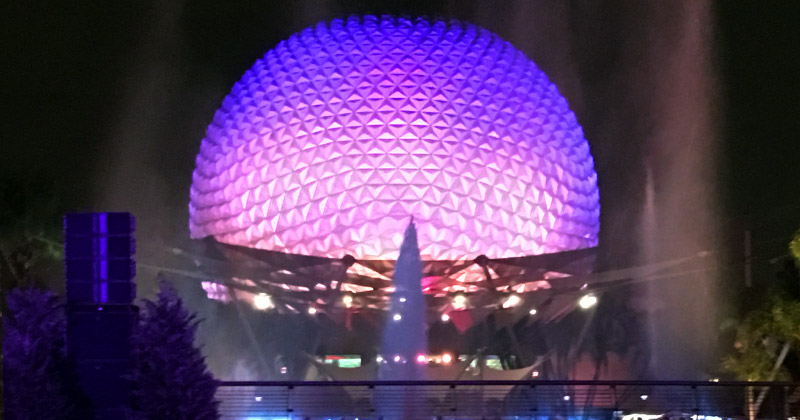 Coco Replacing Donald in the Mexico Pavilion
Word on the street is that Donald and the Caballeros might get the boot in favor of Pixar's upcoming film Coco. Disney may be holding off on plans for this change until they see if the film performs well at the box office.
Zootopia Land in Disney's Animal Kingdom
This one is a long shot, but I can see it happening… someday. The rumor is that Disney is currently planning to convert Rafiki's Planet Watch into a "Zootopia Land" accessible by train (like the movie.) However, Disney just dropped a ton of money on Pandora – The World of Avatar and it's unlikely that Animal Kingdom will get any new attractions for quite some time. At least until after Star Wars: Galaxy's Edge is complete. Still, it would be pretty cool.
The Haunted Mansion Restaurant
Rumors abound that Disney is thinking of making a Haunted Mansion themed restaurant, yet nothing was confirmed at D23. We've heard rumblings that the Columbia Harbor House may get a ghostly makeover soon, turning that part of Liberty Square into a "Haunted Mansion Land" along with Memento Mori and the attraction itself.
Moana Volcano Roller Coaster
The word is that Disney is looking to resurrect an old Volcano Mountain concept and will add a Moana-themed rollercoaster somewhere in Adventure Land. There's been a phenomenal fan reaction to this rumor, and it's quite possible we'll see some variation of it confirmed at D23 in 2019, just in time for Walt Disney World's 50th Anniversary.
The Future Looks Bright for Walt Disney World
Despite every rumor not being confirmed, many were. And Disney fans have a lot to look forward to in the years leading up to the 50th anniversary of the Magic Kingdom. Epcot is finally getting some love, we're getting lands based on Star Wars and Toy Story, the much desired TRON Coaster is coming Stateside, the Gondolas have been confirmed… it's absolutely insane how much Disney World is expanding.
Construction shouldn't keep you from visiting, however. In fact, construction will be something guests will just have to get used to for the foreseeable future. But it'll be so, so worth it. On the up side, there are deals to be had, and you might want to visit before the crowd levels reach pure insanity.